It's the first trading day of 2022 and today's edition of SPY Daily will teach you one of my top techniques for trading with confidence.
It has nothing to do with fundamentals.
It has nothing to do with the financial media.
But it has everything to do with how I continue to show up time and time again.
Every trading day, I: 
Wake up at the same time.

Exercise at the same time.

Log on to my computer at the same time.

Alert

Market Navigator

trades of the day at the same time, and tend to business-related matters at the same times…
You get it by now; I live on a daily routine (and have for a decade).
I've always felt that I can live my life in a more prosperous, healthier, and affluent manner by doing so.
A recent study by Northwestern Medicine confirms my theory.
This study states that two advantages of living on a routine are better stress levels and better sleep.
I'm not sure about you, but I don't know anyone who enjoys being stressed or sleep-deprived.
Bottom line, I believe that my daily routine helps me be a better father, a better husband, a better teacher, and a better trader.
If you're someone who strives for improvement but doesn't live on a routine, consider giving it a shot in 2022.
I'd suggest starting with a time-stamped daily planner and identifying your top five long-term goals.
As we head into the first opening bell of the year, today's economic calendar is low-impact…
…so, I'd like to bring your attention to SPY's 60-minute chart, today's chart of the day.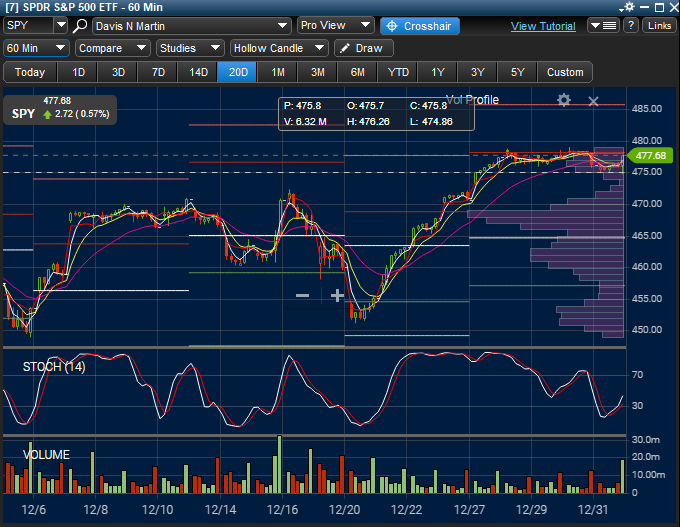 SPY's 60-minute stochastics are bullish and this week is historically a good week for markets, so as long as SPY trades above 477.19 support, I'll consider trading SPY to the upside.
Think simple,