You may have seen the headlines.

I didn't shy away from markets on Friday despite the S&P 500's 2% pullback, and I won't shy away from markets today either.
What I will do is adapt to markets with new technical levels in mind.
Because during times like this, I stay calm and remain focused on my long-term goals as a trader.
First, I'm grateful for today's low-impact economic calendar.

Because with Friday's pullback in mind, my primary task today is working with new support and resistance levels in the SPDR S&P 500 ETF (SPY).
I use support levels to buy short-term dips (buy SPY Calls).
I use resistance levels to short short-term tops (buy SPY Puts).
The only place I go to study these levels is straight to the charts.
No CNBC. No newspapers. No billboards. Just the charts.
I've been practicing and preaching this process for years as focusing on the sound and filtering out the noise allows me to create clear, logical trading plans and trade ideas for the day ahead.
Today's chart of the day – a SPY daily chart – shows me an imperative resistance level for the day ahead that I will respect as I plan entries, targets, and stops.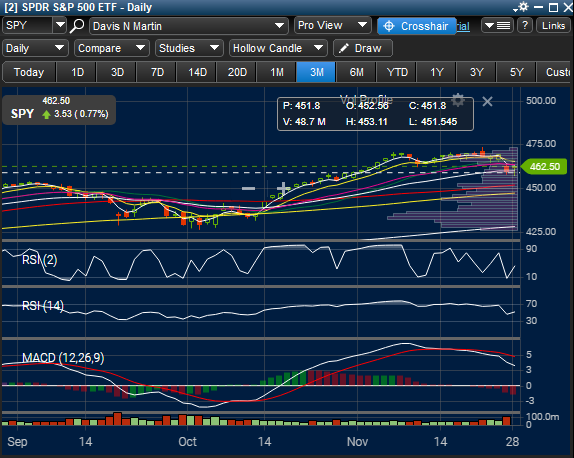 SPY Daily Chart
SPY is currently trading just below its 20 SMA (simple moving average) and its 21 EMA (exponential moving average); both of which are resistance levels.
I don't go long (buy SPY Calls) into resistance levels; instead, I patiently wait to see if SPY starts to reject them and use resistance levels as short-term tops for short positions (via buying SPY Puts).
Therefore, if SPY continues to trade just below its 20 SMA and 21 EMA, I'll be interested in trading SPY to the downside.
Think simple,

Davis Martin