From time to time, markets open nice and green, and everyone is thrilled for a bright day ahead.
Then, markets come crashing down, and people panic.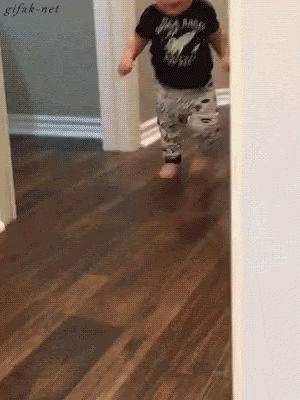 A benefit of reading SPY Daily is that you know there's no need to shy away from markets, regardless of their behavior.
I've been trading and teaching for some time now. So you bet I've learned a thing or two along the way.
These are topics I preach in the Market Navigator live trading room – right after I reveal the trade of the day – thirty minutes ahead of the opening bell.
We'll use yesterday's trading session as an example.
It's recent; it may be in your memory, and markets made a green-to-red move.
A green-to-red-move is just like it sounds.
Markets open green, sellers step in, and markets dive into the red.
Just yesterday, the SPDR S&P 500 ETF (SPY) opened at a premarket high…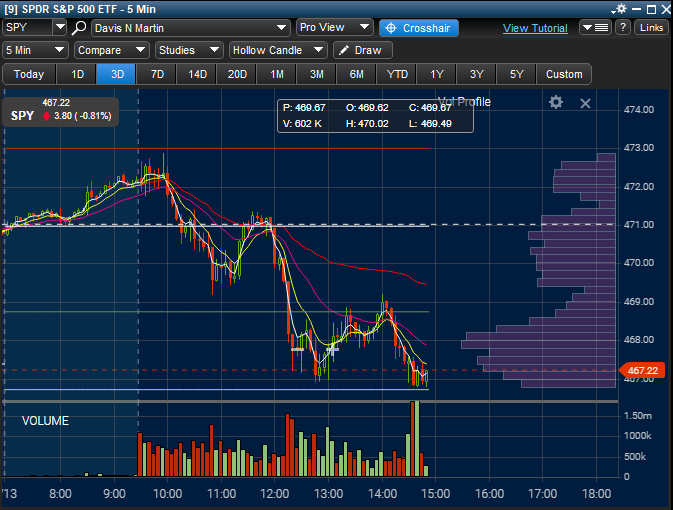 …and faded into a sea of red.
If you've been following SPY Daily, you may know that I don't buy into highs (just like I don't short into lows).
Instead, when bulls sell positions into strength, I exploit that selling volume by going short.
This means I buy SPY Puts as a short-term bet against markets.
Yesterday's Market Navigator trade of the day is a textbook example of my approach.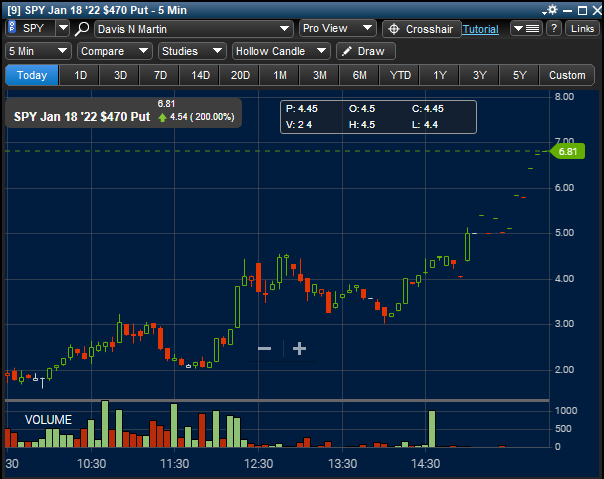 SPY Jan 18 470 Put
When newbies and chasers might be hitting the buy button solely because they see a green market… 
…I do my best to help Market Navigator members preserve capital by steering clear of buying into markets at the open in the premium live trading room.
I mean, peep the trade of the day above (which was a bet against the market).
Keep in mind – when I say "the market" – I'm referring to the SPDR S&P 500 ETF (SPY) – the most potent fund in the world. 
Now, study up:
Plan the trade of the day before the sun comes up

Present the trade of the day at 9 am ET

Open the

Market Navigator

live trading room

Teach and trade the trade of the day
That's my daily gravy-train trading routine.
(If you've ever heard of a better one, I'd love to hear it.)
Green, red, sideways, or circles – trades of the day are tradeable in any market – and they always have been.
You don't need a dozen stocks on a watchlist to trade confidently.
In fact – I don't think you don't want that!
One trade. One time. One stock.
That's what Market Navigator trades of the day are all about.
Keep it simple.
We're looking at a low-impact economic calendar as we prepare to wrap up the week.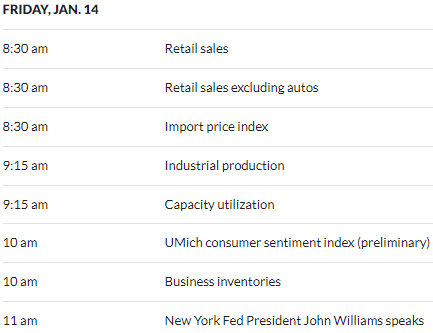 It's a good news / bad news situation.
The bad news, traders who enjoy high-impact economic catalysts may have to go a day without one.
The good news, traders who "trade the chart, not their heart", can get straight to technical analysis.
Let's do a little bit of that using today's chart of the day, SPY's daily chart.
Given SPY is little changed as I'm typing, SPY is trading just below yesterday's closing price of 464.53, making it a resistance level.
I'll also note that SPY saw 91M in volume yesterday, which is higher than its average daily volume.
These are both items I'll consider before putting my real money into today's trade of the day while teaching members along the way.
Now that I've taught you that, I want you to know that I'm here to support you as a trader, and I genuinely enjoy helping members accelerate their learning curves.
That means with each trade of the day alert I deliver – while, of course, I'm attentive to the market – what's best for members is my top priority.
252 trading days in a year. 252 trades of the day.
I'd love to send you your first trade of the day alert (which includes an invitation to join the Market Navigator live trading room).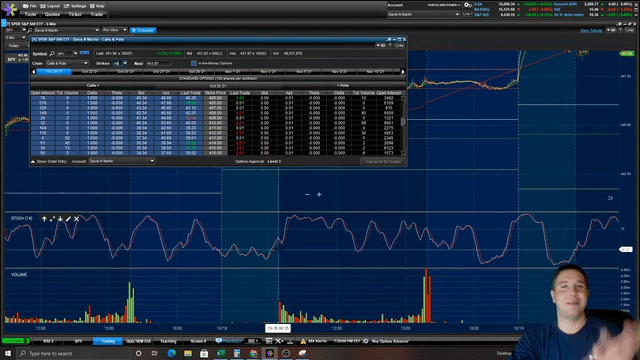 But I can't make an intelligent decision for you.
You're smart enough to do that for yourself, and you know you are.
I'm off to over-deliver on my trade of the day promise to Market Navigator members.
Have a fantastic weekend.
Think simple,