Dear Trader,
2021 is nearly in the books, and I couldn't be more grateful for the SPY Daily readers and Market Navigator members I've had the pleasure of coaching.
One week ago, I wrote to you justifying my belief for why I thought markets would trend higher into the end of the year.
I remember that day because markets were getting pounded as I was writing to you.
At the time, SPY's weekly chart looked like this: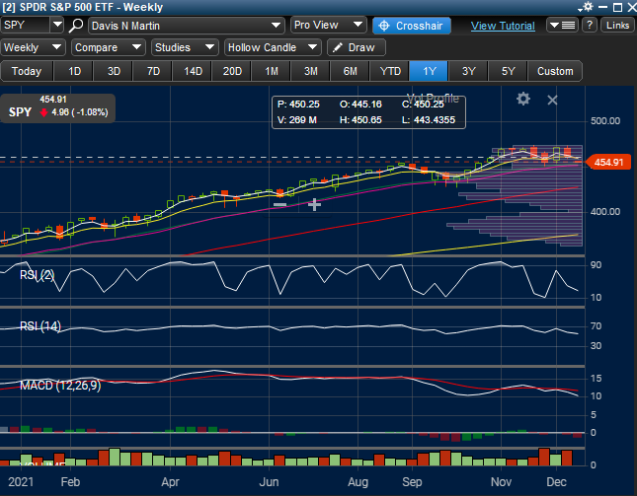 Yes, SPY was down over a full percent, and there I was explaining why I thought SPY would trade higher in the days ahead.
So, I had a big thesis to deliver.
But deliver I did, and trading last week's rally with members was a week I'll never forget.
The reasons I believed SPY would rally ahead of the new year (as we saw last week) are:
Experience

Pattern Recognition

Knowledge
Often, moves repeat themselves in the market.
An elementary example in the case of the SPDR S&P 500 ETF (SPY) is that dips tend to get bought.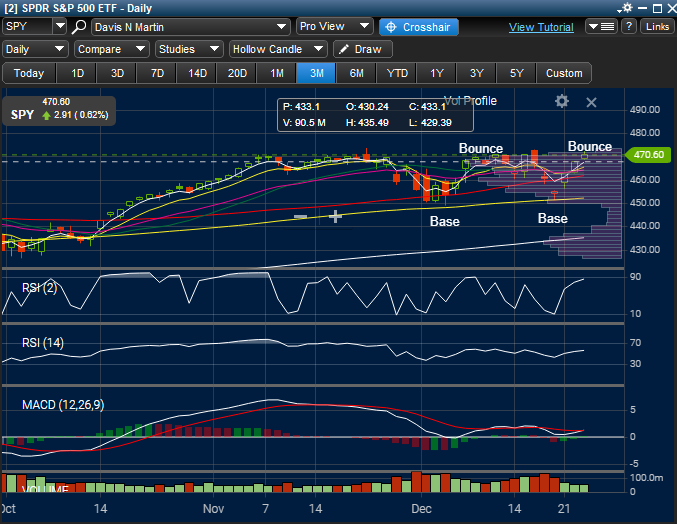 So, when SPY bases near a key technical level and proceeds to make a new all-time high – if I see that same potential move about to happen again – you bet I want to act on it.
That's exactly what we saw (peep the chart above).
I predicted last week's rally by studying simple moving averages.
Traders use simple moving averages as trend indicators. They can identify support and resistance levels through both uptrends and downtrends.
Studying simple moving averages led to trades of the day such as:
$0.08 → $0.18
$0.13 → $0.18
$0.96 → $1.45
$0.04 → $0.12
You can calculate those percentages.
And after you do, you can probably understand why I'm honored to deliver brand new trades of day to thousands of people (every single day).
Today's economic calendar has traders in the clear as we look ahead.

This is what I want to see on a Monday morning because I can focus on analysis, price, and trends as we head into a brand new week.
I'm kicking this off with SPY's 60-minute chart, today's chart of the day.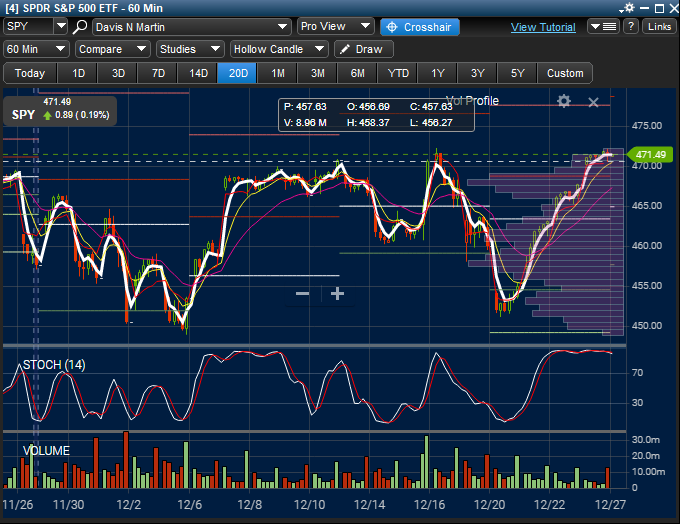 SPY is dangerously close to making a new all-time high, but it may be out of steam as of right now.
With double-top resistance at 472.19, extended stochastics, and a green volatility index – as long as SPY trades below 472.19, I'll be interested in trading SPY to the downside.
Think simple,

P.S. If you've yet to read last week's edition of SPY Daily – in which I explained my rationale for a rally on Wall Street – you can get up to speed with this link.
P.P.S. Happy holidays from my family to yours.