The recent market rally (the S&P 500 closed at a record for the 66th time this year on Friday) has been a genuine team effort, with various sectors contributing to the gains.
Trading every single sector along the way may be suitable for some. However, to me, trading every sector all the time sounds distracting and chaotic.
I prefer to start my day with one trade, on one stock, at one time.
Before looking at technicals, let's take a look at how today's economic calendar is part of building a game plan.
When the markets go through stretches of low-impact economic reporting, I look ahead to when economic reporting may move markets (sometimes in a big way) in the future.
In today's case, that day is Wednesday, November 24 (the day before Thanksgiving).
I'll send you more information on Wednesday morning, but what I can tell you right now is that Wednesday's lineup includes:
Jobless Claims

GDP

FOMC Minutes…
…And more.
Now – ahead of Wednesday's session – I already know I may want to consider assuming less risk than usual through Wednesday's session.
With markets peaking this morning, I'll plan on applying my usual near all-time high strategy. The best tool to outline this plan is today's chart of the day, a SPY 60-minute chart.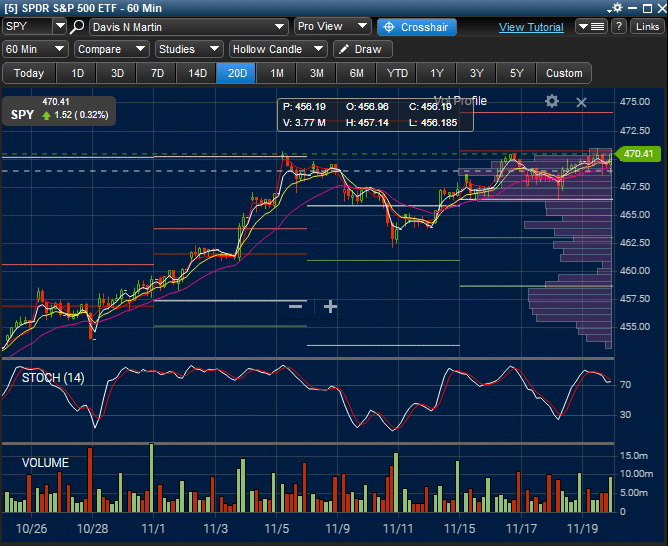 SPY 60-Minute Chart
When markets open near all-time highs, often, traders close long positions, and shorts cover losses into strength.
This combination creates selling volume, and the way I can navigate that selling volume starts by identifying a level I'd like to use to start making a short-term bet against markets.
470.61 is today's premarket high. As I'm typing, SPY is trading just below 470.61, making it a resistance level.
Therefore, as long as SPY trades below 470.61, I'll be interested in trading SPY to the downside.
Think simple,

Davis Martin