The purpose of SPY Daily is to educate you.
On a high level, I try to walk you through pieces of my morning routine when I analyze the SPDR S&P 500 ETF (SPY) as I determine the Market Navigator trade of the day.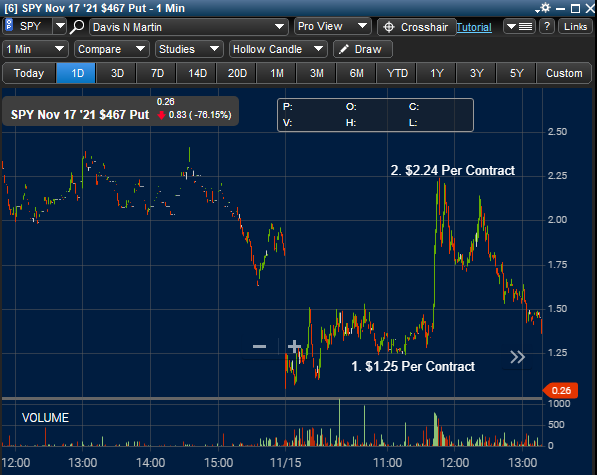 SPY Nov 17 467 Put
Recently, I laid out a level I wanted to use to buy SPY Puts. I want to teach you how it worked and lay a foundation for the day ahead.
On Monday, November 15, 2021, I made SPY Daily readers aware of my intention to trade SPY to the downside if SPY traded below 468.55, a critical support level at the time.
Planning my trade allowed me to trade my plan.
Without that trade plan, I may have wound up going long into resistance.
SPY Puts increase in price when SPY goes down and based on Monday's Market Navigator trade of the day, as you can see, buying into resistance would have been a costly mistake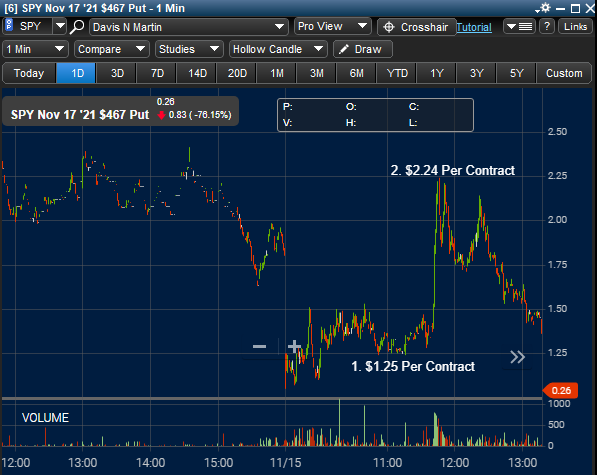 SPY Nov 17 467 Put
Examples like this are why I'm a firm believer in support and resistance levels. While all traders will be on the wrong side of a trade from time to time, identifying support and resistance levels allows me to visualize buying points, selling points, targets, stops, and reward-to-risk.
These things are essential to the well-developed trading plan I send to Market Navigator members at 9 am ET every trading day (on top of the actual trade of the day).
As you may know, a tool I study is an economic calendar, as I'm always on the lookout for potential market-moving catalysts.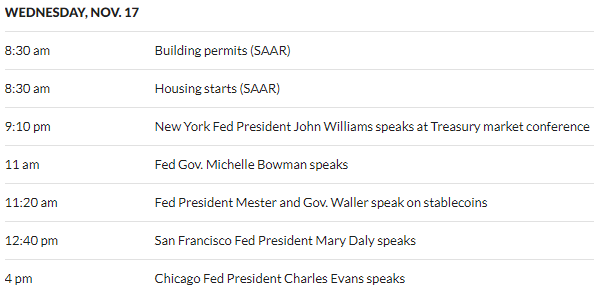 While today's schedule is busy, I won't let it distract me from the technicals as today's events are low-impact, which leads me to a SPY 60-minute chart, today's chart of the day.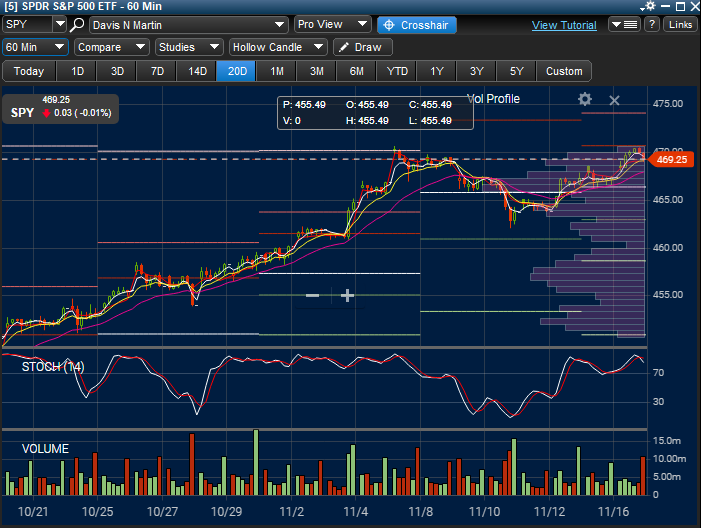 SPY 60-Minute Chart
As I'm typing, SPY is trading just below yesterday's closing price of 469.28, making this level a short-term resistance level (as long as SPY remains trading below it).
Should SPY continue to trade just below 469.28, I'll be interested in trading SPY to the downside.
I'm heading to the Market Navigator live trading room to work with members now, but if you missed November 15th's edition of SPY Daily, you can read it here.
Think simple,

Davis Martin