The stock market can be a battlefield.
I've found trying to focus on too many trade ideas at once can be like trying to walk somewhere – uphill both ways – in 10 feet of snow.
That's why SPY Daily focuses on the SPDR S&P 500 ETF (SPY) and how its price action could potentially evolve.
With the SPDR S&P 500 ETF (SPY) trading near new highs, let's lay a foundation for the day ahead.
Today's economic calendar is low-impact.

That said, I'll be suspect of news-driven catalysts unexpectedly moving markets as a follow-through effect of consumer sentiment having hit a 10-year low last week.
Friday's edition of SPY Daily was a great example of how focusing on support and resistance levels is vital to the longevity of any trader.
Just as the SPDR S&P 500 ETF (SPY) was teasing at losing 464.50 support and breaking down, it held and traded about four dollars per share higher on the day.
This support level was outlined and highlight ed in this past Friday's edition of SPY Daily (found here).
SPY 5-minute chart (November 12, 2021)
As the opening bell approaches, I've isolated a SPY daily chart as today's chart of the day.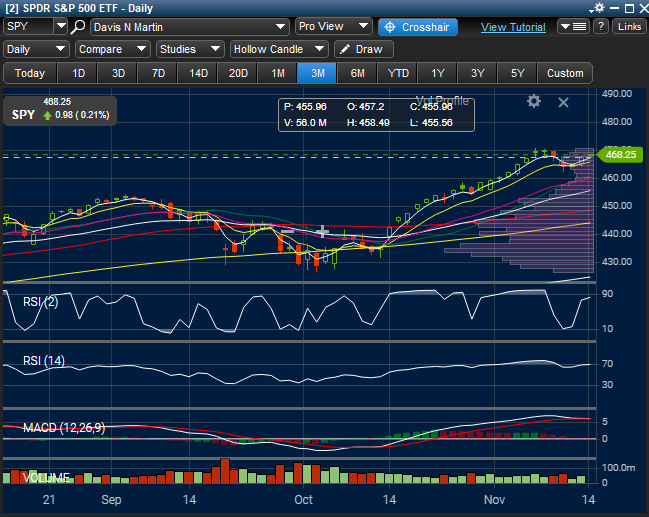 SPY Daily Chart
This is what I'll be using to monitor support and resistance levels through this morning. 
Support levels matter to me because I want to buy SPY Calls to sell my position at higher prices and keep a tight stop loss just below a support level.
Resistance levels matter to me because I look to buy SPY Puts off of them to sell my position into SPY sell-off and keep a tight stop loss just above a resistance level.
SPY has already tried (and failed) to make new all-time highs this morning, having traded at a high of 468.55 as I'm typing this morning, making 468.55 a current resistance level.
I'll keep this resistance level in mind when I'm real money trading and teaching with Market Navigator members this morning, and as long as SPY trades below it, I'll be interested in trading SPY to the downside.
Think simple,

Davis Martin