Advanced Micro Devices, Inc. (NASDAQ:AMD) was down significantly on the day,  falling over 6%, the reason being: Goldman Sachs analyst Toshiya Hari initiated coverage on Advanced Micro Devices at Sell. That said, the recent rise after its release of the Ryzen desktop processors, boasting 8-cores at a surprisingly low price.
Goldman Analyst Comments on AMD
The Goldman analyst noted that AMD is "priced for perfection." Analyst Hari stated, "While we acknowledge the successful turnaround over the past few years, we find current valuation multiples (i.e., EV/Sales 236% above 5-yr median) difficult to justify as the market seems to have already priced in a sharp improvement in AMD's competitive and financial position."
Hari added noted there could be two potential pitfalls to the company's long-term financial targets, which are:
Intel and Nvidia could start a price war with Advanced Micro Devices, if its Ryzen CPU, Naples CPU, Vega GPU gain market share in 2017, and, or 2018.

The analyst noted that even if Intel and Nvidia do not start a price war, there could be upside risk to its operating expenditures since the company is looking to revitalize its distribution channel with multiple introductions of products.
This prompted the initiation of a sell rating with a price target of $11, over 20% below AMD's closing price yesterday. One interesting fact to take into account: Intel has already lowered some of the prices on its Core i7 and i5 processors around the release of the turnaround.
Advanced Micro Devices, Inc. Performance, Statistics and Ratios
The stock traded between  $12.83 and $13.46  today. AMD has a 52-week range between  $2.60  and  $15.55. As of April 5, 2017, the stock was up over 25% over the past three months and over 400% over the past year, this may be an indication that the markets were favoring the company's turnaround.
Therefore, AMD is currently nearly 400% above its 52-week low and just over 15% below its 52-week high. AMD is still over 20% above its 200 day simple moving average. However, AMD broke below its 20- and 50-day simple moving averages, after the downgrade.
Here's a look at AMD's recent performance on the daily chart: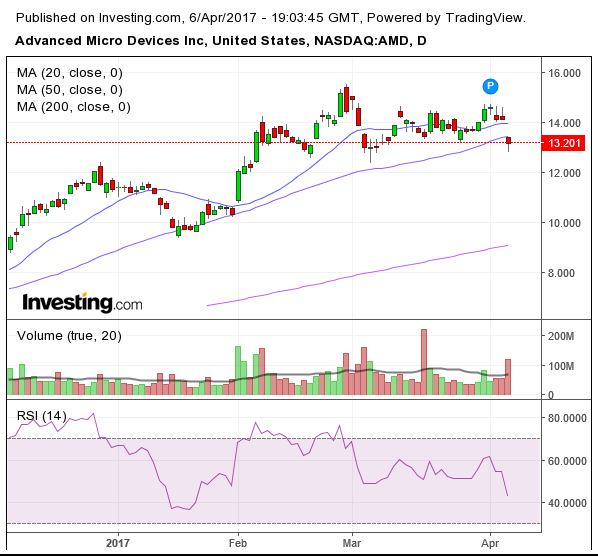 Source: Investing.com
Let's move into some valuation ratios.
AMD has a price-to-earnings ratio of nm. AMD has a book value per share (BVPS) of 0.445 AMD has a price-to-revenue ratio of 2.54. The stock also has a forward price-to-revenue, based on next year's revenues estimates, of 2.15. The stock also has a price-to-sales ratio (P/S) of 3.1204. Although AMD's Advanced Micro Devices' P/S is undervalued, in comparison to its peers, the stock has a high price-to-book ratio of over 30, while the industry average is just 3.7. The stock has 837.30M shares floating, 941.4 million shares outstanding, and a short ratio of 12.21%.
AMD grew its revenue by 7.04%, year over year. Additionally, AMD grew its net income by 24.70% year over year. The company's EPS grew by 13.04% quarter over quarter (QoQ). We'll have to wait and see until the company's next earnings, which is expected to be on May 4, 2017*, to see how the company's sales of its new processors were. and the average analysts' estimate is $(0.01). *Note, the earnings date is subject to change.
Final Thoughts
Goldman analyst Hari made some interesting points regarding AMD, and shares fell due to the initiation of AMD at Sell with a price target of $11. Now, the company is set to report earnings on May 4, as stated earlier, so we'll have to wait and see how the Ryzen processor sales performed.
Related Articles: