Amtech Systems, Inc. (NASDAQ: ASYS) shares were up over 15% today, after the company announced that its solar subsidiary, Tempress Systems, received a follow-on order for the second phase of its multi-phase 1 GW project. Let's take a look at the company's press release.
ASYS Receives Follow-On Order
Now, Tempress Systems received the follow-on order the second phase of a multi-phase 1 gigawatt project, which comes after an order for the first phase, announced back in January 2017. That in mind, this turnkey order for Tempress Systems' second phase was similar in size and includes the company's high-throughput PECVD and diffusion platforms.
Tempress is currently one of the leading suppliers of high throughput PECVD and diffusion furnaces, which could help cut manufacturing costs of solar cells. Now, the company's platforms have been sold to top-tier customers in China, Malaysia and Taiwan.
According to CEO and President of Amtech, Fokko Pentinga, "Over the years, we have made advances in n-type technologies in collaboration with leading research institutes, including the Energy Research Centre of the Netherlands (ECN). With recent declines in the cost of n-type wafers and the market demand for higher efficiency and lower cost per watt, we are seeing increased adoption of n-type bi-facial technologies for production of c-Si cells….We believe that Amtech has the right mix of n-type cell technologies and high-throughput tools to capitalize on the growing market demand for higher efficiency cells, and that n-type bi-facial cell technologies have the best roadmap to higher efficiency."
The first and second phases of this project in China is designed and aims to manufacture efficient n-type bi-facial solar cells and modules at an attractive cost per watt. Tempress Systems expects to ship this follow-on order within the next year, and Amtech currently has a backlog of approximately $125M, over two times its backlog on December 31, 2016.
This backlog prompted The Benchmark Company to upgrade the stock to Buy, from Hold, and the firm currently has an $8 price target on the company.
Amtech Performance
ASYS shares have been up over 4% during the past week. Additionally, Amtech was up over 20% over the past six months, and nearly 30% year to date. Here's a look at how ASYS has been performing, on the daily chart: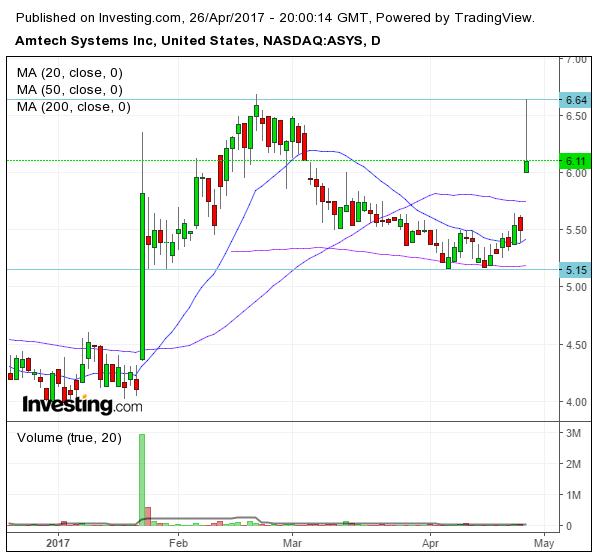 Source: Investing.com
Let's get into Amtech's stats. Amtech currently has 12.87M shares outstanding and 10.19M shares floating. Therefore, ASYS would be considered a low float stock, and consequently, it could have extreme moves, quickly. Additionally, Amtech has a market cap below $100M, and coupled with its low float, the stock could experience sharp moves when there is a catalyst, just as it today.
Moving on, Amtech had some strong growth in its income statement figures in its previous quarter filing. The company's sales grew by over 30% quarter over quarter. Moreover, the company's earnings per share nearly doubled quarter over quarter.
Final Thoughts
Amtech's subsidiary company, Tempress Systems received a follow-on order, and the company currently has a backlog of around $125M. ASYS is set to report earnings on May 4, 2017*, and it'll be interesting to see how the company performs then.
Related Articles: