Cleantech Solutions International Inc (NASDAQ:CLNT) was up significantly on the day,  gaining over 10%. The stock was very volatile after yesterday's news, but more on that later, if you didn't already hear about it. After the stock popped yesterday, the company announced it regained compliance with Nasdaq Capital Market's minimum bid price continued listing requirement. These catalysts, in addition to its low float, are the main reasons why shares were moving today.
Why CLNT More Than Doubled and Are Up Again
Now, the stock more than doubled yesterday, after it filed an SEC Form 8-K stating that Wuxi Dyeing Machinery agreed to invest RMB 60M, or approximately $8.64M, and the company has already invested RMB $59.8M, or approximately $8.61M, for which it received a 30% interest. Xue Miao, an unrelated party, and Wuxi Huayang Dyeing Machine formed Wuxi Shengxin New Engineering. My. Xue is committed to investing RMB 140M, approximately $20.2M, and Xue has contributed RMB 20M and would receive a 70% interest in Shengxin. As stated earlier, the company also regained compliance with Nasdaq.
Cleantech Solutions International, Inc. has 1.2M shares outstanding, 884K shares floating and a short ratio of 1.79%. However, more than 10M shares traded on the day. Since the stock has a low float, it's had an extremely volatile move due to the supply and demand aspects of its shares. In addition to this, some brokers are having a hard time finding shares to borrow, which could explain why it's moved higher, again today, due to the lack of sellers and immense buying pressure.
Let's move on to some statistics and fundamentals.
CLNT Statistics and Fundamentals
CLNT traded in a range between $6.60 and $10.70 today. The company has a market cap just above $23M. CLNT traded between $0.60 and $10.70, over the past 52 weeks. Consequently, the stock is currently over 20% below its 52-week high and over 1,000% above its 52-week low. CLNT is over 500% above its 200 day SMA. Additionally, the stock is nearly 400% above its 50-day simple moving average.
Take a look at CLNT's performance on the daily chart. Note: CLNT price shown was at the time of this writing: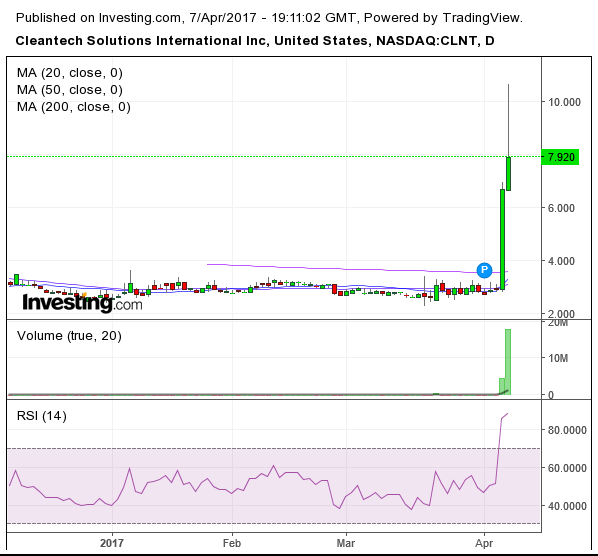 Source: Investing.com
CLNT shares' RSI recently crossed above 70, indicating it may be overbought. However, this sight is not rare with low float stocks that have catalysts.
The company had a price-to-book ratio of 0.10, while the industry average was 3.8, based on yesterday's close price. CLNT has a price-to-revenue ratio of 0.5284   Additionally, the stock has a price-to-sales ratio (P/S) of 0.45, while the industry average is 2.1. Consequently, this may be an indication that CLNT is undervalued, in comparison to its peers.
CLNT's revenue for the quarter ended in September 2016 fell by 68.99%, year over year. Additionally, CLNT 's net income for the period ended on Sept. 30, 2016 fell by over 130% year over year. In turn, CLNT's EPS, for the same period, fell by over 130%.
Final Thoughts
CLNT was very volatile today, and it could be due to three main reasons: the stock's low float, an agreed investment of RMD 60M investment, and CLNT regaining compliance with Nasdaq. Now, although the stock was up significantly over the past two sessions, shares could continue to be volatile due to the nature of low float stocks.
Related Articles: