Shares of Applied Optoelectronics Inc (NASDAQ:AAOI) spiked higher on Thursday, after the fiber-optic network products provider announced its preliminary 1Q 2017 results, which was above its previous guidance. Let's get right into what the company in its Form 8K filing.
Applied Optoelectronics Form 8K
The company reported its preliminary unaudited financial results for the first quarter of 2017, and the numbers were impressive, relative to its previous guidance. Applied Optoelectronic had revenue of approximately $96.2M, while its previous outlook was between a range of $87M and $91M. AAOI had a preliminary GAAP and non-GAAP gross margin between a range of 42.5% and 42.9%, above its previous non-GAAP guidance between 38% and 40%.
Moving on to its income. Applied Optoelectronics Inc expects to report a GAAP net income in a from $18M to $18.4M, and a non-GAAP net income, after tax, between $19.7M and $20.2M, while its previous GAAP outlook was between $15.5M and $17.2M. Consequently, the company expects to report a non-GAAP fully diluted earnings per share between $1 and $1.02, while its previous non-GAAP guidance was between 80 cents and 88 cents per share.
Note that these are preliminary financial results, and therefore, they are subject to the completion of Applied Optoelectronics' customary quarterly review and close procedures. Consequently, there may be material adjustments to these preliminary results.
Applied Optoelectronics Gets Some Upgrades
Raymond James raised its price target on AAOI to $74, from $62 previously. Additionally, Cowen and Company raised its price target to $75 per share, from $66 per share. Not only that, but Craig-Hallum raised its price target on Applied Optoelectronics price target raised to $70, its previous price target was $53. Craig-Hallum analyst Richard Shannon noted that the demand for the company's data center remains "robust."
Applied Optoelectronics Statistics and Valuation Ratios
The stock traded between  $45.06 and $50.00  today. AAOI traded between $8.08  and $60.19 , over the past 52 weeks. Consequently, AAOI is currently over 20% below its 52-week high, but over 450% above its 52-week low. Now, the stock is well above its 200-day SMA, and broke above its 50-day simple moving average today. The next area to watch is the 20-day SMA.
Here's a look at the stock's performance on the daily chart: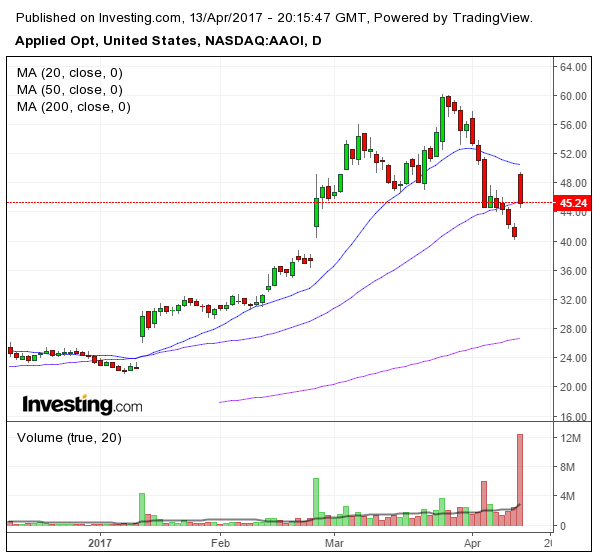 Source: Investing.com
The stock has a trailing 12-month P/E ratio of around 26, below the industry average of 32.1, indicating that the stock may be undervalued in relation to some of its competitors. Applied Optoelectronics, Inc. currently has a book value per share of 12.36, and therefore, it was trading at a price-to-book ratio of around 3.7, which is, more or less, in line with the industry average. AAOI has a price-to-revenue ratio of 3.2, below the industry average of 3.7. Moreover, it has a P/S just under 3, while the industry average is above 3.5. AAOI has  16.85 shares floating, 18.7 million shares outstanding, and a short ratio of 15.37%.
Final Thoughts
Applied Optoelectronics reported its preliminary 1Q 2017 financial results, which exceeded its prior guidance. Now, keep in mind these are unaudited financial results, and they are subject to material changes. That in mind, the company is expected to report earnings on May 8, 2017*, and it'll be interesting to see AAOI's actual results. *Note: Applied Optoelectronics' earnings date is subject to change.
Related Articles: