Barracuda Networks Inc (NYSE: CUDA) shares were down over 15% today, after it issued lower-than-expected guidance for 1Q 2018 in its conference call. Let's move right into the company's earnings results.
CUDA 4Q and FY 2017 Financial Results
Barracuda Networks reported its earnings results after the close on April 17, 2017. Now the company reported total revenue of $89.3M for 4Q 2017, a 7% growth from its total revenue of $83.7M in 4Q 2016. The consensus estimate for 4Q 2017 revenue was $88.41M. Additionally, the company was able to grow its subscription revenue by 12%, year over year, to $69.4M, from $62.1M in 4Q 2016. Moreover, the company was able to grow its active subscribers by 15% year over year. The company's non-GAAP net income came in at $10M, or 19 cents per diluted share. Analysts that were surveyed at FactSet were expecting a diluted EPS of 15 cents.
CUDA Guidance
Now, in its conference call, the company expected billings to be in a range between $103M and $105M during the first quarter of 2018, while it reported billings of $103. 2M for 4Q 2017, and for a small-cap growth stock, that may not have cut it for some market participants. Not only that, but it expects revenue to be between a range of $90M and $92M for 1Q 2018. Moreover, it expects its non-GAAP EPS for 1Q 2018 to be between 17 cents and 19 cents, which is, more or less, in line with what it reported for 4Q 2017.
Moreover, it expects its FY 2018 revenue to come in between $370M to $380M, which is only slightly higher than its FY 2017 revenue. Moreover, it expects its non-GAAP EPS for FY 2018 to be between 73 cents and 78 cents, which is below its FY 2017 non-GAAP EPS of 82 cents. Generally, when a company issues lower-than-expected guidance, and does not show growth, market participants may not see the growth potential in the stock, which could potentially cause a sell off.
CUDA Statistics and Valuation
CUDA traded in a range between $19.06 and $21.31 today. CUDA has a 52-week range between $13.91 and $26.69. Therefore, the stock is currently around 41% above its 52-week low  and over 25% below its 52-week high. CUDA is currently trading below its 20-, 50- and 200-day simple moving averages, as shown in the chart below.
Here's a look at the stock's performance on the daily chart: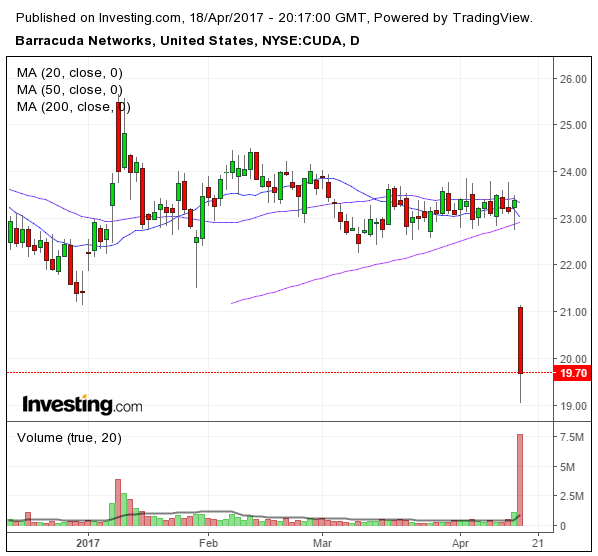 Source: Investing.com
The stock has a P/E ratio of over 100, which is well above its industry average of 24.9. However, since CUDA is a small-cap stock, it's not unusual to see this high of a price-to-earnings ratio. The company has a book value per share of -0.094, and therefore, it has a negative price-to-book ratio.
Final Thoughts
Although Barracuda Networks beat Wall Street estimates for the 4Q 2017, the markets are forward looking. Consequently, when the company indicated that its non-GAAP EPS could potentially fall year over year, this caused the stock to sell off. The key takeaway here is to focus on guidance, or outlook, if the company issues that.
Related Articles: