BlackBerry Ltd. (NASDAQ: BBRY) shares were up significantly today,  gaining over 15% after it was awarded a preliminary $814.9M in royalty overpayments made to Qualcomm. A final award, which would include interest and legal fees, is expected to be issued after a hearing on May 30. Let's get right into the catalyst.
BlackBerry Awarded Nearly $815M in Arbitration Case
BlackBerry noted that it was overpaying Qualcomm in royalty payments, and last year, the two companies were in talks to settle BlackBerry's claim. They came together to look into an existing "agreement to cap certain royalties applied to payments made by BlackBerry under a license agreement between the two parties." Now, the arbitration hearing was held between February 27 and March 3, and BlackBerry is happy about the ruling in its favor.
BlackBerry Ltd. CEO John Chen stated, "BlackBerry and Qualcomm have a longstanding relationship and continue to be valued technology partners…We are pleased the arbitration panel ruled in our favor and look forward to collaborating with Qualcomm in security for ASICs and solutions for the automotive industry."'
That in mind, this could be a game changer for BlackBerry, as it already has over $1B in cash, and with this preliminary award, it could bring its total cash near $2B. Moving on, let's look at some statistics and fundamentals. Some analysts were bullish on BBRY due to this award, prompting Canaccord analyst T. Michael Walkley to his price target on the Canadian software maker's shares to $9.50, from $8.00. Todd Coupland at CIBC raised Blackberry to Neutral, from underperform, and placed a $10 price target on the company.
BlackBerry Statistics and Valuation
The stock traded between $8.80 and $9.19 today, marking a new 52-week high. BBRY traded between $6.23 and $9.19, over the past 52 weeks. Consequently, it's currently 2.50% below its 52-week high and over 40% above its 52-week low. BBRY is more than 20% above its 200-day SMA. Additionally, BBRY is over 20% above its 50-day SMA.
If you look at the chart below, notice how BBRY's 20-day cross above both its 50-day and 200-day simple moving averages. This indicated, at the time, the BBRY shares could reverse and potentially run higher. Today, we saw some confirmation.
Here's a look at BBRY's recent performance on the daily chart: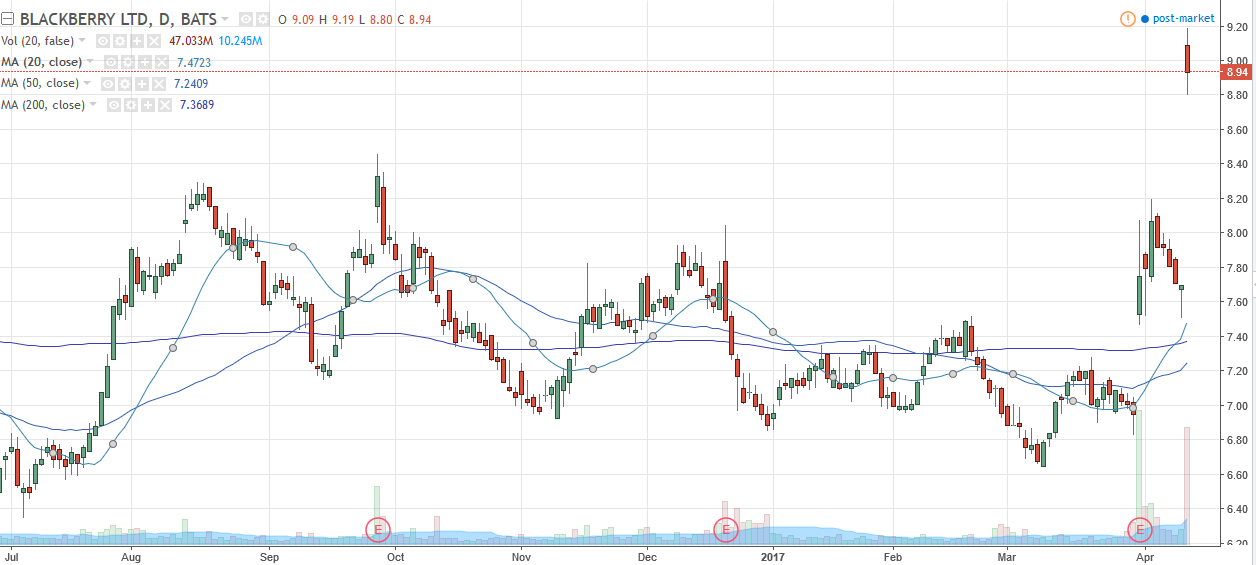 Source: TradingView
BlackBerry Limited currently has a book value per share of around 3.9. Therefore, its P/B ratio was approximately 2.3, while the P/B ratio of its industry was 2.1. Additionally, the stock has a price-to-sales ratio (P/S) of 3.1, which is above its industry average of 1.8. BlackBerry Limited has 527.21M shares floating, 530.5M shares outstanding, and a short ratio of 10.12%. BBRY has been struggling to grow its revenues, and had three consecutive fiscal years of revenue drops. Also, the company operated at a loss in its most recent fiscal year, which was reported at the end of March 2017, and had a net loss of $1.206B, and consequently, it had a net loss per share of $2.30.
Final Thoughts
BlackBerry was up over 15% after being awarded a preliminary $815M in its arbitration case. That said, this could potentially increase BlackBerry's cash holdings, and it could be a game changer for the company. The main factors we'll be focusing on are whether BlackBerry could drive demand in its products and whether its revenues and earnings grow in its next earnings release.
Related Articles: