Shares of ClubCorp Holdings Inc. (NASDAQ: MYCC) were down just over 10% in today's trading, after it reported its first quarter earnings results. Moreover, the company announced that it would not be exploring strategic alternatives at this time because it did not get a proposal for the entire company. Let's take a look at the its first quarter 2017 earnings results.
ClubCorp Holdings 1Q Loss and Comments
ClubCorp Holdings reported a loss of $7.5M during the first quarter of 2017. The company reported a net loss of 12 cents per share, which was below the consensus estimate. According to the average EPS estimate of analysts surveyed by Zacks, ClubCorp Holdings was expected to report a net loss per share of 8 cents. However, MYCC's net loss narrowed from $8.3M in the same quarter of the previous fiscal year.
The company reported 1Q 2017 revenue of $221.3M, a 3.0% increase, from its 1Q 2016 revenue. Moreover, its net loss decreased to $7.5M, a decrease of $0.8M, or nearly 10% year over year. ClubCorp Holdings also increased its same-store combined clubs adjusted EBITDA to $59.2M in 1Q 2017, from $57.3M in the first quarter of 2016.
Now, the company also noted that the board of directors decided not to move forward or actively seek a strategic transaction now. Despite not seeking a strategic transaction now, the board's strategic review committee will remain in place. Moreover CEO Eric Affeldt announced his intention to retire, upon the appointment of his successor.
ClubCorp Holdings Statistics and Valuation
MYCC traded in a range between $13.50 and $14.30 today. MYCC traded between  $10.80  and  $17.60 , over the past 52 weeks. Consequently, it's currently over 20% below its 52-week high, and just over 28% above its 52-week low. MYCC gapped below its 200-day SMA after its earnings miss today, and its 20-day SMA crossed below its 50-day SMA, which is generally thought to be a bearish indication.
Here's a look at the stock's performance on the daily chart: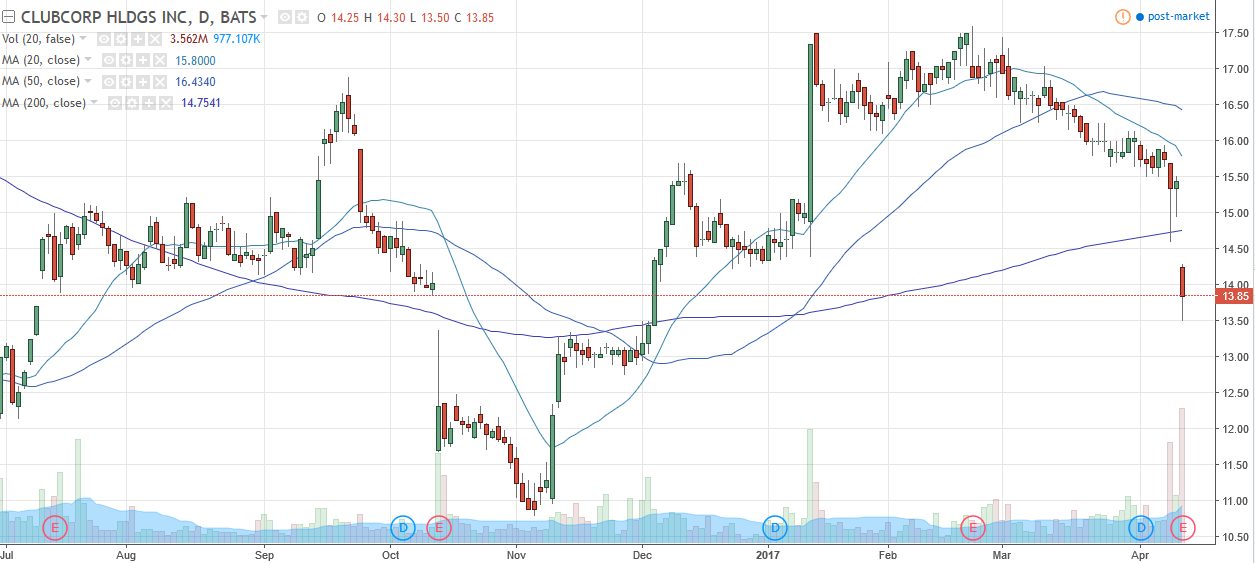 Source: TradingView
MYCC has a trailing 12-month price-to-earnings ratio of over 280, while the industry average is just around 24, this indicates that MYCC may be overvalued in relation to its peers. MYCC has a book value per share (BVPS) of 2.18, and therefore, it has a price-to-book ratio of 6.35, based on today's closing price. The stock's P/B ratio is well above the industry average of around 2.9.
Final Thoughts
Shares of MYCC were down over 10%, after its earnings missed Wall Street estimates. Moreover, the company's CEO announced his intention to retire. Despite growing its revenues and same-store combined adjusted EBITDA, the company needs to turn its net income positive, in order to potentially attract a strategic transaction.
Related Articles: