Hub Group Inc (NASDAQ:HUBG) shares fell just over 14% today, after the company filed a Form 8-K, announcing first quarter 2017 expectations after the close yesterday. The company's earnings expectations came in well below Wall Street estimates. Let's take a look at Hub Group's first quarter 2017 earnings expectations and valuation.
Hub Group 1Q 2017 and FY 2017 Earnings Expectations
The company announced yesterday that it expects its diluted EPS for the first quarter of 2017 to be between 30 cents and 32 cents per share, while analysts are expecting its first-quarter EPS to come in at 45 cents per share. Moreover, the company expects that its full-year 2017 diluted EPS would range between $1.60 and $1.80, while analysts surveyed by FactSet had an expected EPS of $2.39 for the 2017 fiscal year.
According to Hub Group Chairman and Chief Executive Officer Dave Yeager, "We believe the current intermodal pricing environment is an aberration that will improve as truck capacity becomes tighter and pricing becomes more rational.  Intermodal will always be a major part of Hub's business.  But through diversification, the inevitable cyclical rise and fall of intermodal prices will have less of an impact on earnings…We are working diligently to further diversify our product offerings through acquisitions."
The company expected to report its 1Q 2017 financial results after the market close on April 26, 2017*. *Note: Hub Group's earnings release date is subject to change.
HUBG Technicals and Valuation Ratios
HUBG traded in a range between $38.95 and $41.00 today. HUBG has a 52-week range between  $34.35 and $52.50 . Therefore, the stock is currently around 18% above its 52-week low  and approximately 22% below its 52-week high. HUBG broke below its 200-day simple moving average today, and it's approximately 5.6% below that on the daily chart. Moreover, the stock is trading well below its 20- and 50-day SMAs.
Take a look at HUBG's performance on the daily chart: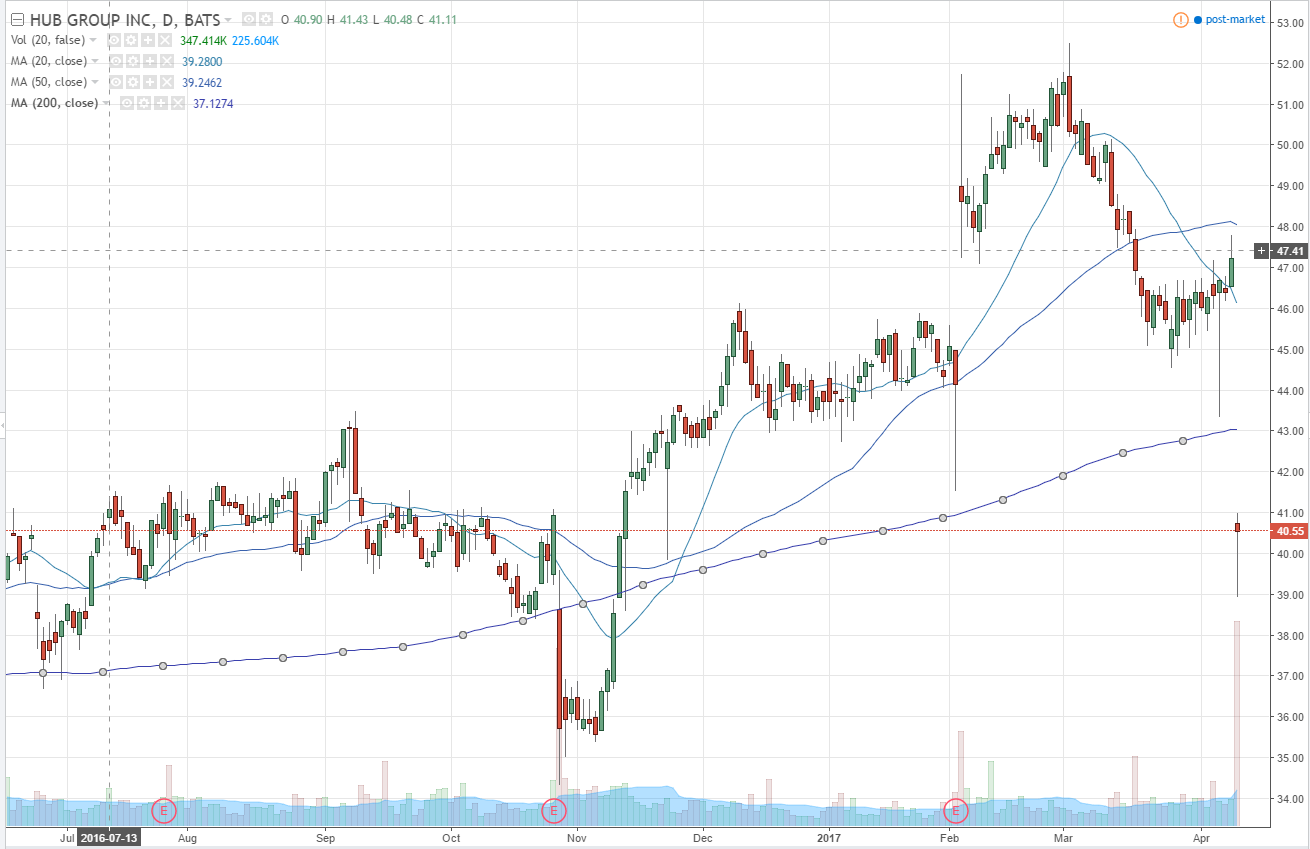 Source: TradingView
HUBG has a price-to-earnings ratio of approximately 18.50, which is below the industry average of approximately 27, indicating the stock may be undervalued, when compared to some of its peers. Based on next year's earnings estimates, the stock has a forward price-to-earnings ratio of approximately 22.53, using today's closing price and the upper-end of its forecast FY 2017 EPS range. The company has a book value per share of around 18.5, and therefore, it has a price-to-book ratio of 2.19, which is well below the industry average of 6.7. Additionally, the stock has a price-to-sales ratio (P/S) of 0.451. HUBG has 33.5 million shares outstanding, 32134000 shares floating and a short ratio of 1.40%.
HUBG grew its FY 2016 revenue by 1.34%, year over year. Additionally, HUBG grew its 2016 net income by 5.63% year over year. The company's FY 2016 EPS grew by 11.67%, from its FY 2015 EPS.
Final Thoughts
HUBG announced its 1Q and FY 2017 earnings results, and it came in well below the consensus estimate. Now, the company is reporting its earnings results later this month, and we'll be following the stock then to see how its numbers come in.
Related Articles: