In a joint press release last night, IAC and Angie's List Inc (NASDAQ: ANGI) announced that IAC's HomeAdvisor and Angie's List would be combined into a new publicly-traded company, which is expected to be named ANGI Homeservices Inc. If you've been subscribing to my long-term emails since February, you'll probably recall that I bought 2K shares of. That "long-term" investment paid off today. I also gave my a clear thought process, and here's a snippet of what I sent to investors back in February 2017,
"ANGI has been on a slide since the first week of September, after the stock reached a high of $10.76, then tumbled below its 52-week low, following Q4 earnings on February 15.
ANGI is one of those stocks I believe has been oversold due to the lack of guidance, which may suggest to some traders that the company is in serious trouble.  Now trading at one-times revenue, I believe the stock suffers from another case of over-pessimism.
I also wouldn't be surprised if Angie's is sold.  The company's EV of $345 million is just barely more than its market capitalization of $326.27M.  Hmmm."
And that's what exactly happened today. I sold out of the stock during the pre-market today at $9.05, over a $6K profit in just 10 weeks. Not too shabby. Here's a look at the stock's performance on the hourly chart: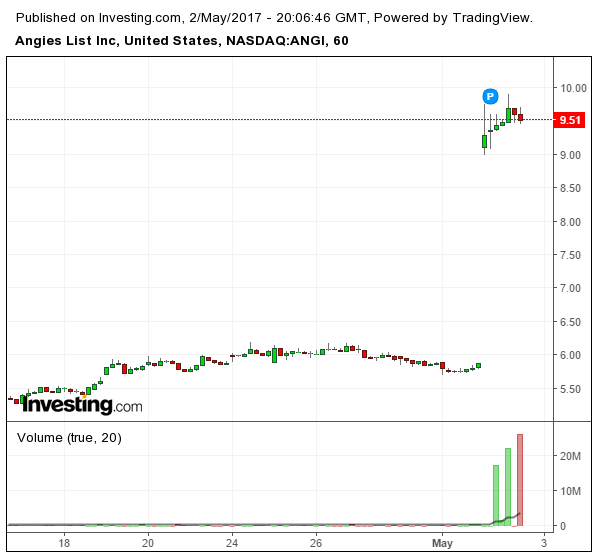 Source: Investing.com
Let's take a look at the details of the definitive agreement.
IAC and ANGI Definitive Agreement
Under the terms of the definitive agreement, ANGI shareholders have the right to elect to receive with one share of ANGI Homeservices Inc. Class A common stock, or $8.50 per share in cash, for each share of ANGI stock owned. Now, the total amount of cash available to shareholders in the transaction is capped at $130M. That in mind, IAC's ownership of the combined company is dependent on the amount of ANGI shareholders who elect to receive cash. IAC is expected to own approximately 87% and approximately 90% of the equity value of ANGI Home Services Inc.
Some of the key benefits that the combined company may have include: synergies, growth and scale. Now, management expect to fully implement anywhere between $100M and $250M of annualized synergies by 2018. Additionally, HomeAdvisors could potentially increase its growth due to the increase in scale on both the supply and demand side of the home services market. Moreover, homeowners could leverage the combined network of high quality service professionals between Angie's List and HomeAdvisor's network.
Final Thoughts
When you're valuing companies, you might want to take into account the company's enterprise value in relation to its market cap. That's exactly what I did with ANGI, it was quite simple, and I clearly defined my risks, and if you were a long-term subscriber, at that time, you'll probably remember that email. Anyway, that investment paid off and it was the best case scenario, in my opinion.
Related Articles: