Matrix Service Company (NASDAQ: MTRX) fell over 30% today, after the company provided updates for the third quarter ended on March 31, 2017. Now, the company, surprisingly, warned of a loss for the third quarter, and the downside guidance caused selling in the stock. Here's a look at MTRX on the 5 minute chart: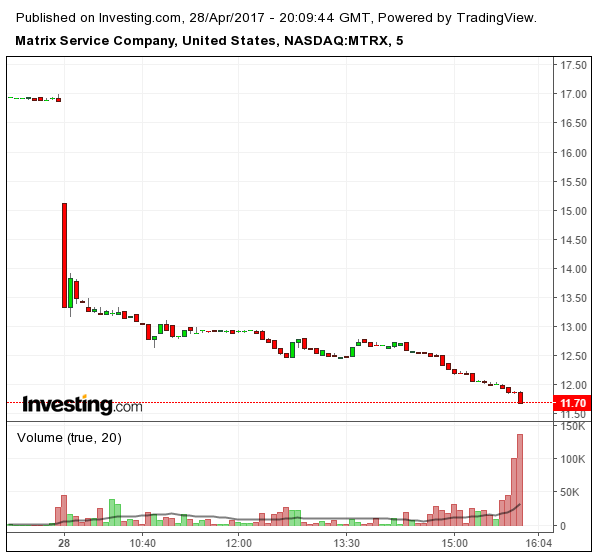 Source: Investing.com
Matrix Third Quarter Business Update
Matrix Service warned on its net income, and issued guidance indicating that it expects a quarterly net loss to come in at a range between $13M and $15M. In its business update, the company noted that its quarterly net loss was expected to be in a range between 49 cents to 56 cents per share, while the Capital IQ consensus estimate was a 14 cent per share profit. Now, this surprised traders and investors, causing a panic selloff, pushing the stock down to four-year lows. Traders are pricing in its net loss, ahead of its earnings release on May 9, 2017.
The primary reason for its downside guidance was due to charge on a large power project. Additionally, the company noted "continuing market softness and project delays" negatively impacted its results. After adjusting for project charge, Matrix expects its consolidated revenue to come in at around $250M, over $50M below the Capital IQ consensus estimate. More specifically, the reason for the warning was due to its "forecasted deterioration of the financial outcome of a major project in the Electrical Infrastructure segment."
The energy, power and industrial contractor now expects its full-year earnings per share to be near breakeven. Now, traders and investors want to see growth in revenue and EPS, and with this guidance, it's caused some fear.
The CEO Said This
Matrix Service Company President and CEO John R. Hewitt stated, "We are very confident in our project team's ability to complete the project in a safe and high quality manner. In addition, given our strong relationship and historical experience with this customer to successfully work through critical issues, we believe an equitable solution for both parties can be achieved. We will continue to work with our customer to successfully complete this project, which is currently scheduled to be complete in fiscal 2018."
Traders didn't buy these comments at all, and didn't really catch a bounce at all throughout the day. In fact, we saw the stock selloff continue into the close.
Final Thoughts
Matrix warned of a third quarter loss, surprising traders and analysts. Now, the company gave some reasons to this potential loss for the quarter. However, we'll need to see the concrete results when it reports its third quarter financial results on May 9, 2017.
Related Articles: