North Atlantic Drilling Ltd. (NYSE: NADL) shares were up over 250% today after it announced that it secured a 10-year long contract awards for the jack-ups West Linus and West Elara with ConocoPhillips Skandinavia AS for work in the Greater Ekofisk Area. Now, the total additional backlog for the 10-year contract awards are estimated to be over $1B, which excludes potential performance bonuses.
Details of Contract Awards
The West Elara contract is expected to begin in October 2017, which includes a period of fixed day rate until March 2020. This would contribute a contract backlog of around $160M. Thereafter, a market indexed rate would be applicable until October 2027, and North Atlantic Drilling this would contribute over $500M of contract backlog. Moving on, the West Linus contract was extend for another 9 years, from May 2019 until the end of 2028, at a market indexed day rate. NADL believes this could potentially contribute a projected $706M of contract backlog. Note, the backlog estimate is based on a third party day rate assumptions.
North Atlantic Drilling Statistics
On April 10, 2017, prior to this news, NADL had a market cap of $17.72M. After this catalyst, NADL had a market cap of over $60M. NADL traded in a range between $1.73  and $2.87 today. The stock has traded between $0.65 and $8.08, over the past 52 weeks. Consequently, NADL is currently just over 200% below its 52-week high and over 300% above its 52-week low.
Take a look at NADL's performance on the daily chart: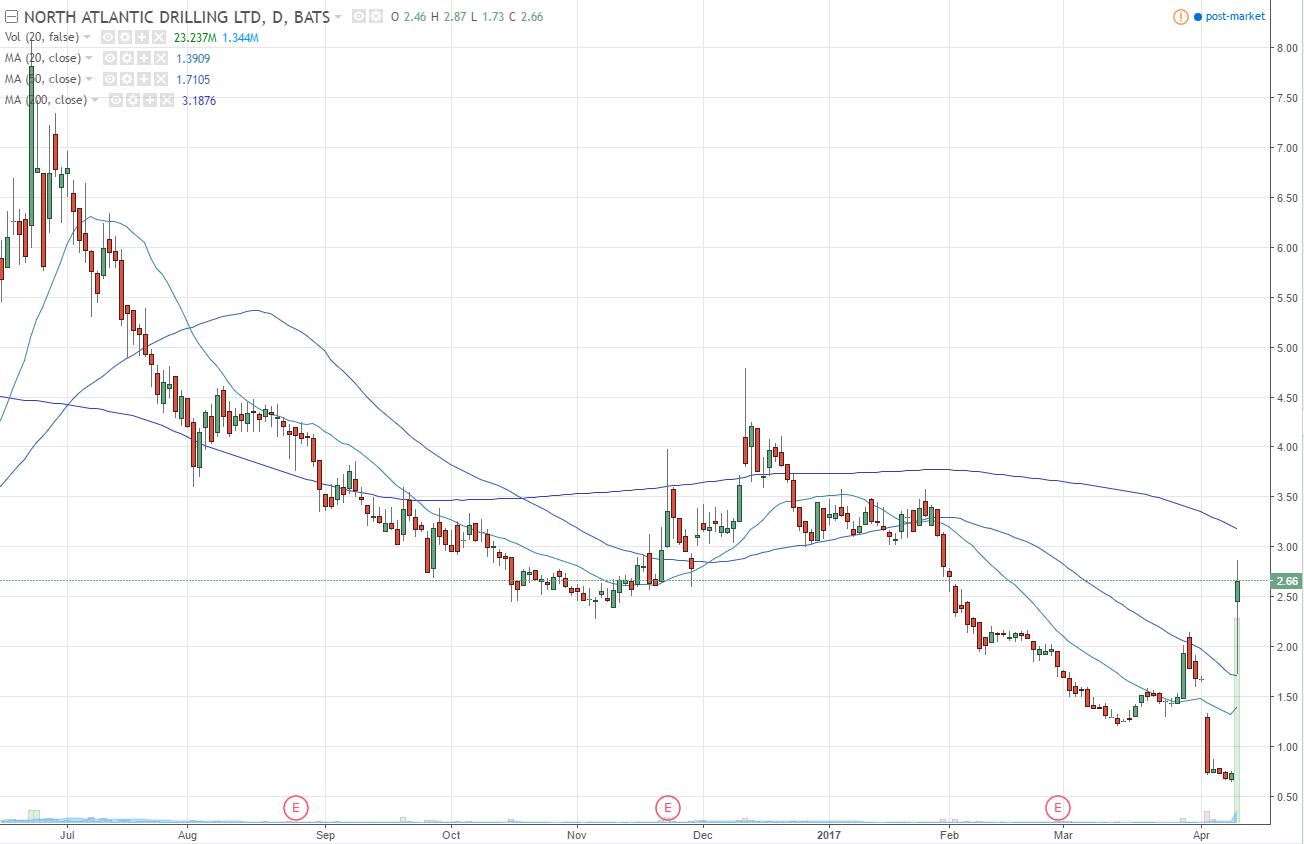 Source: TradingView
Now, after today's performance, you'll notice that the stock broke above its 20- and 50-day simple moving averages, indicating a potential reversal of its recent downtrend, on heavy volume. Over 23M shares traded today, which is over 150 times its average daily trading volume, according to Morningstar. The stock has a float of just 6.97M and shares outstanding of 24.11M. Since the company has a low float, it could experience a high degree of volatility due to supply and demand aspects.
Let's move onto some fundamentals.
Based North Atlantic Drilling's preliminary results for the 4Q 2016, according to Morningstar data, the company's revenues decreased by over 40% from the 4Q of the 2015 fiscal year. Now, between the 2015 and 2016 fiscal year, NADL's revenue fell by just over 28%. However, the company's net loss came in at approximately $57M, while its 4Q 2015 net loss was $117M. Its preliminary 2016 net loss was $67M, while it had a net loss of around $95M for the 2015 fiscal year. Although the company has been operating at a loss, NADL has been showing some signs of growth in its net income.
Final Thoughts
North Atlantic Drilling was awarded 10-year contracts for West Elara and West Linus, by ConocoPhillips. The contract awards are expected to have a contract backlog of $1.4B, excluding potential performance bonuses. Now, there could be continued extreme moves in NADL due to its low float.
Related Articles: