Nutrisystem Inc. (NASDAQ: NTRI) shares plummeted over 7% today, despite financial results exceeding expectations and achieving double digit revenue growth. The company also raised its full-year 2017 outlook. Let's take a look at the company's financial results. First, take a look at Nutrisystem on the daily chart: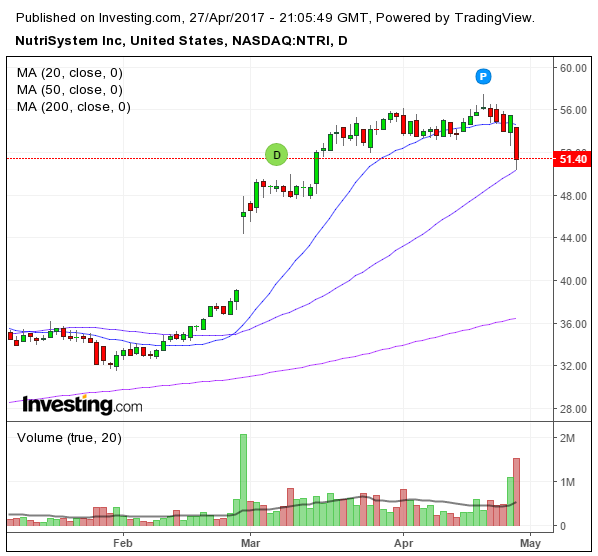 Source: Investing.com
The stock broke below its 20-day simple moving average and found some support at its 50-day simple moving average.
Nutrisystem 1Q 2017 Financial Highlights
Nutrisystem reported first quarter 2017 revenue of $212.7M, a 31% increase, when compared to its first quarter 2016 revenue of $162.1M. Additionally, the company's net income came in at $7.5M for the first quarter of 2017, a 193% increase from its reported net income in the first quarter of 2016. In turn, Nutrisystem's diluted income per common share rose by nearly 180% year over year. Additionally, the company's earnings before interest, taxes depreciation and amortization (EBITDA) came in at $15.5M, compared to $8M in the first quarter of the 2016 fiscal year, a 94% increase year over year.
Here's what Nutrisystem President and CEO Dawn Zier said about the company's financial results, "We are pleased to report another strong Diet Season resulting in our 15th consecutive quarter of year-over-year revenue growth. Nutrisystem's Lean 13 campaign exceeded our expectations around customer acquisition and reactivation. Additionally, our a la carte and shake sales showed significant growth. The official launch of the South Beach Diet is also resonating with consumers and is meeting our expectations."
Nutrisystem CFO Mike Monahan, stated, "Our business continues to show strength. We were able to improve gross and operating margins during the first quarter even as we continued to invest in our new South Beach Diet brand. As a result we are raising our full year guidance for both revenue and diluted income per share."
Zier concluded, "The Nutrisystem brand is as strong as ever and our multi-brand strategy is taking hold. We believe our investments in new products, new brands and further enhancements to the customer experience have us well positioned to achieve our fourth consecutive year of double-digit revenue growth and deliver meaningful ongoing value to our shareholders."
Now, Zier and Monahan are confident in the company, and it raised its full-year 2017 guidance.
Nutrisystem 2Q 2017 and Full Year Guidance
The company expected its second quarter revenue to come in between a range of $178M and $183M, net income between $17.6M and $18.9M, and diluted net income per common share between 58 cents and 63 cents, which was in line with its previous guidance.
However, what was perplexing was that the company raised its full-year 2017 guidance, but not its second quarter 2017 guidance. The company expects its full-year 2017 revenue to come in between a range of $650M and $665M, compared to $630M to $650M previously. Nutrisystem expects net income to come in between a range of $49.9M and $52.9M, compared to the previous range of $46.8M and $49.7M. Additionally, the company raised its diluted EPS guidance to a range between $1.65 and $1.75, while the previous guidance range was between $1.55 and $1.65.
Final Thoughts
Although the company raised its guidance, the stock still dropped 7% on the day. This might be due to the disparity between the CEO's and CFO's comments. A few weeks ago, Zier sold 30K shares at a price of $53.86 per share, additionally Monahan sold some shares. Now, these sales and the company's 2Q 2017 guidance may have been the reasons the stock dropped today.
Related Articles: