Ocean Power Technologies Inc (NASDAQ: OPTT) shares were up nearly 50% on the day, after it announced that it deployed its PB3 PowerBuoy off the coast of Kozu-shima Island in Japan. Now, the renewable energy company could leverage this deployment and potentially bring PowerBuoys to other parts of Japan and East Asia. Let's get right into the news.
OPTT Deploys PB3 PowerBuoy
Ocean Power Technologies deployed the PowerBuoy as part of its first lease agreement with Mitsui Engineering and Shipbuilding. The PB3 PowerBuoy was shipped to Japan back in February 2017, and finally arrived in Tokyo on March 18, 2017. Then, the PB3 was subject to standard customs processing, and after it was cleared, the PowerBuoy was transported to Kozu-shima Island, and it was staged dockside. The standard pre-deployment functional preparations and checks were conducted.
Moving on, the deployment was completed by a joint team of Mitsui Engineering and Shipbuilding, and Penta-Ocean Construction. Ocean Power helped Mitsui Engineering and Shipbuilding with the mooring system for the severe ocean conditions around the island. Now, the company's PB3 could be used for remote offshore applications, such as ocean-surface surveillance for security and defense purposes; subsea drone docking stations used in the oil and gas markets, as well as the defense market; and subsea production operations for oil and gas.
That in mind, customers could potentially lower their operating costs with a PB3 PowerBuoy, which would allow for remote offshore subsea monitoring, as well as control from land-based operations. This lease agreement is for a 6-month deployment with the possibility of an extension.
OPTT Valuation and Performance
Let's look at OPTT's valuation prior to the deployment of the PB3. Based on its closing price on Friday, OPTT had a price-to-book ratio of 1.5, which was below the industry average of 3.9. Moreover, it had a trailing 12-month price-to-sales ratio of 8.7, well above the industry average of 2.1. Now, keep in mind OPTT is a micro-cap company, and it's currently in the growth stage. Therefore, it the stock could still provide some growth potential, despite trading at a higher price-to-sales ratio than some of its competitors.
Moreover, OPTT only has just over 6M shares floating. Consequently, its low market cap and the low amount of floating shares are two of the primary reasons the stock was up nearly 50% on the day.
Ahead of the company's press release today, Ocean Power Technologies have been down nearly 40% over the past three months, based on the close on Friday. Moreover, it's been down over 11% over the past month. Therefore, after today's performance, the company erased its losses and is up slightly year to date.
Here's a look at OPTT on the daily chart: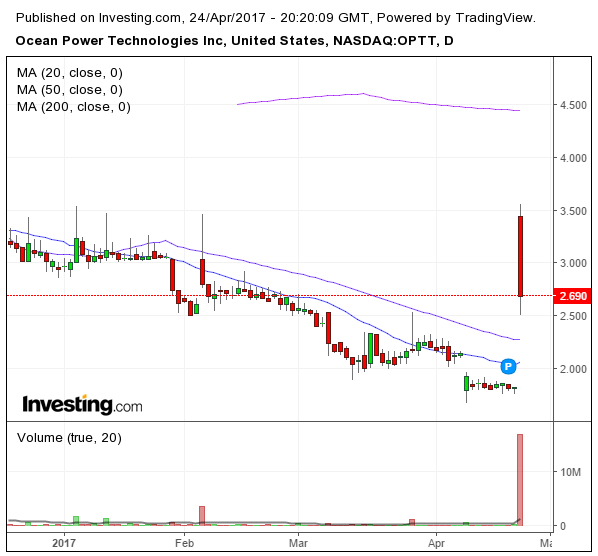 Source: TradingView
The stock broke above its 20- and 50-day simple moving averages, which indicates a reversal in trend. However, the stock hit some resistance area, just above $3.50, and closed at $2.69 today.
Final Thoughts
OPTT shares were up significantly off of this deployment news. This may be due to the optimistic outlook of revenues and earnings due to this deployment, if there is demand PB3's services. Take the company has a low float, and a short interest of over 15%. In turn, there could be continued volatility in the stock.
Related Articles: