Shares of China Auto Logistics Inc (NASDAQ: CALI) rose by over 40% today, and added over 2.50% during the after hours. However, there were no press releases or reports that could explain this news. So we'll have to focus on technicals and fundamentals in an attempt to explain this meteoric rise.
China Auto Logistics Rise
This was not the only day this week that the stock had a monster run. Yesterday, the stock was up over 50%. And over the past week, as of the close on April 4, 2017, CALI was up over 90%. Moreover, the stock has been up over 150% over the past year. Let's get into some statistics and some technicals first.
CALI traded in a range between $2.86 and $4.69 today, marking a new 52-week high. That said, CALI has a new 52-week range between $0.99 and $4.69. Consequently, it's currently 14% below its 52-week high and 308% above its 52-week low. CALI is 35% above its 200 day simple moving average. Additionally, CALI is 73% above its 50-day SMA.

Take a look at CALI's performance on the daily chart: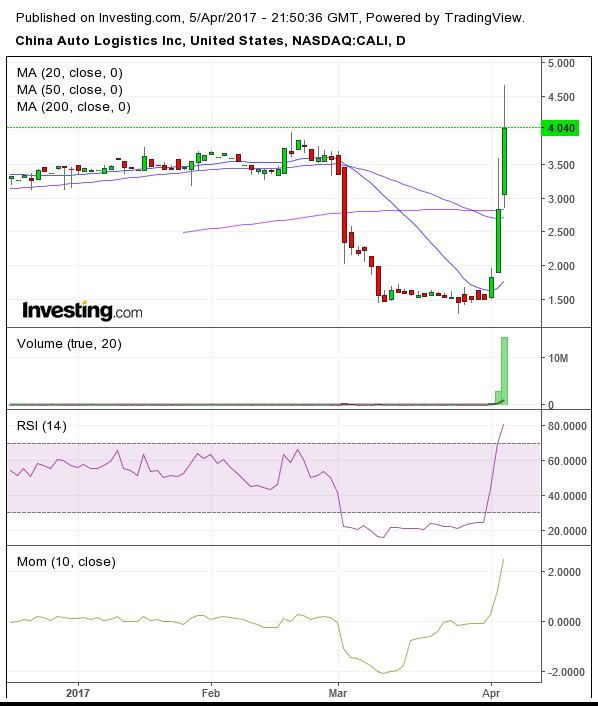 Source: Investing.com
Now, if you look at the daily chart above, CALI  had three consecutive up days, which were all significantly. Take note that the stock recently bottomed out, and broke above all its moving averages, as shown above. It broke above its 20-, 50- and 200-day moving averages. Moreover, its RSI broke above the 70 level, but it could continue higher, because it does not seem to be turning around just yet.

CALI Valuation Metrics and One Key Statistic
The stock has a P/E ratio of 4.09. CALI has a book value per share (BVPS) of 6.095. CALI has a price-to-revenue ratio of 0.03.  The stock also has a price-to-sales ratio (P/S) of 0.02. The company also has a price-to-book ratio (P/B) of 0.50, while the industry average is 2.8. Now, this may have attracted some buyers because it may be undervalued. CALI grew its revenue by approximately 5%, year over year. Additionally, CALI grew its net income by 133% year over year. In turn, the company's EPS grew by 190% quarter over quarter (QoQ). Additionally, its strong growth rates may have attracted buyers, as well.


In addition to its strong technicals and valuation metrics, CALI has 4.0 million shares outstanding and 2.39M shares floating, and there are nearly no shares short. When a stock has such a low float, the impact of supply and demand could significantly affect the stock price. CALI is a clear example of a stock that could move significantly, if there are more buyers due to its low float.
Final Thoughts
Shares of CALI have been up significantly this week, so far, and there was no news-related catalysts. That said, when a stock does not have any press releases, you might want to consider focusing on technicals and fundamentals. Moreover, CALI is a prime example of how low float stocks could have dramatic moves.


Related Articles: