Rent-A-Center Inc (NASDAQ:RCII) shares were up over 7% today, after the company announced a new strategic plan in an attempt to drive growth, provide enhanced shareholder value and grow its profits. Moreover, the company issued some guidance for 2018 and 2019, which indicates that the company could be showing signs of improvements.
Rent-A-Center's Strategic Plan
According to Rent-A-Center CEO, Mark Speese, "Rent-A-Center remains focused on our mission to provide cash- and credit-constrained consumers with affordable and flexible access to durable goods that promote a higher quality of living…With the actions announced today, many of which are already underway, we are renewing our focus on what made Rent-A-Center an industry leader – starting with enhancing the value proposition of our offerings to increase customer satisfaction and enable higher rates of ownership."
In Rent-A-Center's strategic plan, it intends to enhance customer value, restore growth and profitability in the U.S. Core Business, build momentum to optimize and expand ANow, and leverage technology investments to expand into new channels.
What's more interesting was the company's guidance for the 2018 and 2019 fiscal year. Now, for the 2018 fiscal year, Rent-A-Center expects its revenue to grow in the low-single digits, earnings before interest, taxes, depreciation and amortization (EBITDA) to grow between 7.5% and 8.5%, and it expects its free cash flow to come in between $70M and $90M. Moreover, it expects its EPS to be between $1.20 and $1.40.
For the 2019 fiscal year, the company expects its revenue to grow by mid-single digits, EBITDA to grow between 9.5% and 10.5%, free cash flow to be between $110M and $130M, and EPS to be between $2.00 and $2.25. Therefore, between the 2018 and 2019 fiscal year, Rent-A-Center expects its EPS to grow by over 60% between the forecast years, when calculating the growth rate using the midpoint.
Rent-A-Center Statistics and Fundamentals
RCII traded in a range between $9.83 and $10.50 today. RCII traded between  $7.76 and $15.94 , over the past 52 weeks. Despite rising significantly today, the stock is currently still over 30%below its 52-week high, but it's over 30% above its 52-week low. RCII is just under 3% below its 200 day SMA. Additionally, the stock is over 15% above its 50-day simple moving average.
Here's a look at RCII's recent performance on the daily chart: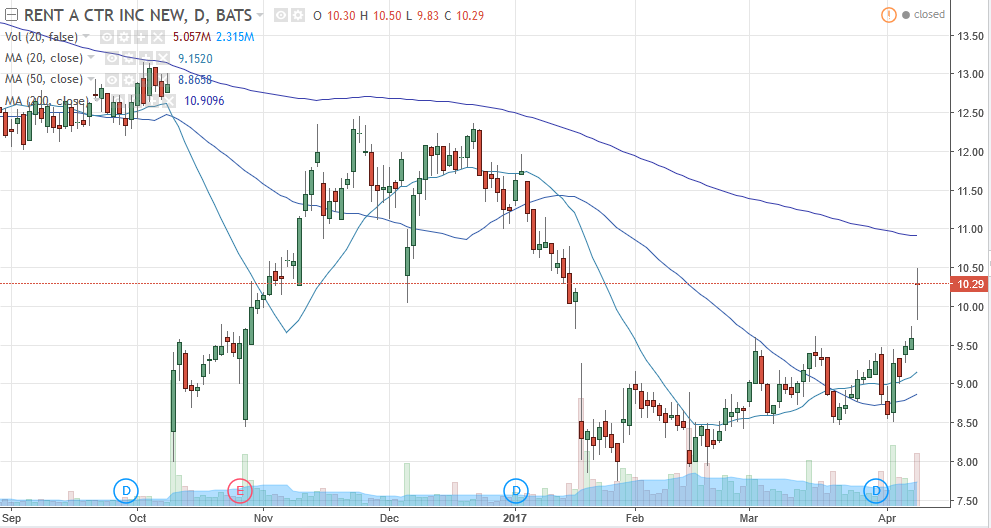 Source: TradingView
Rent-A-Center, Inc. currently has a book value per share of 4.985 RCII has a price-to-revenue ratio of 0.183. RCII has a forward price-to-revenue, based on next year's revenues estimates, of 0.19. Based on next year's earnings estimates, the company has a forward price-to-earnings ratio of 34.0. Moreover, it has a P/S of 0.17, indicating it may be undervalued in comparison to some of its peers.
Rent-A-Center, Inc. has  42.70M shares floating, 53.1 million shares outstanding, and a short ratio of 36.95%. Consequently, RCII could potentially see a short squeeze due to its high short interest and its potential growth rates.
RCII's 4Q 2016 revenue fell by over 10%, year over year. Additionally, RCII grew its net income by 88.97% year over year. The company's Q4 2016 EPS grew by over 80% year over year. RCII is estimated to report earnings on 2017-04-25*, and the average analysts' estimate is is  $0.10. *Note: Rent-A-Center's earnings date is subject to change.
Final Thoughts
Shares of RCII were up significantly today after the company announced a new strategic plan and some positive guidance for the 2018 and 2019 fiscal years. Now, the company is expected to report its financial results later this month, so we'll be keeping an eye on those to see how the company has been growing.
Related Articles: