Ritchie Bros Auctioneers Inc (USA) (NYSE:RBA) closed the day down nearly 5% on the day after it published its March 2017 auction metrics. However, the company noted the monthly auction metrics shouldn't be considered indicative of its future performance. Let's move onto those metrics.
Ritchie Bros Auctioneers Total Gross Auction Proceeds
According to the company's website, it published its unaudited total gross auction proceeds. For the month of March, the Ritchie Bros Auctioneers' proceeds came in at $560M, over 10% below its March 2016 gross auction proceeds of $620M. Additionally, the company's gross auction proceeds shrank year over year in February 2017, when it reported gross auction proceeds of $340M, a 15% drop from its total gross auction proceeds of $400M in February 2016.
In addition to this fall in total gross auction proceeds, KeyBanc downgraded Ritchie Bros Auctioneers Inc (USA) from Overweight to Sector Weight. KeyBanc analyst Joe Box removed his price target, as well, and indicated that the stock may be in a low volume environment after this downgrade. The KeyBanc analyst noted that the RBA may be more appealing to investors when it's operating in a strong volume environment.
RBA Statistics and Fundamentals
RBA traded in a range between $29.36 and $31.09 today. RBA traded between $26.96  and  $39.96 , over the past 52 weeks. Consequently, the stock is currently nearly 25% below its 52-week high and just around 12% above its 52-week low. RBA is nearly 12% below its 200 day simple moving average. Additionally, RBA is around 5% below its 50-day SMA.
Here's a look at RBA's recent performance on the daily chart: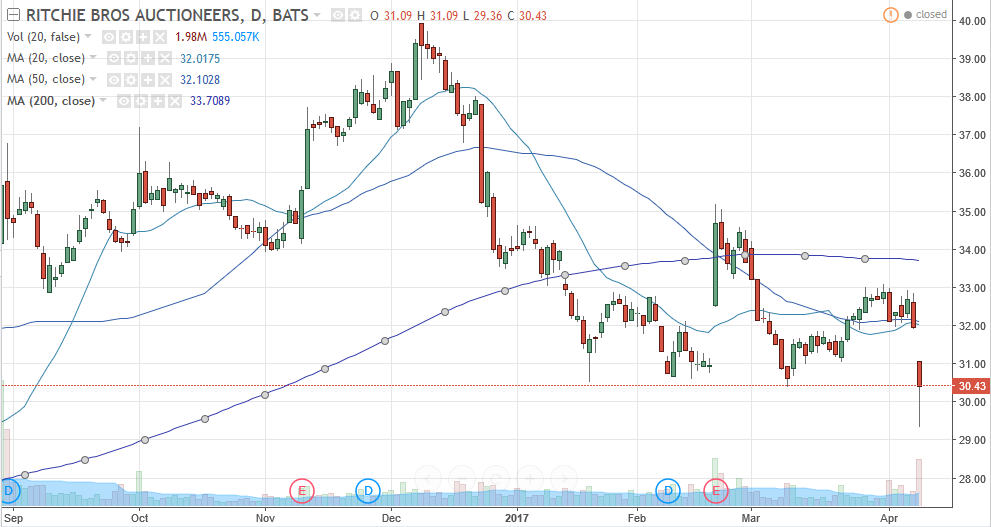 Source: TradingView
Ritchie Bros. Auctioneers Incorporated currently has a book value per share of 6.432, and therefore, it is currently trading at a price-to-book ratio of 4.73. The stock's P/B ratio is below the industry average of 5.1, indicating it may be undervalued when compared to some of its competitors RBA has a price-to-revenue ratio of around 5.6, and a forward price-to-revenue, based on next year's revenues estimates, of 4.79. Based on next year's earnings estimates, the stock has a forward price-to-earnings ratio of 22.98. Moreover, it has a P/S of around 6, which is above the industry average of 2.1. The stock currently has a trailing 12-month price-to-earnings ratio slightly above its industry average.
RBA's 4Q 2016 revenue grew by 8.89%, year over year. Additionally, RBA 's net income fell by 32.52% year over year. However, RBA's 4Q 2016 EPS fell by 39.13% year over year (YoY).
Final Thoughts
RBA shares fell nearly 5% after it release its monthly total gross auction proceeds, which fell year over year. Moreover, KeyBanc downgraded the stock from Overweight to Sector Weight. Now, we'll have to wait and see when it reports its earnings to see whether the company's revenues or EPS fell QoQ and YoY.
Related Articles: