Seagate Technologies PLC (NASDAQ: STX) shares fell over 16% after the company missed its revenue estimates and indicated Q4 may be weak. The company's guidance was conservative, and it seems like the market didn't like what the CEO said on the conference call. Let's get right into the hard disk drive maker's financial results.
Seagate Technologies Third Quarter Financial Results
According to Zacks Consensus Estimate, the surveyed analysts were expecting Seagate to report revenue of $2.69B, but the company's revenues came short at around $2.67B. However, Seagate beat its non-GAAP earnings per share (EPS) estimate by 4 cents. The company reported net income of $194M and a diluted EPS of 65 cents, on a GAAP basis. Now, on a non-GAAP basis, Seagate reported gross margin of 31.4%, net income of $329M, and a diluted EPS of $1.10.
Steve Luczo, Seagate's chairman and Chief Executive Officer, stated, "The results of our financial performance this quarter reflect a stable demand environment, good operational execution and momentum in the stabilization of our business model…With a market-leading and cost-efficient storage solution portfolio, Seagate is well positioned to support our existing and new customers in a world of accelerated data creation and increased storage needs driven by emerging technologies and new business models. We will continue to focus on future growth opportunities, generating profits and building lasting value for our shareholders."
However, Luczo's tone in the conference call was a bit more cautious.
Seagate Conference Call Comments
In Seagate's conference call, Luczo stated, "Our expectations reflect the seasonal decline in revenue, our desire to maintain lower inventories going into the summer months and some conservatism due to the potential impact of component shortages in DRAM and NAND on various aspects of our customers' businesses in the server, CSP and client space."
That in mind, the potential shortage of components could potentially hurt the company's revenues and earnings. That in mind, the outlook for the fourth quarter of the 2017 seems rather weak, based on the CEO's comments, and we'll have to wait until the next earnings release to see how Seagate fared in this quarter.
STX Performance
Following today's performance, STX was down over 13% on the week, and it's down over 6% on the month. However, STX is still up over 25% over the past six months, and over 68% over the past year. Here's a look at STX on the daily chart: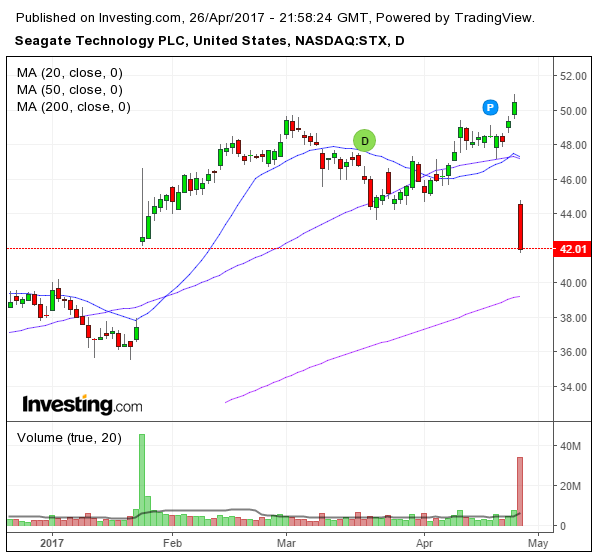 Source: Investing.com
After STX's conference call and revenue miss, the stock gapped lower and broke below its 20- and 50-day SMA. However, the stock found some support around the $42 level. Now, we'll be watching this area tomorrow to see whether it starts to fill that gap below.


Final Thoughts
Seagate had some mixed earnings results today. The company's revenue miss coupled with the CEO's cautious statements and lower forecast for Q4 2017, the stock dropped over 16% on the day, and it closed around a key support level.
Related Articles: