SkyWest, Inc. (NASDAQ: SKYW) shares were up significantly today, after Raymond James upgraded the stock on its favorable outlook for Q2, as well as its improvements to outstanding contracts and new regional ret contract with United Airlines. Now, the most interesting point that Raymond James analyst Savanthi Syth noted was SKYW's recent decline in share price uncovered an attractive entry point.
Consequently, Raymond James analyst Syth upgraded SkyWest to Strong Buy, from Outperform, but maintained a $42 price target, which is over 35% above SkyWest's closing price of $30.40, yesterday. Syth indicated to investors that the substantial drop in the stock, with no new information or developments, created an attractive entry point. Moreover, the Raymond James analyst also stated that SkyWest could offer multi-year margin expansion, as well as large free-cash-flow generation.
However, as always, we should do our own due diligence, so we'll look at the stock's recent performance, valuation ratios and fundamentals.
SkyWest Valuation Ratios and Statistics
SKYW traded in a range between $31.34 and $33.30 today. SKYW has a 52-week range between $19.53  and  $39.60. Therefore, it is currently just under 70% above its 52-week low and approximately 16% below its 52-week high. As of the close on April 12, 2017, SKYW was down nearly 15% over one month, and down just over 16% over the past three months.
Here's a look at SKYW's recent performance on the daily chart: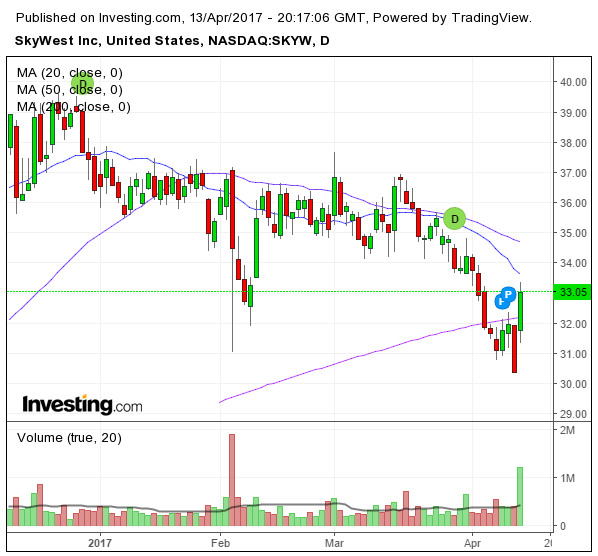 Source: Investing.com
SkyWest Inc. currently has a book value per share of 26.10, and therefore, it had a price-to-book ratio of 1.16, which was well below its industry of 3.2. SKYW has a price-to-revenue ratio of approximately 0.5. The stock also has a forward price-to-revenue, based on next year's revenues estimates, of 0.53. Based on next year's earnings estimates, The stock also has a price-to-sales ratio (P/S) of 0.5, which is well below the industry average of 1.0. SKYW has a forward price-to-earnings ratio of 9.68, based on yesterday's closing price and FY 2017 EPS estimate of $3.14. SKY has a forward P/E ratio, for the 2018 fiscal year, of 8.68. SkyWest Inc. has  50.34M shares floating, 51.8 million shares outstanding, and a short ratio of 1.85%.
SKYW grew its 2016 revenue by a modest 0.80%, year over year. However, the company's operating income fell by over 100%, and the company went from a positive operating income in 2015, to a negative operating income in 2016. Moreover, its net income fell by over 200%, and the company went to having a positive net income, in 2015, to a net loss, in 2016. This may have caused some weakness in the stock.
Nonetheless, from a valuation standpoint, SKYW's recent fall may have caused the company to be undervalued, in relation to some of its peers.
Final Thoughts
Shares of SKYW were up over 8% today, after Raymond James analyst had some positive comments on SKYW. Now, the company is expected to report its financial results later this month, and we'll be looking to see how the company did for the quarter ended in March 2017.
Related Articles: