Snyder's-Lance Inc (NASDAQ: LNCE) shares were down significantly today, losing 15.43%, and this was due to the company revising its outlook, and providing 1Q 2017 guidance below analyst estimates. Let's get right into the company's announcement.
Revised Guidance
Snyder's-Lance announced that it expects to report first quarter 2017 adjusted net income between $13M and $14M. Consequently, it expects to report a diluted earnings per share (EPS) between 13 and 14 cents per share. The company's estimate is well below the consensus adjusted EPS estimate of 27 cents per share. For 1Q 2017, LNCE expects to report a net revenue between $530M and $532M, which would be a rise of around 18% to 19% from continuing operations in 1Q 2016.
Not only that, the company also revised its full year 2017 EPS to a range between $1.05 and $1.20, a guidance cut from its prior expectation of a range between $1.32 and $1.42.
For the full year, the company expects its net revenue to be between $2.2B and $2.25B. Moreover, it expects its adjusted earnings before interest, taxes, depreciation and amortization (EBITDA) to come in between $290M and $315M.
CEO Retires
Snyder's-Lance also announced that its President and Chief Executive Officer, Carl E. Lee Jr., retired after serving 12 years in the company. Brian J. Driscoll, who was the former President and CEO of Diamond Foods and a director of LNCE, agreed to step in as the interim CEO. Brian Driscoll has over 35 years of experience in the food industry.
LNCE Statistics and Key Ratios
The LNCE traded between $31.03 and $34.36 today. LNCE traded between $28.92 and $40.86 , over the past 52 weeks. Consequently, LNCE is currently over 15% off its 52-week high and just over 16% above its 52-week low. Snyder's-Lance stock is trading above its 50- and 200-day SMAs, but broke below its 20-day SMA today.
Take a look at LNCE's performance on the daily chart: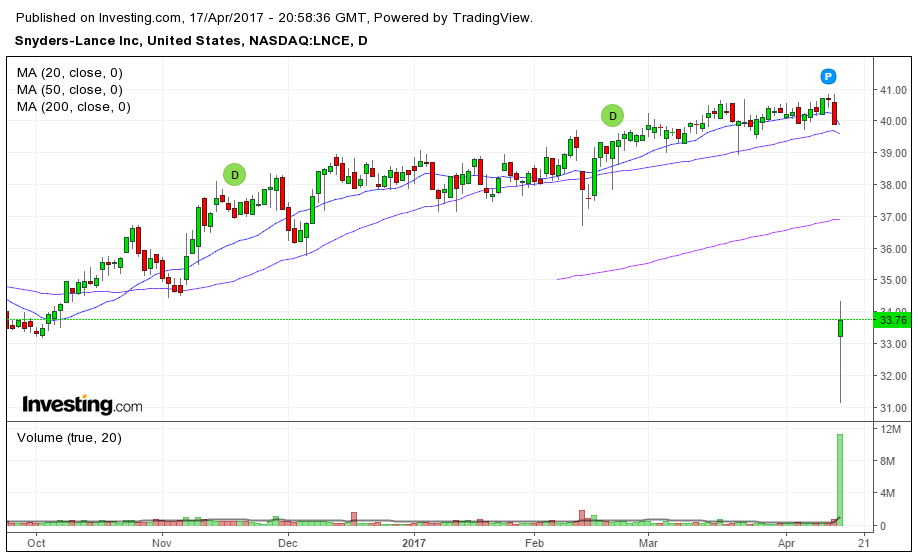 Source: Investing.com
LNCE has a price-to-revenue ratio of around 1.4. LNCE has a forward price-to-revenue, based on next year's revenues estimates, of 1.27. LNCE has a book value per share (BVPS) of 19.29, and it closed with a price-to-book ratio of around 1.75. The stock is trading at an extremely high price-to-earnings ratio of over 200, when using its EPS for the 2016 fiscal year, which is well above the industry average of 29.1. Snyder's-Lance, Inc. has a forward price-to-earnings ratio of 28.1, based on next year's earnings estimates, using the top-end of its guidance range.
LNCE grew its FY 2016 revenue by 27.34%, year over year. Additionally, LNCE's FY 2016 EPS fell by over 70%, year over year. Snyder's-Lance, Inc. is estimated to report earnings on May 8, 2017, and the consensus EPS estimate is $0.27. *Note: LNCE's earnings date is subject to change.
Final Thoughts
LNCE shares were down after the company cut its guidance and announced the CEO stepped down. Now, there's some uncertainty when a company announces its CEO is retiring. Since the company cut guidance, it may be an indication of weak performance, but it'll be interesting to see how Snyder's-Lance earnings will come in on May 8, 2016.
Related Articles: