Shares of Straight Path Communications Inc (NYSEMKT: STRP) were up over 140% after AT&T announced it would purchase the company in a deal worth approximately $1.25B. STRP closed with a market cap below $500M on Friday, and therefore, the offer was over a 150% premium. Let's get into some details about the potential deal and the fundamentals of Straight Path Communications
The Deal
AT&T is the second-largest U.S. carrier, and it offered $95.63 per share for Straight Path Communications. That in mind, this offer was more than 150% above STRP's previous day's closing price. This deal is an all stock merger, and the transaction is expected to qualify as a tax-free reorganization. Straight Path shareholders will receive $1.25B, or $95.63 per share, which would be paid using AT&T's stock.
Now, AT&T may have signed a definitive merger agreement to gain access to Straight Path's technology. Straight Path Communications specialize in the maximizing the value of assets, which includes millimeter (mm) bandwidth licenses for 5G networks (Spectrum) and Intellectual Property (IP). The company is one of the largest holders of 28 GHz and 39 GHz mm wave spectrum. Both companies are expecting the transaction to close within 12 months. However, this deal is still subject to FCC review.
Straight Path Communications Statistics and Fundamentals
The stock traded between  $89.60 and $92.00 today. STRP traded between $15.06 and $92.00, over the past 52 weeks. Consequently, the stock is currently just over 1% below its 52-week high and over 475% above its 52-week low. STRP is over 200% above its 200 day SMA. Additionally, the stock is 150% above its 50-day simple moving average.
Here's a look at STRP's recent performance on the daily chart: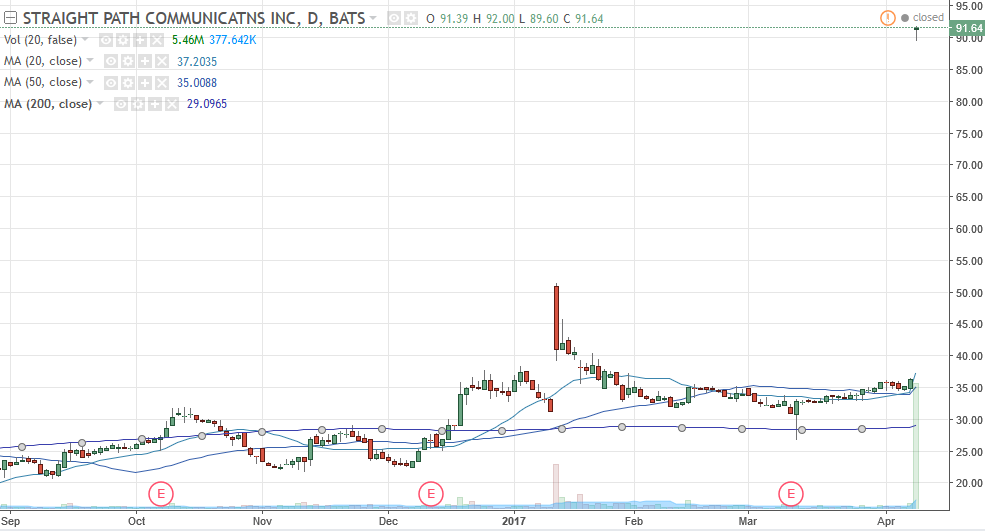 Source: TradingView
Straight Path Communications Inc. currently has a book value per share of -0.962, and consequently, it was trading with a negative price-to-book value per share, while the industry average was around 2.0. STRP has a price-to-revenue ratio of 1,644.30. In addition, STRP has a trailing 12-month price-to-sales ratio of over 650, while the industry average is around 1.6. Straight Path Communications Inc. has 11.7 million shares outstanding, and a short ratio of 20.90%.
The company's revenue, for the period ended in January 2017, fell by over 45%, year over year. Additionally, STRP's net income fell by over 1,000% year over year. The company's EPS fell by 194.95% quarter over quarter (QoQ).
Now, Straight Path Communications shows some signs of weakness, when examining its financial statements and valuation ratios. However, AT&T may have purchased Straight Path for its technology and its growth potential, and the second largest U.S. carrier may have some positive synergies with STRP.
Finals Thoughts
AT&T announced it would purchase STRP for $1.25B, a more than 160% premium over its market cap at the close on Friday. AT&T is looking to bolster its 5G portfolio, and it may believe that STRP could help it do so. Keep in mind that the deal is subject to some regulatory reviews.
Related Articles: