Straight Path Communications Inc (NYSEMKT:STRP) shares were up over 20%, after there was some speculation of a bidding war. There was some speculation that Verizon Communications (NYSE: VZ) could potentially make a bid for STRP, in counter to AT&T Inc's (NYSE:T) $1.25B for Straight Path and its wireless spectrum. Let's get into this news.
Bidding War Speculation
Last Monday, AT&T agreed to pay $95.63 per share for STRP, over a 150% to the stock's closing price on April 7, 2017. However, Straight Path Communications announced that a rival suitor could potentially top the $1.25B acquisition offer made by AT&T. In an SEC Form 8K Filing, Straight Path stated that a third party was evaluating a potential offer that could top AT&T's bid. Now, the company did not disclose the identity of the suitor, but the rival suitor indicated to the company that it's exploring an offer that could potentially AT&T's bid. A Reuters article noted that Verizon Communications is considering to make a buyout offer for STRP, potentially topping T's bid, according to parties familiar with the matter.
However, Verizon declined to comment and state whether it was making a bid for STRP. Moreover, Straight Path declined to comment.
This speculation also caused some stocks to rise in sympathy, most notable Globalstar, Inc. (NYSEMKT: GSAT), which was up nearly 10% on the day. Globalstar, a stock satellite company, also owns wireless spectrum, which has been one of the hot topics among telecom companies. With the FCC quiet period end, there could be more M&A talks in the space, and the markets seem to have priced this in with GSAT.
Straight Path Communications Statistics and Ratios
STRP traded in a range between $103.00 and $112.49 today, marking a new 52-week high. STRP traded between $15.06 and $112.49, over the past 52 weeks. The stock closed at its 52-week high, and it's over 600% above its 52-week low. STRP is over 200% above its 200 day SMA, after this catalyst. Additionally, the stock is over 150% above its 50-day simple moving average.
Take a look at STRP's performance on the daily chart: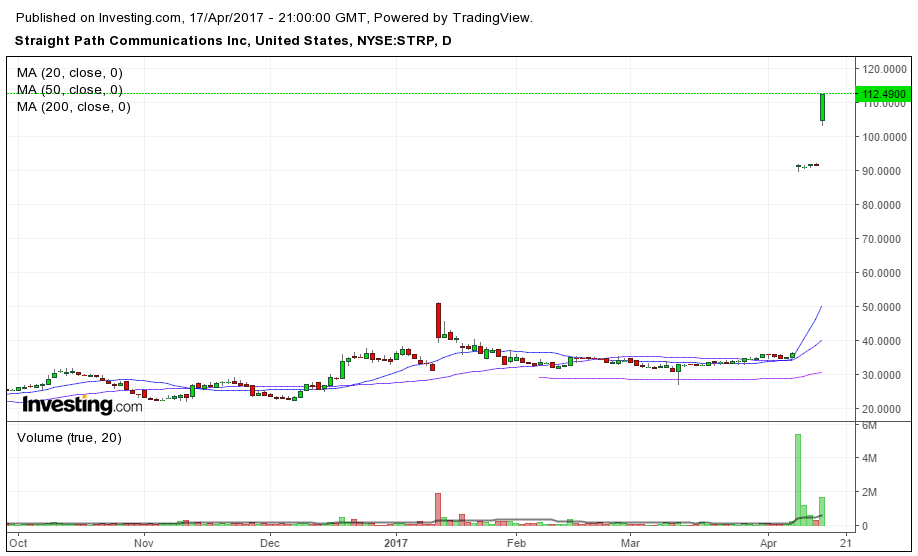 Source: Investing.com
The company has a book value per share of -0.962, and therefore it is trading at a negative price-to-book ratio, while the industry average is 2.0. STRP has a price-to-revenue ratio of over 1,900, while the industry average is 1.6. Moreover, it has a P/S of 1722.029. Straight Path Communications Inc. has  6.7M shares floating, 11.7M shares outstanding, and a short ratio of 20.90%.
Final Thoughts
Shares of Straight Path Communications have been up significantly, returning over 160%, over the past week due to speculations of another suitor potentially topping AT&T's bid. Now, we'll need to see something concrete come out, or Verizon comment on whether it's actually considering a bid for STRP or not. For now, we'll have to wait and see.
Related Articles: