Strattec Security Corporation (NASDAQ: STRT) rose just over 30% today, after the company announced its third quarter financial results for the period ended on April 2, 2017. Prior to today's performance, the stock has been down over 50% on the year and just over 30% over the past three months. Let's take a look at the stock's performance: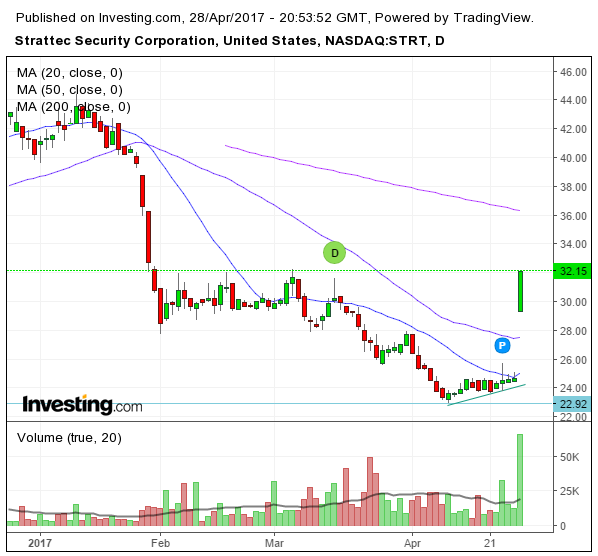 Source: Investing.com
Now the stock gapped up significantly after its financial results, and broke above its 20- and 50-day simple moving averages. However, the stock ran into some resistance around the $32 area. We'll need to see how the stock trades on Monday to see whether it could continue to build some momentum.
Moving on to the company's financial results.
Strattec Security Financial Results
Strattec Security announced net sales of $109.7M for the third quarter ended on April 2, 2017, which was a significant increase from its net sales of $94M for the third quarter of the 2016 fiscal year. Additionally, the company had net income of $3.5M, over 80% above its net income of $1.9M for the same period in the prior fiscal year. In turn, the company reported diluted earnings per share of 95 cents, significantly higher from its diluted EPS of 52 cents for the same period in the 2016 fiscal year.
For the nine months ended on April 2, 2017, Strattec had net sales of $308.9M, just over 5% above the same period in the prior fiscal year. The company also reported net income of $5.4M for the nine months in the current fiscal year, which was below its net income for the same period in the prior fiscal year.
Frank Krejci, President & CEO commented, "After last quarter, where earnings were significantly impacted by a combination of lower sales, manufacturing initiatives, higher engineering expenses to execute new business won, we have seen improvements in all three of those areas. In our current quarter, while continuing to add new capital equipment, incurring start-up expenses related to our new facility in Leon, Mexico and investing in our manufacturing processes, I am pleased that we generated improved operating performance".
Strattec Valuation and Statistics
Now, heading into the company's earnings release yesterday, it was considered undervalued, in relation to some of its peer. The company had a price-to-book ratio of 0.7, while the industry average was 3.0. Strattec had a trailing 12-month price-to-sales 0.2, while the industry average was 0.8.
The stock currently has 3.57M shares outstanding and 3.54M shares floating. Consequently, the stock is considered low float, and could have extreme moves if it has some catalyst. This is one of the reasons why STRT was up 30% today. When a low float stock has a positive catalyst, there is a higher demand for shares, and due to the low supply, the stock tends to run up.
Final Thoughts
Strattec is a low float stock and had some positive financial results. With low float stocks, the supply and demand aspects tends to cause extreme movements. Now, we'll have to wait until Monday to see whether it builds momentum or mean reverts. Keep in mind the stock was up 30%, and market participants who are long the stock might start taking profits.