Synchronoss Technologies Inc (NASDAQ: SNCR) announced management changes and preliminary first quarter 2017 results. Now, it was pretty bad news for SNCR, as the stock traded at levels it hasn't seen since 2009. The company announced that two of its officers were stepping down, and that's bearish news, and this was the catalyst that sent shares down over 40% on the day. Moving on to the Synchronoss' press release. Here's a look at SNCR on the daily chart: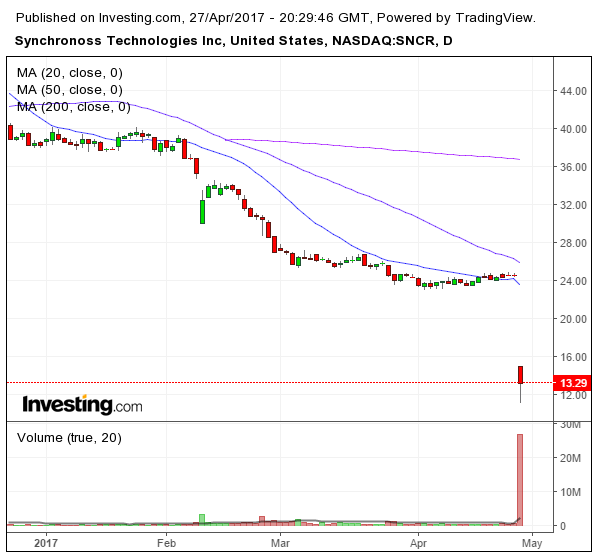 Source: Investing.com
SNCR CEO and CFO Step Down
Ronald Hovsepian stepped down as CEO and John Frederick Stepped down as CFO, who are both leaving to pursue other interests. Now, this is very rare, for two officers to leave the company at the same time. It's all speculation, but what do they know that investors don't?
In addition to the news of both the CEO and CFO stepping down, Synchronoss announced its preliminary first quarter of 2017 financial results. Based on this preliminary data, the company expects its total revenue for the first quarter to come in at a range between $13M and $14M, which is less than the company's previous first quarter of 2017 guidance. Additionally, the company expects operating margins to come in between 8% to 10%, also less than the previously announced guidance. Keep in mind that these preliminary results are subject to change.
That said, it could be possible that the CEO and CFO due to the poor preliminary results. Again, we don't really know why they stepped down. Following the departure of Hovsepian and Frederick, Synchronoss announced that the company founder and Chairman of the Board of Directors Stephen Waldis would assume the role as CEO, effective immediately. Additionally, Lawrence Irving has assumed the role as CFO, again. Irving previously served as Synchronoss CFO between July 2001 and April 2014, until Frederick assumed the role.
Following the news, Synchronoss was downgraded at multiple firms. Wells Fargo downgraded the stock to market perform, from outperform; JP Morgan downgraded SNCR to neutral, from overweight; Credit Suisse downgraded the stock to neutral, from outperform; and Raymond James downgraded SNCR to outperform, from strong buy.
Synchronoss CEO Comments
Synchronoss CEO Waldis stated, "With a track record of meeting or exceeding expectations, we are of course disappointed with our Q1 performance in this first quarter following our acquisition of Intralinks."
Waldis concluded, "In view of the Company's performance in the first quarter, we expect this will impact our full year guidance. We intend to manage our expenses in line with our revenues to generate strong cash flow for the year. We continue to believe in our long-term strategic vision, while executing on our combined synergies. We remain confident in our long-term growth opportunities and strong relationships with our customers, and we are committed to delivering strong returns to our shareholders. We will share additional information, including updated full year guidance, on our May 9th earnings call."
As Waldis already stated, its preliminary first quarter results should impact the company's full-year 2017 guidance, which might further push the stock down. The main focus is now on the company's conference call on May 9, 2017, to see what clues the company may give investors regarding the departure of the CEO and CFO, as well as its performance during the first quarter of 2017.
Final Thoughts
SNCR shares were down over 40% on the day, and this was due to the company's management changes and preliminary first quarter of 2017 financial results. Now, as stated earlier, traders should be focused on the company's conference call on May 9, 2017. For now, the stock could mean revert slightly, since it had such an extreme move today.
Related Articles: