Synchronoss Technologies Inc (NASDAQ: SNCR) shares were down over 40% yesterday after the company announced the departure of its CEO and CFO. However, the stock caught a bounce today and ended the day up just over 20%. Now, this would be considered a mean-reverting trade. Typically, when a stock is down significantly on some negative news, it'll either build momentum and continue the selloff, or the stock will catch a bounce, as buyers step in or short sellers start to close out their positions.
SNCR's extreme selloff may have uncovered some buying opportunity, and let's take a look at the company's valuations, after its selloff yesterday.
If you missed the news yesterday, SNCR reported its preliminary first quarter 2017 financial results, and expects its total revenue to come in between a range of $13M and $14M, less than what the company previously forecasted. Additionally, it announced that Synchronoss founder and Chairman of the Board of Directors Stephen Waldis would become the CEO, effective immediately.
SNCR Valuation and Performance
Typically, when a company has a big selloff, like SNCR did yesterday, it could potentially uncover some buying opportunity. Now, after its plummet yesterday, SNCR had a price-to-book ratio of 0.9, which was well below the industry average of 6.5. Additionally, Synchronoss Technologies had a trailing 12-month price-to-sales ratio of 1.2, which was well below the industry average of 5.5. Consequently, the stock would be considered undervalued, in relation to its competitors.
Prior to today's performance, SNCR was down over 45% over the past month, and over 65% over the past trailing three-month period. Now, again, this was primarily due to the CEO's and CFO's departure.
Let's take a look at the company's statistics. Synchronoss Technologies currently has 46.77M shares outstanding, 42.33M share floating and a short interest of 15.21%. Now, due to its medium float and short interest, short sellers may have closed out their position, causing the stock to pop over 20%.
Here's a look at SNCR on the 30 minute chart: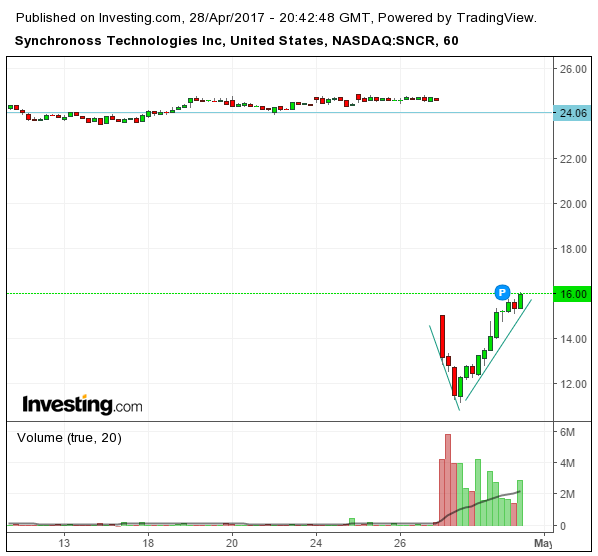 Source: Investing.com
Notice how the stock made a V bottom pattern and had some buyers step in today. Additionally, the stock looks like it's start to fill its gap, but we'll need some more confirmation, technically speaking.
Final Thoughts
The company's preliminary first quarter 2017 financial results and the announce of the departure of its CEO and CFO may not have been so bad. In fact, the original founder is now assuming the role as CEO, and Lawrence Irving, who previously served as the CFO for Synchronoss Technologies, could actually be good news for the company.
Related Articles: