Free does not always mean good, at least for the company or person giving away a product or service. This was the case for TASER International, which changed its name to Axon Enterprise Inc. and ticker symbol to AAXN. The stock opened at $23.35, and closed at $21.90 today, and therefore, the stock fell over 6% open to close. Now, Axon offered free body cameras to every police officer in the U.S. Consequently, this could potentially hurt the company's revenues and earnings, which may have caused shares to fall.
Axon Free Body-Cam Technology Details
Axon is offering one Axon Body 2 camera per sworn officer; digital evidence data storage with an Evidence.com "Unlimited Pro" license; two mounts per officer; docking station to securely upload body camera footage; and access to the full Axon Academy online training library. The company provides officers with the ability to procure and use a body camera, and use accompanying hardware and related software, for free for one year.
That in mind, this could significantly affect the company's operating and net income. This bold move could attract more customers around the world, but it's a high-risk, potentially high-reward play for the company. If police officers use Axon's body camera, and like both the hardware and software, they could build brand loyalty and those officers may pay the fee to use its product the following year. This could potentially cost the company millions of dollars, if every sworn officer in the U.S. flocks to this free offer.
TASR Statistics, Performance and Ratios
TASR traded in a range between $21.18 and $23.39 today. TASR traded between $17.18 and  $30.15, over the past 52 weeks. Consequently, its currently -28.36% off its 52-week high and 25.73% above its 52-week low. TASR is -12.97% below its 200 day SMA. Additionally, TASR is 9.05% below its 50-day SMA.
Here's a look at the stock's performance on the daily chart: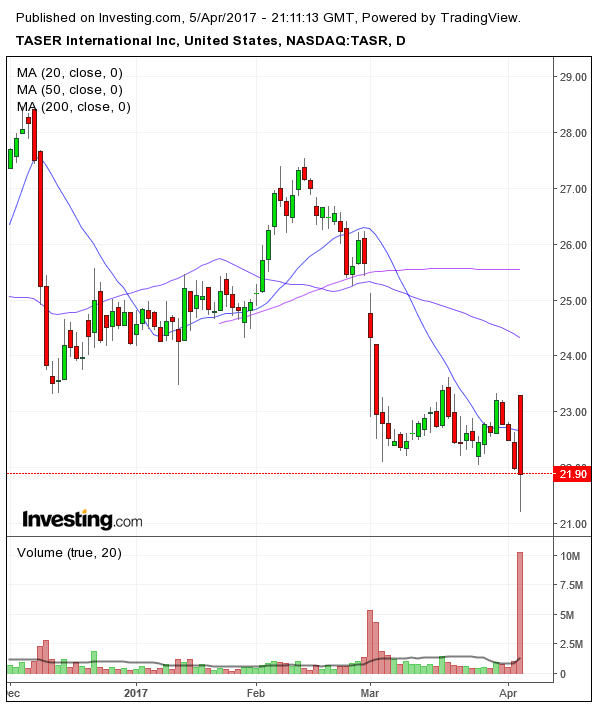 Source: Investing.com
Now, let's get into some of TASR's valuation metrics.
TASR has a price-to-earnings ratio of 67.53. TASR has a book value per share (BVPS) of 2.884 TASR has a price-to-revenue ratio of 4.62. The stock also has a forward price-to-revenue, based on next year's revenues estimates, of 3.91. TASER International Inc. has a forward price-to-earnings ratio of 59.4103, based on next year's earnings estimates. When compared to the industry average, TASR is overvalued, and if the company reports weak net income, shares could fall.
TASR grew its revenue by 35.55%, year over year. Additionally, TASR 's net income fell by 13.22% year over year. The company's EPS grew by 10.34% quarter over quarter (QoQ)
Final Thoughts
Taser, now known as Axon, made a shocking move by offering free body cams, as well as software to every U.S. sworn police officer. That said, the stock was highly volatile today, and its net income could fall significantly, if thousands of police officers take advantage of this free offer.
Related Articles: