Texas Capital Bancshares Inc (NASDAQ: TCBI) shares fell over 6% today, after the company reported 1Q 2017 financial results. Now, the company missed the Street's consensus revenue and diluted earnings per share (EPS) estimates. Let's get right into the company's first quarter 2017 financial results.
Texas Capital Bancshares 1Q 2017 Financial Results
TCBI reported net income of $42.5M for the first quarter of 2017, which was an increase of nearly 70% year over year. Its net income available to common shareholders rose by 77% year over year. Additionally, its diluted EPS came in at 80 cents, compared to 49 cents for the same quarter in the prior fiscal year.
The increase in its diluted EPS is attributed to the $17.4M year over year increase in the company's net income, offset by the 6 cents per share dilutive effect that stemmed from its common stock offering during the fourth quarter of 2016.
Texas Capital Bancshares had a return on average common equity (ROCE) of 8.60%, compared to 10.82% during the fourth quarter of 2016. Additionally, the company had a return on average assets (ROA) of 0.83%, while it had a ROA of 0.85% for the fourth quarter of 2016.
At first glance, the company shows growth in its diluted EPS and net income, but, as stated earlier, it missed the Street's estimates. According to Zacks Investment Research, the average estimate of nine surveyed analysts was for a diluted EPS of 88 cents. Therefore, TCBI missed the consensus estimate by just over 9%. Moreover, Texas Capital Bank reported revenue of $201.1M for the first quarter of 2017. However, after adjustments, its revenue was $180.5M, which was below the Zacks consensus estimate of $192.6M, a 6.28% miss.
This prompted Raymond James to downgrade Texas Capital Bancshares from Strong Buy to Market Perform, additionally it removed its $98 price target on the stock.
Let's move onto some statistics and valuation ratios.
TCBI Statistics and Valuation
TCBI traded in a range between $70.65 and $74.35 today. TCBI has a 52-week range between  $40.90 and $93.35. Therefore, it is currently over 80% above its 52-week low and over 20% below its 52-week high.
Here's a look at TCBI's recent performance on the daily chart: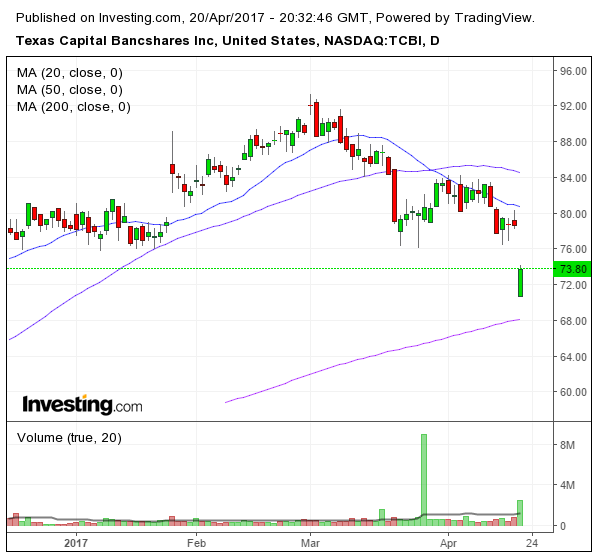 Source: Investing.com
Heading into the company's earnings, the stock has a P/E ratio of 25.3, which was above the industry average of 18.8. Additionally, Texas Capital BancShares Inc. currently has a book value per share of $40.216, and therefore it closed with a price-to-book ratio of approximately 1.83, as of April 20, 2017. When comparing TCBI's P/B ratio to the industry average, the company is slightly overvalued.
TCBI has a price-to-revenue ratio of around 4.8, and a forward price-to-revenue, based on next year's revenues estimates, of approximately 3.6. Texas Capital BancShares Inc. has a forward price-to-earnings ratio of 17.7119, based on next year's earnings estimates.The stock also has a price-to-sales ratio (P/S) of 6.25.Texas Capital BancShares Inc. has  49237000 shares floating, 49.6 million shares outstanding, and a short ratio of 6.83%.
Final Thoughts
Although TCBI showed some growth in its net income and diluted EPS, it didn't seem like it was enough to satisfy the market. The company missed analysts' estimates, which could have a large effect on a stock, as we've seen today.
Related Articles: