The back story: Ulta Beauty (ULTA) was on a strong run – always above both its 200-day and 200-hourly moving averages — well into June, when it got lumped in with every other retailer and took a big hit Amazon.com (AMZN) bought Whole Foods Market (WFM).
But Ulta isn't like every other retailer, in that the Amazon fears are different; you can't order a lipstick or mascara, try it at home and then return it if you don't like it, so there will always be a core of in-person buyers.
As a result, once the knee-jerk reaction to the Amazon news was over, Ulta was a stock I expected to bounce back.
The chart: With the fear of Amazon subsiding, ULTA has started to put in a bottom, and looks like it is about to become a good trade.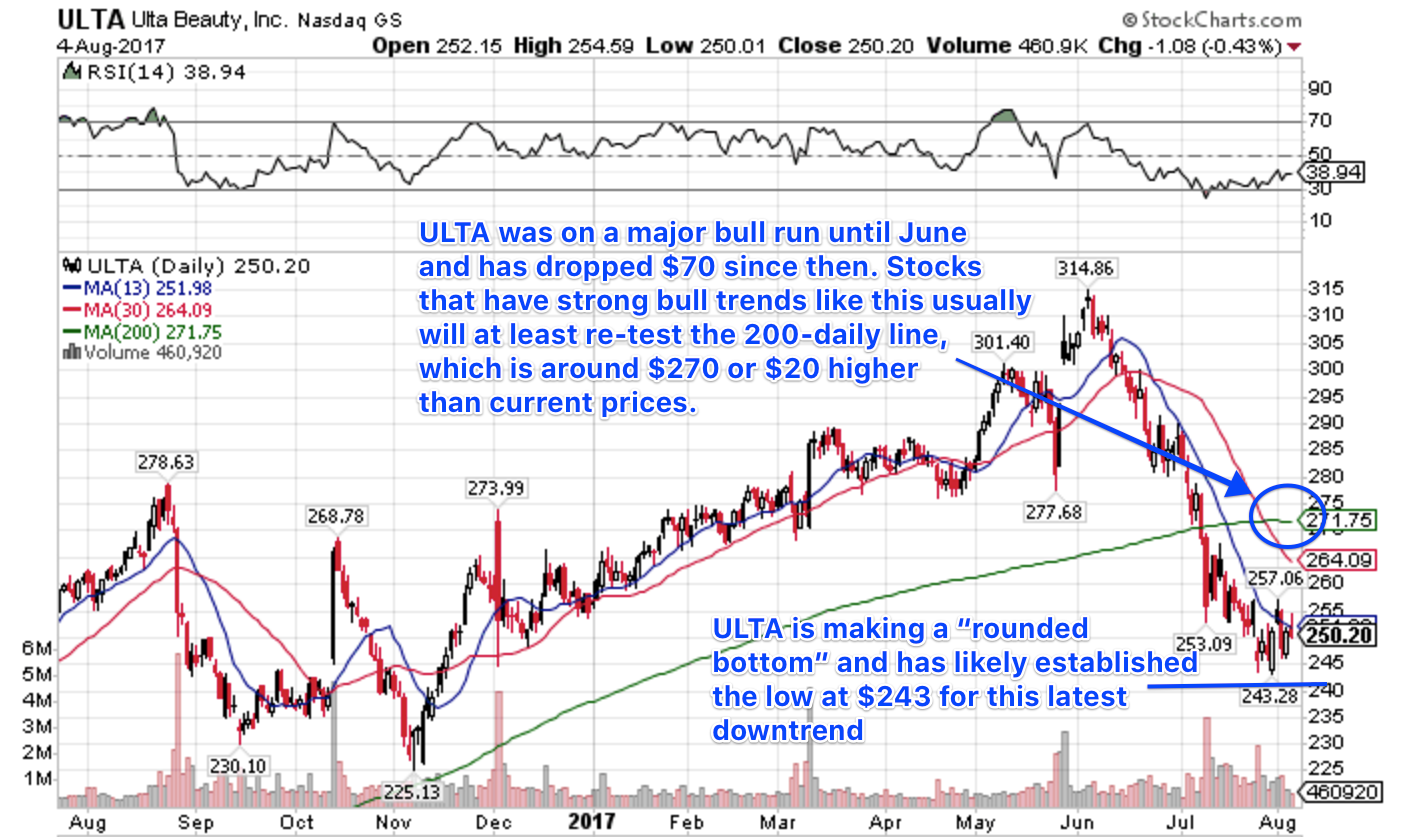 We saw the same kind of set-up last week on Costco (COST), with a similar rounding pattern; I got in a day before the stock made a nice move.
Specifically, I am looking for a rounded bottom, where it is making higher lows (and higher highs) with each move. It put in a pretty solid low at $243 and if it can hold that low, I think it could pop soon, with $270 a possibility.
The play: I plan to start a position today with Sept. 15 $260 calls, then look for places to add next week so long as ULTA shares are above $240, which will be my stop.
#-#-#
   Jeff Bishop is lead trader at TopStockPicks.com. He runs short-term trading strategies, primarily using leveraged ETFs.  At the time this was published on RagingBull.com, he held no shares, options or open orders in ULTA – and had not traded in the stock in 2017 — but he was planning to buy Sept. 15 $260 calls as described in this commentary.
Related Articles: