Mattel, Inc. (NASDAQ: MAT) reported its first quarter 2017 financial results yesterday, and the toy maker's net sales were down, yet again. In addition to the decline in its net sales, Mattel reported a net loss of 32 cents per share, excluding items, which was significantly below the consensus estimate provided by Thomson Reuters. Analysts surveyed by Reuters were expecting a net loss of 17 cents per share. Consequently, shares dropped over 13%. Moving on, let's get into the details of its 1Q 2017 financial results.
Mattel First Quarter Financial Results
Mattel's first quarter worldwide net sales and gross sales fell 15%, as reported, as well as in constant currency. This decrease in net sales follows a fall in net sales in the fourth quarter of 2016.
Mattel Girls & Boy Brands were down 16% year over year (YoY). Worldwide gross sales for its Barbie brand were down 12%, when compared to the first quarter of 2016. Moreover, worldwide gross sales for Other Girls brands were down over 30% YoY. Gross sales for its Entertainment business fell by 27% YoY. However, one of its segments was able to grow its gross sales YoY. That in mind, the company's global gross sales for its Wheels category grew 4%, when compared to the same period in the prior fiscal year.
The takeaway here is that there may be weak demand for Mattel's products. One of the main roadblocks the company faced was its remaining retail inventory.
In the company's earnings release, Mattel CEO Margo Georgiadis stated, "Our Q1 results were below our expectations due to the retail inventory overhang coming out of the holiday period, but we remain encouraged by strong performance at retail for our key core brands, including Barbie, Hot Wheels and Fisher-Price as well as sustained momentum in high-growth markets like China."
Getting back to Mattel's numbers.
As stated earlier, Mattel missed its earnings per share (EPS) estimate. Now, the company also missed its revenue estimates. Mattel's net revenue in the first quarter came in at $736M, while analysts were expecting net revenue of $801M. In addition to its decrease in net sales, Mattel's gross profit fell by 28% year over year. It's unadjusted net loss per diluted share rose by 12 cents, year over year.
Let's take a look at how the company performed prior to today's slump.
Mattel Performance
MAT made a new 52-week low today, and traded in a range between $22.22 and $24.08 today. Therefore, the stock is over 30% below its 52-week high, and just slightly above its 52-week low, as of the close. Prior to today's performance, MAT was down nearly 15% over the past three months, and down just over 19% over the past year.
Here's a look at MAT's recent performance on the daily chart: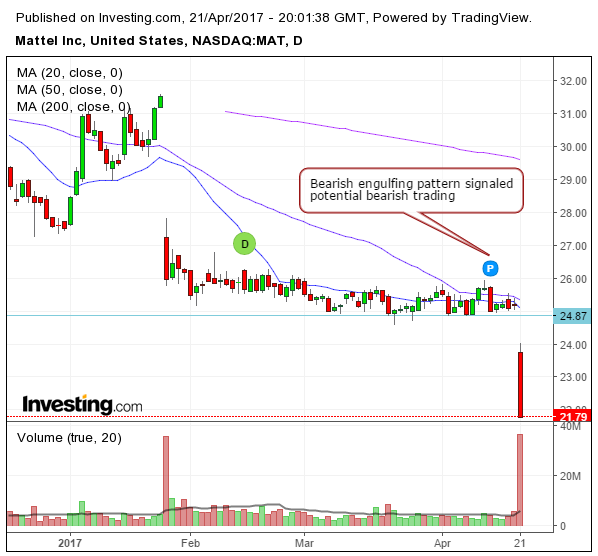 Source: Investing.com
If you look at the chart, there was a bearish engulfing pattern, as annotated on the chart above, which indicated a potential bearish trend. Now, after the company released earnings, it gapped down well below its 20- and 50-day simple moving averages, which also indicates a potential reversal of its previous trend.
Final Thoughts
Mattel missed the Street's estimates on both the top and bottom line, and shares ended the day down over 13% today. This was primarily due to its decline in worldwide sales, attributed to the retail inventory overhang from the holiday season. The company believes it could improve its growth and profitability, but traders and investors don't seem like they're buying into that just yet.
Related Articles: