When a company's Chief Executive Officer purchases shares of their company, it usually means that they're confident in the company. Now, this was was the case with Twitter Inc. (NYSE: TWTR). Twitter CEO Jack Dorsey publicly announced that he purchased 574K shares of TWTR, late Friday afternoon, worth around $9.5M. To day, Dorsey has purchase around 1M shares, in 2017 alone. This caused TWTR shares to spike up over 6% today, after a more optimistic outlook on the company. That wasn't the only positive catalyst that TWTR had today. The company also announced a partnership with Bloomberg.
Before we get into those catalysts, here's a look at TWTR on the daily chart: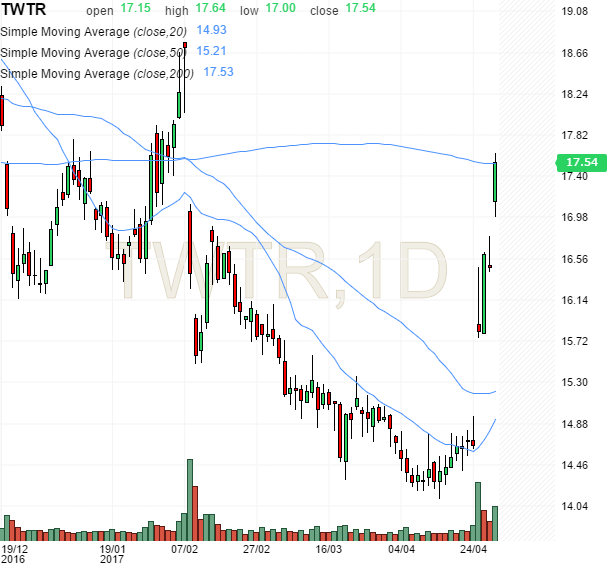 Source: Investing.com
Twitter and Bloomberg Partnership
The news broke on the Wall Street Journal first and Twitter found its first partner in order to offer a 24 hour news service, seven days a week. This partnership could bring ad revenue to the once struggling company, and TWTR's stock price could continue to run higher after this announcement.
According to Bloomberg Media's chief executive officer, Justin Smith, "It is going to be focused on the most important news for an intelligent audience around the globe and it's going to be broader in focus than our existing network."
Twitter's  Chief Financial and Operating Officer Anthony Noto added, "We really think we can reach audiences that are not paying for TV and are watching television on the go and we think Bloomberg is the perfect partner for us to start with."
Twitter Recent Earnings
Prior to this news, Twitter announced its first quarter 2017 financial results, and its highlights indicated the company has been growing and building momentum. Twitter's Daily Active Usage (DAU) grew by 14* year over year, which marked the fourth consecutive quarter that the company increased its growth. Additionally, the social-media company was able to grow its Monthly Active Usage (MAU) to 328M, an increase of 9M quarter over quarter. Moreover, the company noted that it has made progress and could potentially streamline and simplify its revenue product portfolio during the first quarter of 2017.
CEO Jack Dorsey Files Form 4
Now, an SEC Form 4 is filed by insiders to indicate whether they recently purchased or sold shares. This could give an idea of how confident insiders are in the company. Jack Dorsey actually tweeted about his purchase to inform those who do not follow SEC Form 4 filings.

Source: Twitter
However, if you were following Twitter's SEC Filings, you would've figured out that Dorsey acquired 574,002 shares at $16.6218 per share. That said, it was quite obvious that Jack Dorsey was highly confident in the company, when he purchased shares at the market price.
Final Thoughts
Form 4 filings could provide a wealth of information, and it could be an indication in which direction the company and stock may be headed. The Twitter case here is a prime example. Dorsey purchased shares announced his purchase of 574K shares on Friday, and today Twitter announced a partnership with Bloomberg, sending shares up over 6%.