Shares of AmTrust Financial Services, Inc. were down significantly today, falling over 20%, which was due to a Wall Street Journal article, which noted than an auditor was secretly recording conversations at AmTrust Financial Services Inc (NASDAQ: AFSI). Consequently, this brought about some new problems in the company's accounting, which could date back to 2009.
Details of the Report
The whistleblower was an auditor from BDO USA LLP, an accounting firm, who cooperated with the Securities and Exchange Commission (SEC). Now, the auditor record casual conversations using a device secretly disguised as a Starbucks giftcard. In addition, the auditor recorded conversations for the Federal Bureau of Investigation (FBI), in 2014, which was part of an ongoing investigation into the company's accounting practices.
The person was able to get an in depth and first-hand look at the company's financial statements and books, and analyze how the company exactly operates. The internal documents could indicate that there might be account problems dating back to 2009, and AmTrust Financial Services Inc may have added over $250M to its operating income, as the Wall Street Journal article stated.
AFSI Statistics and Fundamentals
AFSI traded in a range between $13.51 and $17.88 today. AFSI traded between  $13.51 and  $28.48, over the past 52 weeks. Consequently, AFSI is currently over 45% below its 52-week high and around 10% above its 52-week low, which was made today. AFSI is well below the 20-, 50- and 200-day simple moving averages, on the daily chart. Moreover, AFSI broke below its 20-day SMA yesterday.
Here's a look at AFSI's recent performance on the daily chart: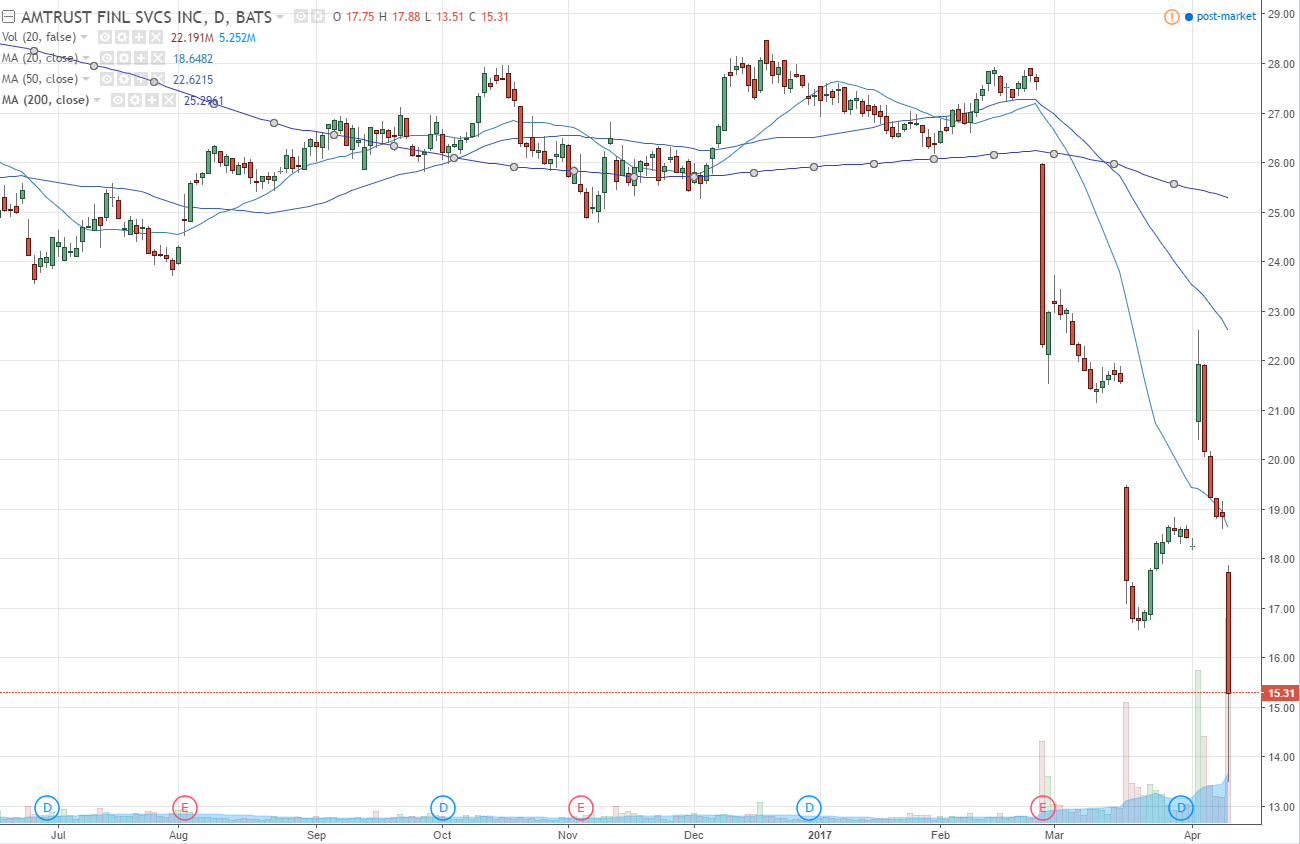 Source: TradingView
Let's look at some of the company's valuation ratios and growth rates.
The stock has a P/E ratio of around 7.20, indicating it may be undervalued, when compared to the industry average. AFSI has a forward price-to-earnings ratio near 6, based on next year's earnings estimates. AFSI has a book value per share (BVPS) of 13.81, and consequently, it was trading at a P/B ratio of around 1.07, indicating it's slightly undervalued in relation to some of its peers AFSI has a price-to-revenue ratio of around 0.46. Additionally, based on next year's revenues estimates, the company has a forward price-to-revenue of approximately 0.43. The stock also has a price-to-sales ratio (P/S) of around 0.60. AmTrust Financial Services, Inc. has 171.1 million shares outstanding, 82M shares floating and a short ratio of 4.75%.
Now, although the company is trading with an attractive valuation, in relation to some of its competitors, investing when there is a catalyst of this size would be highly risky.
According to Morningstar, the company grew its 4Q 2016 revenue by over 13%, when compared to its revenue for the same quarter in the previous fiscal year. Between the 2015 and 2016 fiscal years, AmTrust Financial Services grew its revenue by over 16%, year over year. However, the company's 4Q 2016 EPS fell by over 62%, when compared to its EPS in the 4Q in 2015.
Final Thoughts
A whistleblower indicated AmTrust Financial Services may have overstated its operating income by over $250M, and this sent shares down over around 20% today. Now, again, it would not be wise to invest in the stock, despite trading at a valuation below some of its peers. That said, we'll be watching for more developments in AFSI to see whether any new comments arise.
Related Articles: