Tenet Healthcare Corp (NYSE:THC) shares were up over 2%, after Deutsche Bank noted that THC could add approximately $5 to $9 per share, if it sold at least nine of its hospitals. In addition to the Deutsche Bank analysis on Tenet Healthcare, option traders were getting into some call options. Let's take a look at what the Deutsche Bank analyst said about THC, as well as the options activity in the stock.
Deutsche Bank Analysis
Deutsche Bank analyst Chris Rigg stated that his analysis on THC could suggest that the company has at least nine hospitals with a very low market share, and they "would likely meet management's divestiture criteria." The nine hospitals are in seven markets, which currently generates annual revenues of approximately $1.74B and annual earnings before interest, taxes, depreciation and amortization (EBITDA) of $50M.
That in mind, Deutsche Bank estimates the sale of the nine hospitals could potentially result in proceeds ranging from $870M to $1.27B. The analyst maintained a Buy rating on THC, with a price target of $28, the stock closed at $15.35 per share today.
Options Activity
Some aggressive option action occurred in Tenet Healthcare Corporation. Over 15,000 May $18 calls traded on the ask-side, against 433 contracts of open interest, indicating a new bullish position.
Now, a couple of orders really stood out. The first came at 11:21 AM ET, when an option player came in and bought 5,500 April 28th $15.5 calls for an average price of $0.48, when the bid-ask spread was $0.30 by $0.50. What made this order so interesting is that the options expire next week, and are currently out-of-the-money. In addition, these options expire before the earnings date which is set for May 1, 2017*, after the close.
Not only that, but we saw an order for nearly 12,000 contracts of the May $18 calls trade at around 3 PM ET. The spread on these options was $0.40 by $0.45. But in order to get filled the option trader had to lift above the ask price to get filled, which they did for $0.50 per contract.
Overall, the options activity in THC was 6.7 times above average daily volume. That said, 28,000 calls traded in the name, which on an average day will see about 2,300 calls trade. Clearly this is a name to watch going into next week.
*Note: Tenet Healthcare Corp is subject to change. According to Zacks Investment Research's survey of nine analysts' estimates, the consensus estimate is a net loss of 53 cents per share. The company reported an EPS of 45 cents in the same period in the prior fiscal year.
THC Recent Performance
Tenet Healthcare shares have been down over 10%, over the past month. Moreover, it was down just over 50%, over the past year. Now, here's a look at THC's performance on the daily chart: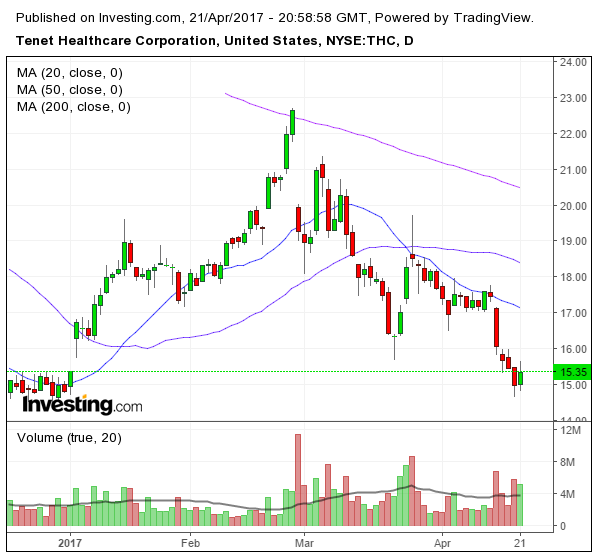 Source: Investing.com
The stock is still in a downtrend, and trading below its 20-, 50- and 200-day simple moving averages. However, it'll be interesting to see how THC performs next week, after bullish options positions were established.
Final Thoughts
THC shares were up over 2% today, after Deutsche Bank noted that the company could add anywhere between $5 and $9 per share, if it sold at least nine of its hospitals that had a low market share. What was more interesting was the options activity in Tenet Healthcare. It'll be interesting to see how stock trades next week, as well as the company's financial results on May 1, 2017.
Related Articles: