Devon Energy Corp (NYSE:DVN) shares were up over 3%, but the more interesting activity was in the options. The bulls were out in full force in Devon Energy, as we saw more than 3.7 times usual options volume in the name. Now, on a given day, we'll typically see approximately 5k call contracts trade in DVN, however; there were a whopping 32k that traded today.
Traders Throw Down Over $1.79M in Premo
One that really caught traders attention happened around 10:14 AM EST. An option player came in and bought over 10K May 43 calls for a $1.72 in option premium when the stock was trading at $42.51 per share. In other words, they threw down more than $1.79M in options premium on this play.
Why would they make such a bold bet?
Well, a couple reasons come to mind. The trade could have been a stock replacement. You see, DVN has earnings on May 2, 2017. Instead of holding stock into the earnings release, the option player could have sold of their stock position and buy options instead.
Intuitively this makes sense. With the options trade, the risk is defined…whereas taking a long stock position into earnings has undefined risk. Who knows how Wall Street will react to the EPS, making a stock position in a event like that very risky.
On the other hand, maybe the option player had no stock position, but believed the stock would either rise into the earnings announcement or on that date. Again, holding an options position has defined risk, which is especially useful when trading earnings.
Interestingly, we also saw some weekly options in DVN trade as well, over 2k April 7 $43 calls traded for approximately $0.36 per contract.
We know that these were bullish plays, because the options were bought on the ask side. In addition, we know that these were new positions because today's trading volume exceeded the open interest.
Clearly, this one name that is worth monitoring as we approach the earnings announcement date.
Devon Energy Statistics and Performance
DVN traded in a range between $41.75 and $43.16 today. DVN has a 52-week range between  $27.15 and  $50.69 . Therefore, it is currently over 55% above its 52-week low and just around 15% below its 52-week high. DVN is just slightly below its 50- and 200-day simple moving averages, and it looks like it's starting to test that area.
Take a look at DVN's performance on the daily chart: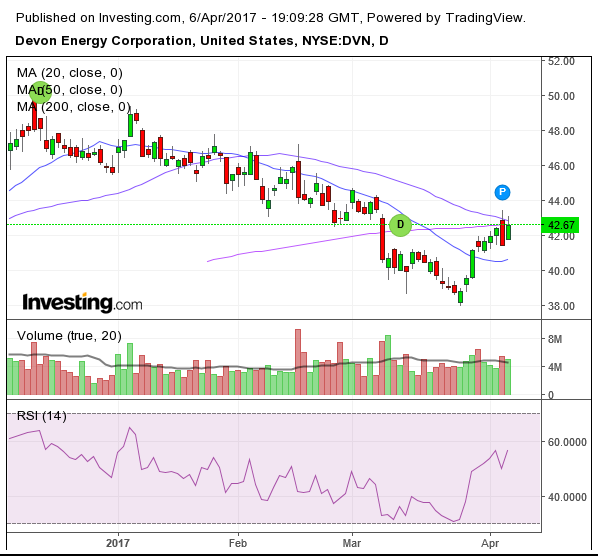 Source: Investing.com
Let's get into some fundamentals.
The company has a book value per share of 11.333. DVN has a price-to-revenue ratio of 2.10. DVN has a forward price-to-revenue, based on next year's revenues estimates, of 1.58. Based on next year's earnings estimates, the stock has a forward price-to-earnings ratio of 21.9897. Moreover, it has a P/S of 2.1, which is below the industry average of 3.9. Devon Energy Corporation has  521.15M shares floating, 524.6M shares outstanding, and a short ratio of 3.61%.
The company's 4Q 2016 revenue grew by just over 16%, year over year. Additionally, DVN grew its 4Q 2016 net income significantly from its 4Q 2015 revenue. In turn, the company's EPS grew to 70 cents per share during the 4Q 2016, up from a net loss of 11.10 per share in the same quarter in 2015.
DVN is estimated to report earnings on May 2, 2017*, and the average analysts' estimate is  $0.44. *Note the earnings date could change.
Final Thoughts
There was some interesting bullish options activity in DVN, and it could be due to traders looking to gain exposure to its earnings release in May. That said, the next event to focus on would be that, to see whether the company could continue to grow its net income and earnings.
Related Articles: