Every single day, there are stocks breaking out of 52-week and all-time highs. Of course, they used to be more prominent with small-cap momentum stocks…
But right now, it's happening in nearly all areas in the market.
For me, I'm using chart patterns to help me identify these plays. You see, my scalable and recognizable setups have been showing up in not only small-cap momentum, but large-caps as well.
That said, let me show you which large-cap stocks have the potential to break out, and why you might want to keep them on watch.
For the most part, I think it makes sense to focus on patterns and key levels when it comes to large-cap plays.
That said, let's take a look at three stocks with the potential to break above resistance levels and explode higher.
Taiwan Semiconductor (TSM)
The company is a global semiconductor designer and manufacturer, valued slightly shy of $540B as of Friday's close

The stock has been a strong performer this year, up close to 150% from March's lows and more importantly – it stayed virtually resilient to the broader market calamities

It's been consolidating at the new highs over the past few weeks holding cleanly above both EMAs and a big psychological level at $100

As long as support at $98 holds, the uptrend may well accelerate and give a push into $118 area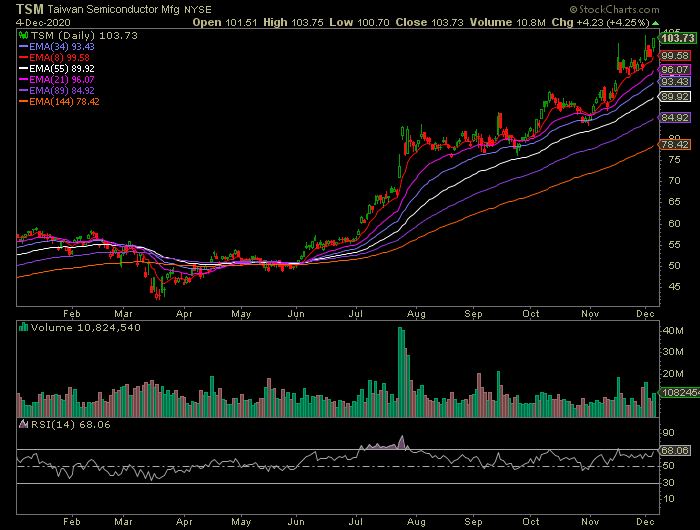 Apple (AAPL)
You might have heard of this one. The company is valued at $2.08T as of close on Friday.

Despite the pandemic and smaller consumer pockets – the company has been able to deliver solid quarters and the stock remains one market leaders – currently up over 120% from the dip in March

Unlike many other large caps – it's been shaping higher over the past 2 weeks, bouncing off 89-day EMA back into the resistance area at $125.

As long as $118 holds, the $125 resistance will have to eventually give way and allow for a retest of former highs at $137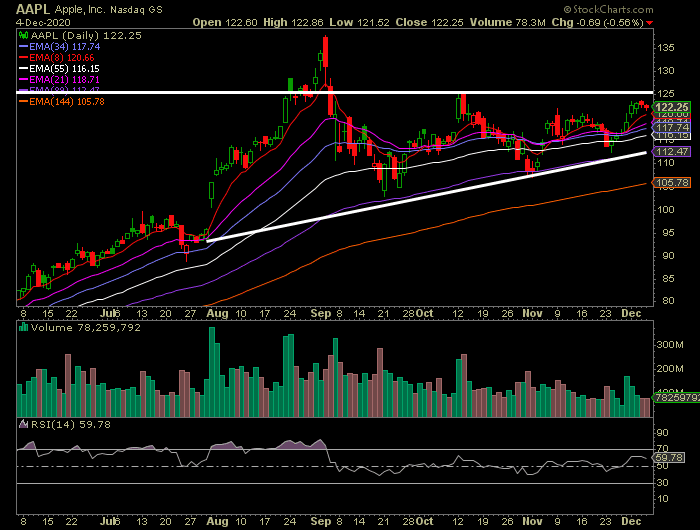 Take-Two Interactive Software (TTWO)
TTWO

is a video game company and owns some pretty well-known labels, such as Rockstar Games and 2K.
The stock has held above the 8-day exponential moving average (EMA), and it's forming a bull flag / pennant pattern right below its highs.




If the stock breaks above $182, it's got the potential to take out highs, and thereafter… the next key level to watch is the $200 psychological level.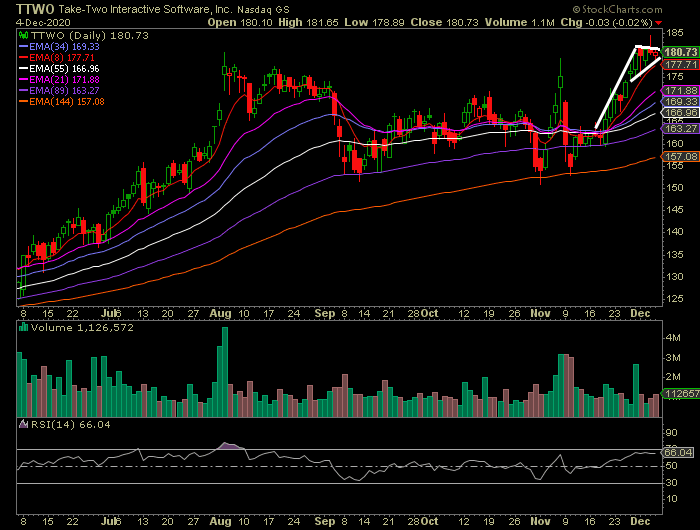 I've found chart patterns to help me better plan my trades and uncover some of the hottest plays on the market.
If you want to learn how my three chart setups can help you become a better trader, I urge you to attend this exclusive trading session.
Discover what pattern recognition is all about, and how it helped me become the trader I am today.