Shares of Finish Line Inc. (NASDAQ: FINL) were down only 0.21% today. However, there was some interesting options activity on the call side. Let's take a look at the options activity and some of its statistics, and why traders may have purchased options on this beaten up name.
FINL Options Activity
Yesterday, we some aggressive call buyers in Finish Line, a trader came in and bought over 2K April 15 calls on the offer side when the stock was trading at around $14.14 per share. They were betting more than $50K on the trade, in hopes that continues its climb back up after poor earnings results
With that said, option players were back at it today. This time, we saw more than 4.7 times usual options trade in the name. The stock did pop at one point, but it closed nearly flat on the day. The soup de jour today was in the April and May contracts. The April 15 calls that we saw trade yesterday, were bought for $0.35 and more than 2K traded today, and some were bought for $0.60, as well.
Going into the day, there was 4,300 contracts of open interest in Finish Line April 15 calls. We'll have to see if there was any profit taking, and how much that open interest changes tomorrow. But as of now, we can assume that someone is accumulating a position in Finish Line.
We know these were buys based on how they traded. For example, the April 15 calls were bought on the ask side, indicating that traders were paying up. What is also interesting is that these options are out-of-the-money, in other words, if today was the expiration day, they would be expiring worthless. With that said, someone is displaying a lot of confidence in the name, despite it's recent lackluster earnings results.
FINL Performance and Ratios
FINL traded in a range between $14.16 and $14.73 today. FINL has a 52-week range between $12.63 and $24.52 . And it's currently 13.46% above its 52-week low and 41.56% below its 52-week high. FINL is -26.78% below its 200 day SMA and the stock is 11.41% below its 50-day simple moving average.
The stock has been down over 10% over the past month, and over 20% during the past three-month period. That said, the call buyers may be looking for a bounce in FINL.
Here's a look at FINL's performance on the daily chart: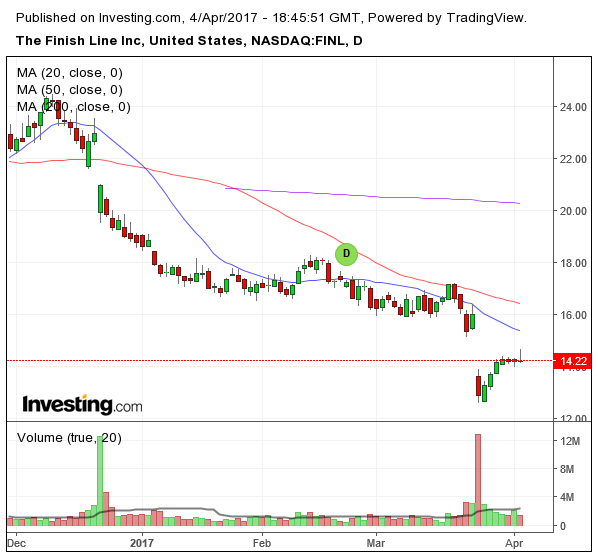 Source: Investing.com
Let's move on to some financial ratios. FINL has a price-to-sales ratio (P/S) of 0.32. Additionally, it has a price-to-earnings ratio of 24.7, and price-to-book ratio of 1.2. These ratios are below the industry average, and it could be an indication that the stock is undervalued, in relation to some of its peers.
Final Thoughts
There was some interesting call activity in FINL, and option traders may be looking to get exposure to the stock in a cheaper fashion than just buying stock outright. That in mind, in relation to its peers, FINL may be undervalued, and traders could be playing the name for a bounce.
Related Articles: