If you've started down the path of learning how to trade options, you might have an idea they let you be creative and provide leverage. If you still don't understand how options work, check out this guide here — it goes over everything from options trading basics to volatility.
I like to use technical patterns with my options trading sometimes. For example, with expensive stocks, it gets difficult to buy into a sizable portion that will make your investment worth your time. For example, if you want to buy 100 shares of Amazon.com Inc (AMZN), it would eat up over $100K in buying power. Think of trying to buy 1,000 shares, and about the spreads. It gets pretty difficult. That said, let's take a look at how to trade options using the breakout pattern, so you can take advantage of these stocks in your options trading.
Breakout Pattern
Although I specialize in trading biotech stocks, that doesn't mean I don't utilize different options trading strategies to make money in the markets. After witnessing Jeff Bishop multiply his money consistently, I thought I'd dabble in this market. After I learned how to trade options, I realized I could be using technical patterns, like the "Breakout Pattern," and buying call options instead of stock. This way, I can leverage my capital and increase my percentage returns.
For example, here's what I was looking at in Tesla (TSLA).
If you look at the hourly chart above, TSLA had a sharp move from the $260 area to $340. It consolidated and traded between a range of $325 and $360. I see this kind of breakout pattern all the time, and I knew I could use options with this pattern.
Here was my thesis:
"The shares are setting up for a bullish break out of the flag for a move past all-time highs. A target of near $400 for the shares makes a lot of sense, especially with the trade news with China mostly out of the way.
Additionally, shares are up again today in the face of the market being down 400+ points as I type. That is relative strength and likely a signal that the short sellers are starting to get squeezed.
I don't really like TSLA longer term, but in the short term Musk continues to execute and promise big things."
This thesis and announcement went out to the Biotech Breakouts and Option Rocket communities. I let the members of these communities know about this breakout pattern, so they could have a chance to see it in action and utilize the technique in their option options trading plans.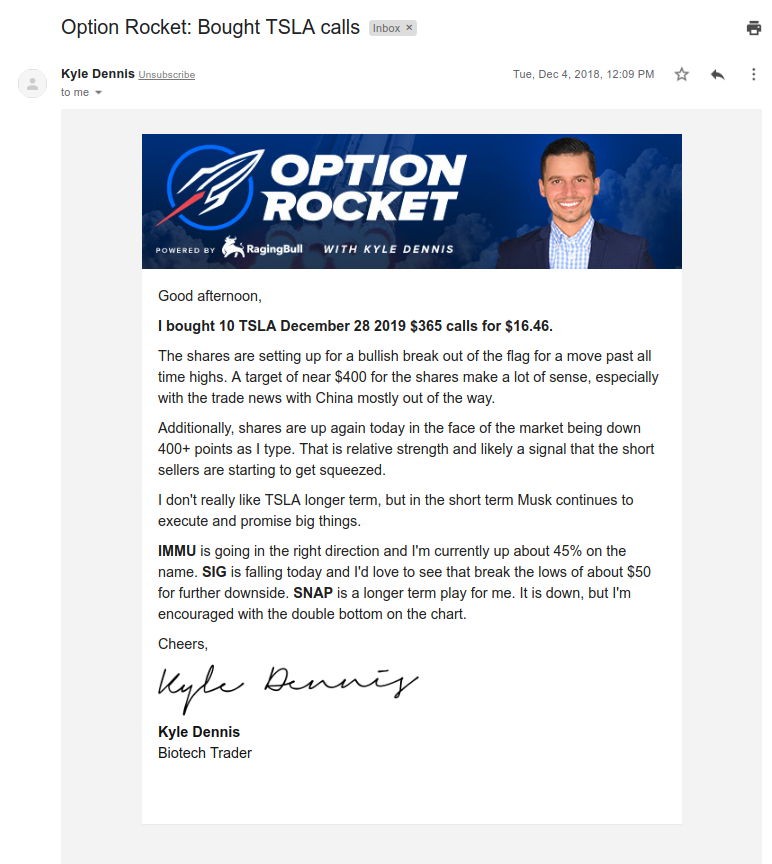 If you're wondering how the trade played out, take a look at the followup announcement: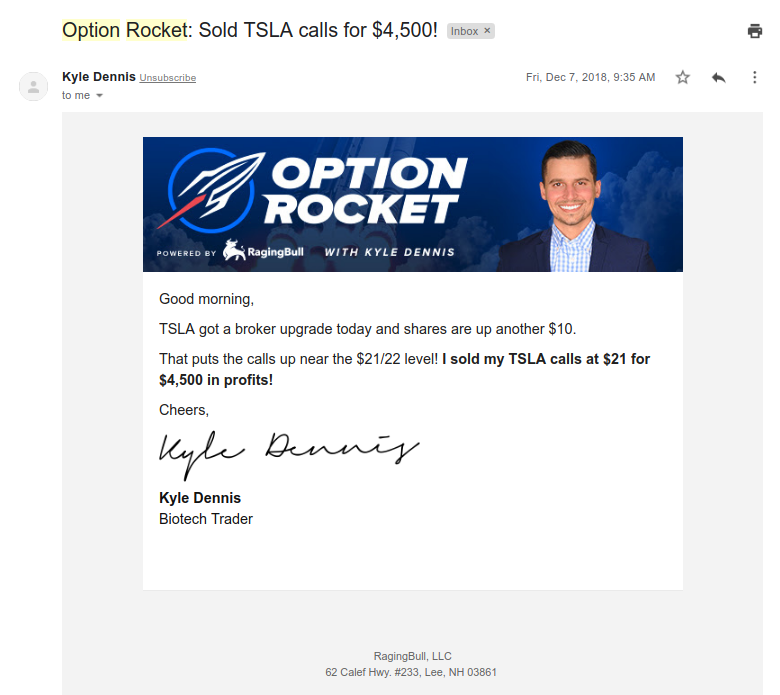 That happened in just three days! Not too shabby, if I say so myself.
Now you see how powerful options can be. If you learn to recognize these breakout patterns, you can use them to take advantage of lucrative situations like this one. Grow your options trading game by utilizing breakout chart patterns into your own trading plan and watch your profits grow.
Final Thoughts on How to Trade Options With the Breakout Pattern
There's one thing to keep in mind with technical analysis: It's more of an art form than a science. It takes some experience to recognize the breakout pattern and understand that they don't need to be textbook examples in order to make them worth your time.
For example, if you look at the hourly charts on TSLA, it looked like a bull flag pattern. However, it wasn't perfect. The consolidation period was a little longer than normal. That didn't stop me from taking on the trade. I figured with such strong price action, there would be a positive catalyst sooner or later. More often than not in the world of options trading, things aren't as cut and dry as we'd like them to be. Learn to adapt, and use tools like the breakout pattern to make the best decisions in each given situation.
You could learn how to trade options using different strategies, and sometimes make money on crashing stocks. If you see other bullish technical patterns, you might want to consider using options. Take note, there is a learning curve, and you shouldn't go at it alone. With the right resources, enough homework, and a great community to help your options trading career grow, you should be well on your way to success.
#-#-#
Kyle Dennis runs Kyle Dennis' Biotech Breakouts (biotechbreakouts.com). He is an event-based trader, who prefers low-priced and small-cap biotech stocks. He's also using his knowledge and looking to multiply his capital through options trades.