Donald Trump refers to them as the failing NY Times. However, it's stock is up nearly 10% this year, and will be announcing earnings tomorrow morning.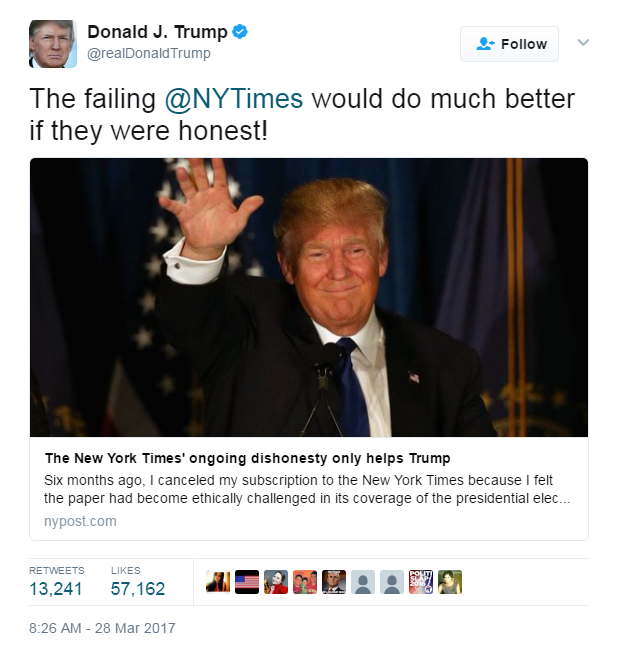 With earnings around the corner for the New York Times, it seems like no one cares. That's right, not even 100 options traded today. In fact, the number of options traded today are below the daily average.


That said, the option market is implying about 6-7% move for the New York Times. Which is actually pretty high, when you compare it to how it's performed in previous earnings releases.  


Date Price Change
2/17   0%
11/16 0.5%
7/16 -0.5%
5/16 -3.3%
2/16 1.6%
10/15 1.5%
In fact, over the last 8 quarters the stock on average has moved less than 2%. Could Trump be the reason why there is extra volatility in the options?
Who knows. But if you think it's nothing, those who sold options ahead of the earnings release could potentially see a nice payday come Wednesday morning.
In terms of the largest open interest positions, they look like this:
257 May 15 calls
222 Oct 13 puts


Not many names in the space have reported, however; here is how one in the space did:
Company Price Change
Gannett 2.2%
Not much to really base on. It should be interesting to listen in on the conference call and see if they mention if it's coverage on Trump has had any positive effect on its stock price. Apparently, option traders don't care much about the stock based on the volumes we've seen today.
NYT Valuation
Let's take a look at New York Times Company's valuation, as of the close yesterday. Now, if you look at NYT's trailing 12-month price-to-earnings ratio, the stock traded at just over 76 times its EPS, while the publishing industry average had a trailing 12-month P/E of 54. However, New York Times did have a lower price-to-book ratio at approximately 2.8, which was below that of the publishing industry average. Now, NYT had a trailing 12-month price-to-sales ratio of 1.5, which indicated that the company may be overvalued, when just looking at its P/E and price-to-sales ratio. Keep in mind, these aren't the only metrics to determine whether a company is overvalued, and you'll need to do your own due diligence.
New York Times Performance
Let's take a look at how NYT has been performing. As of May 1, 2017, the stock was down 2.69% over the past week, underperforming the publishing industry. Moreover, NYT was up only 0.62%, while the industry was up 3.43% over the same period. Additionally, the stock has been up 6.94% over the past three months, and outperformed the S&P 500 Index. However, over the past three months, NYT significantly underperformed the publishing industry, which was up 11.23%.
Here's a look at NYT on the daily chart: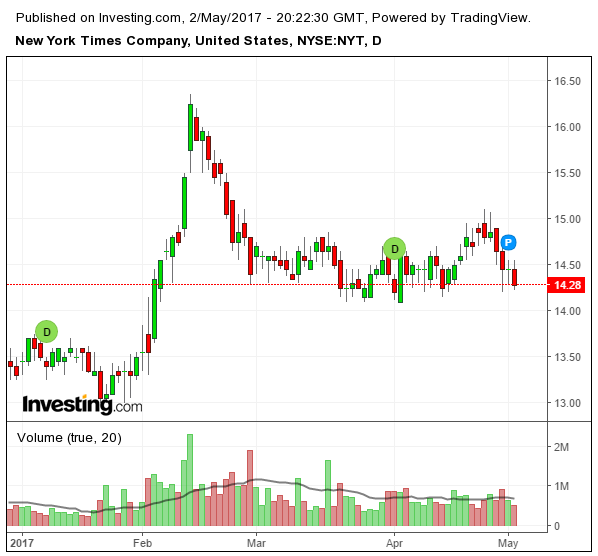 Source: Investing.com
Final Thoughts
The options market indicated that it market participants don't really care about NYT, nor that it's reporting earnings soon. There was extremely low volume in the options market, in NYT, and under 100 contracts traded. That said, it seems like traders are focused on more important earnings releases.
Related Articles: