Make no mistake about it… trading is not easy. Especially shorting stocks in one of the longest running bull markets in history.
However, as stock prices rise, valuations grow more and more out of line, eventually causing demand for stocks to dry up.
When will that point happen? No one knows for sure.
For now, shorting because a stock is "too high" remains a tough game to play.
Who can forget hedge fund manager Bill Ackman announcing to the world more than four years ago that Herbalife was "ponzi scheme." Of course, he needed a 330+ page report to say all that.

Source: Fortune
Here's the thing, when you short a stock you have to borrow shares from your broker. If shares of the stock you short starts to rise, it may cause further bullish momentum in the name as shorts are forced to cover.
In the world of trading we call that a short squeeze.
Now, imagine playing poker and you know what hand your opponent has. It makes the game a lot easier to win.
That said, other hedge funds started taking the other side of Ackman's HLF trade. Most notable, billionaire investor Carl Icahn. Reports are that he bought the stock below $40 per share, as of the close of May 30, 2017, Herbalife was trading above $70 per share.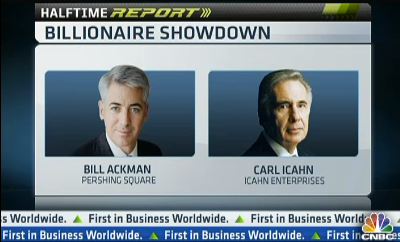 Source: CNBC
Icahn's stake in Herbalife is more than 24% as he has enjoyed massive profits in the name.
As individual traders we are small fish in the ocean. It doesn't take a billionaire like Carl Icahn to push us around.
That said, there is a small group of short sellers who publish research reports that have found a great deal of success over the years. One of those groups is Muddy Waters Research.

Source: Reuters


When they give out a short– traders listen.
But here's the thing. Muddy Waters is not nearly as capitalized as a fund like the one Ackman runs. Shorting stock can be a dangerous game for a small trader… unless you use options.
You see, with options you can buy put options– a bearish bet that a stock will drop. The beauty behind buying puts is that your risk is limited to the premium spent.
If a baller like Carl Icahn steps in and takes the other side of the trade, you don't have to worry about getting squeezed because you have defined risk.
This, my friends, is the smart way to short, especially if you plan on swing trading.
Now, on May 31, 2017, Muddy Waters Research issued this tweet:

Source: Twitter
About 30 minutes before the market open. The tweet was like a tease, "Hey, free money if you can guess what stock we are short."
No offense, but trying to guess which Canadian stock they are talking about is like finding a needle in a haystack.
But maybe there is some other tell that you can use when tweets like this are made.
And you know what?
There is.
It's in the options market.
But what do you look for?
Anything aggressive or out of line.
For example, at 9:40 AM, 10 mins after the market opened there was some aggressive put buying in Asanko Gold (AKG).
A trader came in and bought $2.5 puts expiring in July for about $0.80, 2400 times.
What was so alarming about this trade?
Well, the stock was trading around $1.84 at the time, and the bid/ask spread was $0.60 by $0.80, the trader had no problem lifting the offer and paying up. In addition, the implied volatility in those put options went from 59% to 120.9% ….  A massive spike.
What else?
On a given day, AKG will trade less than 100 option contracts per day… to say that order was unusual is an understatement.
I probably don't have to tell you what happened next…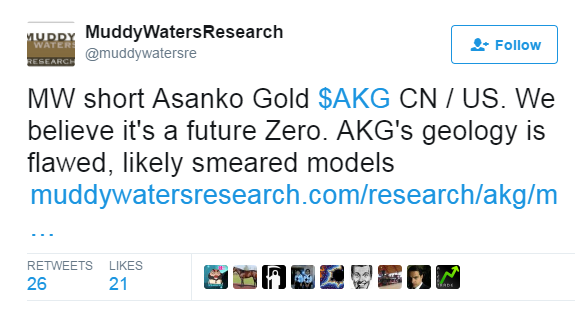 Source: Twitter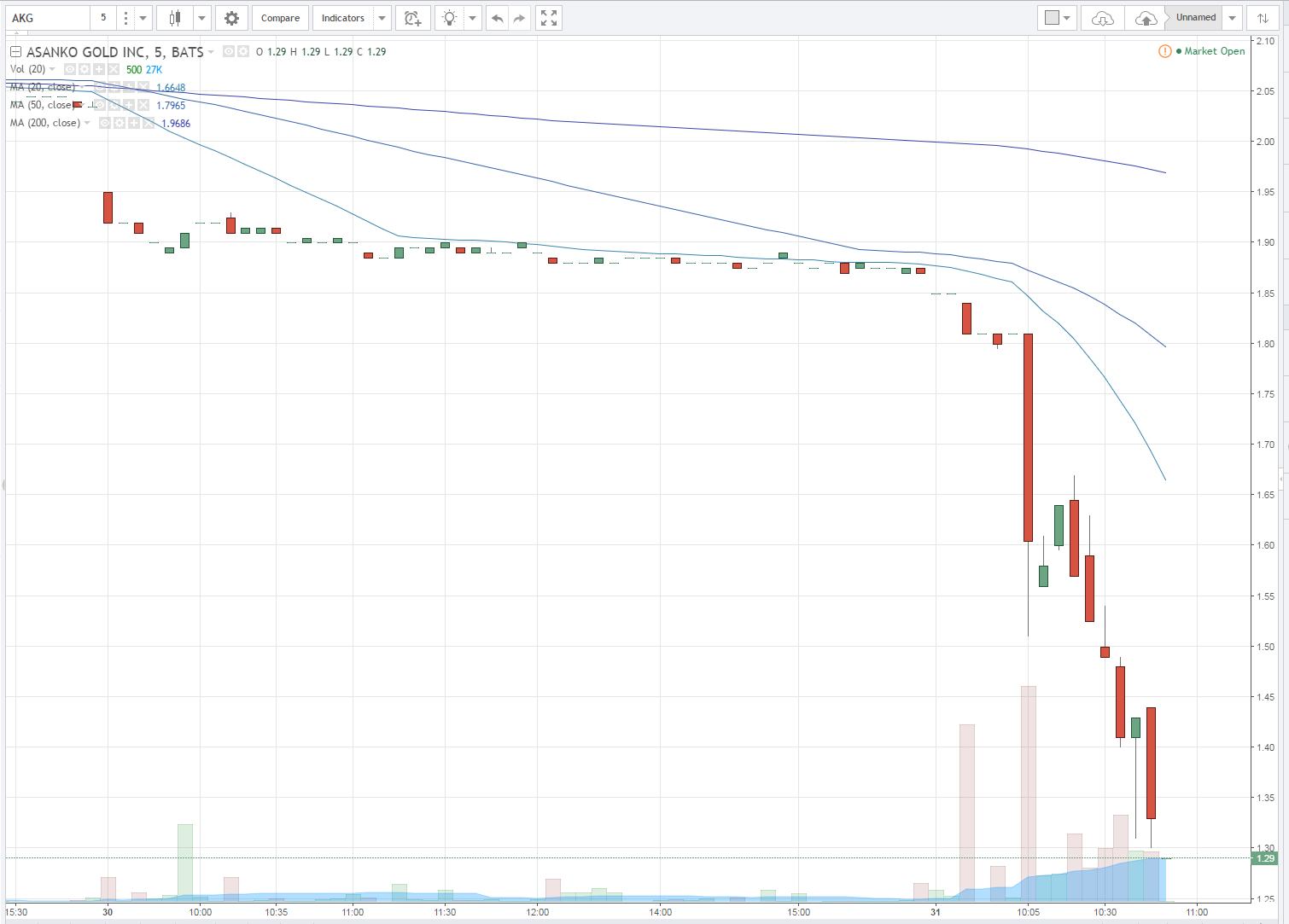 Source: Trading View
The stock got halted after declining more than 30% from the previous day's close. Those options had an intrinsic value of at least $1.21, a gain of at least $123K from that one option order.
Was it Muddy Waters Research who bought the puts or one of it's clients?
Does it really matter?
After all, that's up to the regulators to decide if there is any foul play there.
The point is, when an option trade is placed, it must be recorded and be made public information. There are services that pick up on this type of option activity, some even post it on twitter for free.



Source: Twitter
The key is to ask questions and try to figure out the motive behind some of these option trades.
Some thoughtful questions include:
Is there a near term catalyst like an earnings event?
Is the stock short sale restricted or hard to borrow?
Are options being bought aggressive on the ask side?
Is implied volatility spiking?
You need to dig deeper beyond seeing a large block trading and acting on it. If you acted on every large block trade, you'd eventually run out of money before the week is over.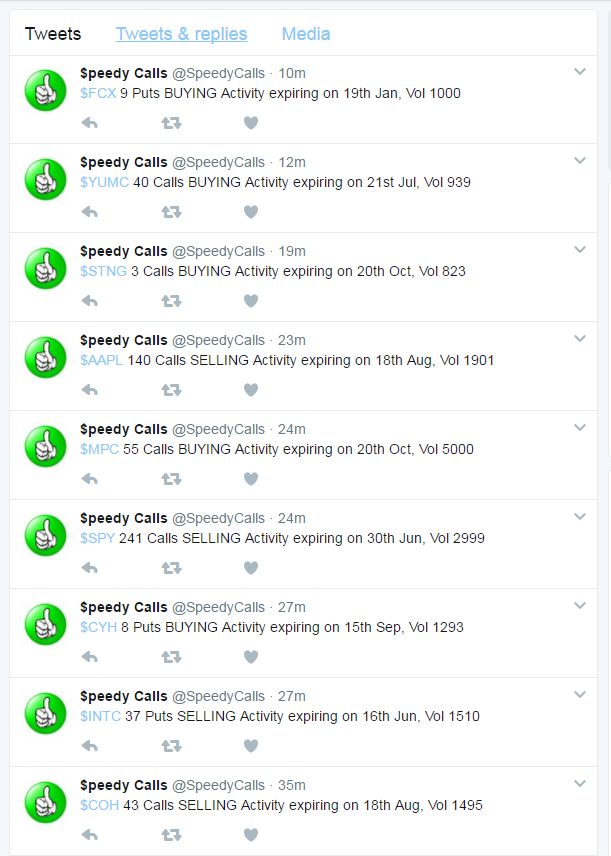 Source: Twitter
Try putting more context behind what you see.
Some of the savviest short sellers in the game are using put options to express a short position. It's a safer way to short because risk is defined.
Pay attention to what you see and try to put the pieces of the puzzle together.

Who knows, maybe you'll be able to catch the next Muddy Waters Research short before its publicly announced through the options market.
Related Articles: