The set-up: The SPDR S&P Oil & Gas Exploration & Production ETF (XOP) looks to me to be set up for a move. This is a technical trade, as I see an inverse head-and-shoulders on a daily chart.
The chart: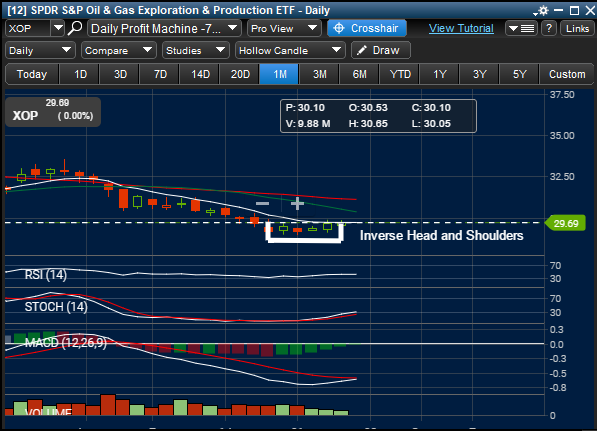 The play: Thursday, after the release of natural-gas inventories data, I bought to open 15 XOP Oct. 20 $30 calls as my trading vehicle for this move, which now looks like a continuation pattern.
Pre-market on Friday, it appears that I'm green on the trade, so my mental stop for now is break-even. There's no need to lose money or be greedy heading into the weekend here. While I'm looking for a potential profit of 30 percent on this trade, I'll start to sell my position if it hits a 10 percent gain, because these wishy-washy markets have no follow-through right now and I'd rather lock in gains than watch them turn into losers. I won't add to this position now, not with the weekend looming.
Note: I last bought XOP — Sept. 15 in-the-money calls — on August 14, selling three days later for a 20 percent loss and learning a lesson in the process, namely that you don't want to use options as a swing-trading instrument ahead of news such as oil inventories on Wednesdays and natural gas on Thursdays. That's why I waited until after the data release before buying XOP calls this time.
#-#-#
Davis Martin is the head trader at Dailyprofitmachine.com. He trades SPY calls and puts and swing trades individual stocks and stock options. He currently has 15 Oct. 20 call options in XOP and is planning to trade them as described here; he has no shares or open orders in the ETF. He last traded XOP calls as described in this commentary.
Related Articles: