The bulls were out in force in Nektar Therapeutics (NASDAQ: NKTR) today. One order that caught a lot of people's attention happened around 10 AM EST. An option player came in and bought 5K NKTR August 22 calls for about $1.60, an outlay of nearly $800K in option premium. Shares closed nearly flat on the day, ending up only 0.11%. Let's take a look at the options activity on the stock.
NKTR Unusual Options Activity
As we've already stated earlier, an option player placed close to an $800K bet in NKTR.
What's so special about the trade?
Well, on an average day, we'll usually see about 1.400 contracts in the name trade. However, more than 6K calls traded today, which was good for 4X the average call volume.
In addition, what makes this order interesting is that NKTR has earnings in early May. With that said, this is a longer-term position that will cover the earnings period. Not only that, at the time of the order, NKTR was trading at $18.52, which means these options are out-of-the-money. In other words, the option player will need to see the stock trade above $23.50 on the expiration date just to break even.
Going into the day there were only 361 contracts of open interest in the Aug $22 calls. At the time of the order, the bid/ask spread was $1.10 by $1.55, which means the option player to get filled near $1.60 had to get overly aggressive to get filled.
NKTR Statistics and Valuation Ratios
NKTR traded in a range between $18.16 and $18.91 today. Nektar Therapeutics has a 52-week range between  $11.41 and $24.88 . Therefore, it is currently over 60% above its 52-week low  and around 25% off its 52-week high. NKTR is trading below its 200-day SMA, but the stock is still above its 20- and 50-day SMA.
Take a look at NKTR's performance on the daily chart: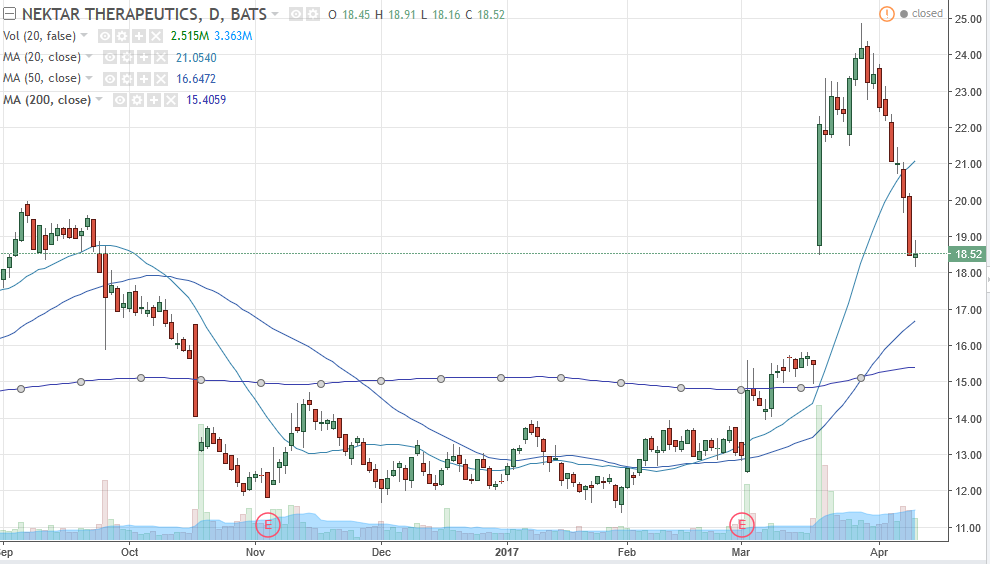 Source: TradingView
Nektar Therapeutics currently has a book value per share of 0.575, and therefore, it had a price-to-book ratio of 32.2. NKTR has a price-to-revenue ratio of 15.82, and a forward price-to-revenue, based on next year's revenues estimates, of 15.43. The stock also has a price-to-sales ratio (P/S) of 15.6. That in mind, the stock is trading at valuations above the industry, indicating it may be overvalued. NKTR has 152.88M shares floating, 153.8 million shares outstanding, and a short ratio of 5.91%.
Final Thoughts
There was some interesting options activity in NKTR today, but no notable news, minus a director registering to sell 7K shares of the stock. The company is expected to report earning in early May, so it'll be interesting to see how its EPS and revenue numbers are for the quarter.
Related Articles: