LyondellBasell Industries NV (NYSE: LYB) shares were down just over 2.50% today, potentially due to the company indicating it might not satisfy analysts' estimates. Moreover, the company noted it would be evaluating acquisition opportunities in its existing value chains, and could borrow up to $18B for its acquisitions. However, the options activity in LYB was the more interesting piece of news today.
Options Activity
At around 11 AM EST, a trader came in and bought over 8,500 April 7 $91 puts for $0.85. Now, the stock at the time was trading around $91.21. In other words, a trader came in and dropped over $750K in options that would be expiring worthless in a matter of days.
However, maybe they knew that whatever the company would say during their investor day would not satisfy Wall Street's expectations because they made a killing on this trade.
You see, at one point LYB was trading at $88 and change. Let's assume they didn't get out at the lows, but got out when the stock was trading at $89 a share.
Well, if they were able to accomplish that they would have made a cool $1M+ on that trade. Now, this type of order was extremely unusual. Not only were these options expiring shortly, but in general, LYB doesn't trade that many options on a given day.
On a normal day, we'll typically see about 1,100 puts trade in the name. However, today we saw 14K trade… with 11k coming in those April 7 $91 puts.
These types of trades are always interesting to follow. Reason being is, when someone is trading that type of size in illiquid options, they are most likely going to have to exercise their options or use stock to get out. In other words, they needed the stock to drop to $90.15 just to break even on the trade. Of course, the stock did that, and then some.
In this case, those options could have been used as a hedge against a long stock position. That is something that can't be ruled out, since there was a scheduled event in LYB today. In any event, they either made a ton of money betting that investor day conference would be a bust… or they saved themselves a ton of money by hedging their long stock position.
A very solid trade nonetheless, and another reason why it pays to watch options flow… even if you don't trade options.


LYB Statistics, Performance and Ratios
The stock traded between  $89.43  and  $92.03  today. LYB has a 52-week range between  $69.82 and $97.64 . That said, LYB is currently 28.19% above its 52-week low and -8.34% off its 52-week high. LYB is 2.97% above its 200 day simple moving average. Additionally, LYB is 1.61% below its 50-day SMA.
Take a look at LYB's performance on the daily chart: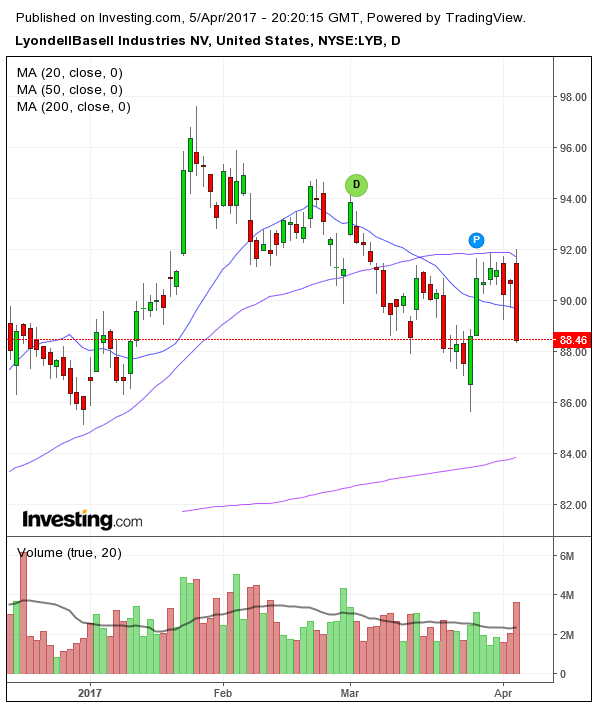 Source: Investing.com
If you look at the chart above, LYB failed to break above its 50-day SMA, and broke below its 20-day SMA today. The next area to watch would be around $88, and if that level doesn't hold, the stock could fall further.
The stock has a P/E ratio of 9.83. LYB has a book value per share (BVPS) of 14.969 LYB has a price-to-revenue ratio of 1.32, and a forward price-to-revenue, based on next year's revenues estimates, of 1.21. LYB has a forward price-to-earnings ratio of 9.1338, based on next year's earnings estimates.Moreover, it has a P/S of 1.25. Now, in relation to its industry, it is trading at an attractive valuation, but the company's comments in its investors' day presentation could send shares lower.
LYB's revenue fell by 10.85%, year over year. Additionally, LYB 's net income fell by 14.24% year over year. The company's EPS grew by 0.88% quarter over quarter (QoQ)
LYB is expected to report earnings on April 28, 2017*, and the average analysts' estimate is  $2.76. *Note that the earnings date is not set in stone, and it could change.
Final Thoughts
LYB had some interesting options activity today, and therefore, it could pay off if you're following options activity in stocks. The company was unable to grow its revenue or net income over the past trailing one year period
Related Articles: