Staples Inc (NASDAQ: SPLS) was up nearly 10% today, at one point hitting $10 per share. The catalyst was an unconfirmed WSJ report that SPLS is looking for a possible sale of the company. With that said, some real interesting options activity occurred within the first five minutes of trading today.
SPLS Options Activity
A trader came in and bought April $8 calls, when the stock was trading at around $8.65, for a small premium of $0.80. However, at the same time, another option went through that was rather mind boggling.
You see, the trader came in and bought the April 7 $8.5 calls for a whopping $0.50 per contract, 3,380 times! What makes this so impressive, these were options that were out of the money, and the spread at the time of the order was $0.00 by $0.50. The stock was trading around $8.65 per share.
To put into perspective, they dropped nearly $170K in options that would expire worthless in days. However, the stock had an explosive move. With that said, if the trader got out at the close, which was not the top, they would have doubled their money.
Of course, these traders are not stupid. They were not throwing darts at expiring options without some strong conviction. Not only that, they needed to be very fast. They had no time to work the order, so they simply paid the ask price… which caused the implied volatility on those $8. 5 calls to go up 100 points.
A very impressive trade to say the very least.
SPLS Performance, Statistics and Ratios
SPLS traded in a range between $8.61 and $10.00 today. The stock has a 52-week low of $7.24 and a 52-week high of $11.37. Consequently, Staples is over 30% above its 52-week low and just over 15% below its 52-week high. The stock's performance has been lackluster recently, losing 2.34% over the past month. Moreover, it's been down 18.25% over the past year, as of yeseterday's close. SPLS is over 7% above its 200 day SMA and over 5% above its 50-day SMA.
Here's a look at Staples' stock performance, on a daily chart: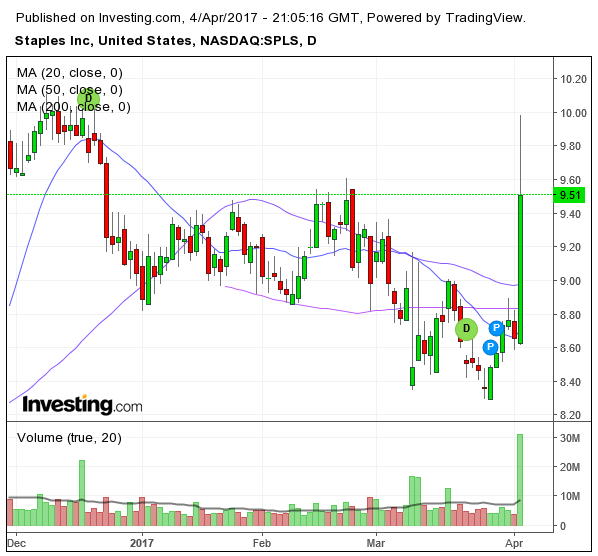 Source: Investing.com
Let's get into some valuation ratios. Staples is currently trading at a price-to-book ratio (P/B) of 1.5, while the industry average is 8.5. Additionally, SPLS has a trailing 12-month price-to-sales ratio (P/S) of 0.30. Now, this is well below the industry's average price-to-book ratio. That in mind, SPLS could be undervalued, when compared to some of its peers, which may have been the sparked the buyout rumors.
Final Thoughts
An option trader spent nearly $170K on call options on SPLS, and the orders were mind boggling. There was also an unconfirmed buyout rumor, which may have been the main catalyst that caused shares to rise today. It'll be interesting to see how the open interest changes in those options tomorrow, and whether Staples will comment on this rumor.
Related Articles: