SunPower Corporation (NASDAQ:SPWR) shares were up nearly 15% today after it announced that it began construction on an 8.79-megawatt SunPower solar system at Toyota Motor North America's new headquarters in Texas. This solar system was nearly one megawatt larger than it had originally planned. Now, what was more interesting was the options activity in the name today.
SPWR Options Activity
It took less than an hour for option traders to get involved in SunPower Solar today. When the dust settled, over 10K calls traded. With that said, we saw more than 7 times the average call volume.
One order that really caught the eye happened around 10:25 AM EST. An option player came in and bought over 1,600 April $6.5 calls for $0.22 when the stock was trading at $6.39. All together, they dropped over $35K on near term options that would be expiring worthless.
However, that didn't really matter because the stock price grinded higher all day.
And you know what else?
That option trade was good for about a triple. The last price on those calls was $0.60.
Not too shabby right?

Source: Yahoo Finance
The stock traded between $6.11 and $7.10 today. SPWR traded between $5.84 and $22.35 , over the past 52 weeks. Consequently, it's currently still nearly 70% off its 52-week high and just over 20% above its 52-week low. SPWR is still slightly below its 200 day simple moving average. and 50-day SMA.
Here's a look at SPWR's recent performance on the daily chart: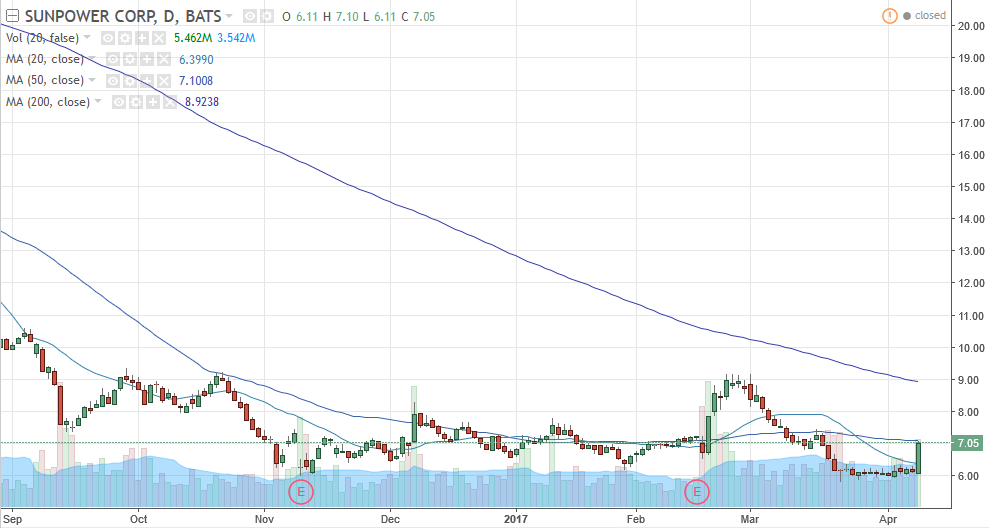 Source: TradingView
The company has a book value per share of 7.28. Consequently, it has a price-to-book ratio of 0.97, which is slightly above the industry average. SPWR has a price-to-revenue ratio of around 0.33, and a forward price-to-revenue, based on next year's revenues estimates, of 0.35. The company had a price-to-sales ratio of 0.3, which is below the industry average of 0.5.
SPWR's 4Q 2016 revenue grew by over 170%, when compared to its 4Q 2015 revenue. Additionally, SunPower's 4Q 2016 net income grew by over 100%, when compared to its 4Q 2015 net income.
SPWR is expected to report earnings on 2017-05-03*, and the consensus estimate is  $(0.31). *Note: SunPower's earnings release date is subject to change.
Final Thoughts
The commencement of SPWR's construction on Toyota Motor North America's new headquarters sent shares higher today. Additionally, option traders got involved on the trade, with the April $6.5 calls nearly tripling today. The company is expected to report earnings on May 3, 2017, and we'll be looking for how its EPS, net income and revenue grew.
Related Articles: