Facebook Inc (NASDAQ: FB) is heading into its Q1 2017 earnings at 52-week highs. With shares trading north of $150 per share, traders are looking into the options market, for a cheaper and less risky way to play the earnings event, which is scheduled for May 3, 2017.
Going into the day, the largest open interest positions in Facebook where:
57K June 155 calls
46K May 135 puts
42K May 135 calls
Now, we don't know if all these options are bullish or bearish, just that they are open. However, what's interesting is the $135 calls. Most likely these are long options, the reason, they are very deep in-the-money options, if they were short, they would face the risk of getting exercised. In other words, these are long positions. It will be interesting to see if some of these get sold or "rolled over" into another strike price.
Earlier this afternoon, the May5 $152.5 straddle was priced at around $6.45, which means that the option market is implying about a 4.2% on the earnings event.
But how does that compare from previous earnings announcements.
Here are the results of the last six earnings cycles:
Date Price Change
2/17 -1.8%
11/16 -5.6%
7/16 1.3%
4/16 7.2%
1/16 15.5%
11/15 4.6%
Now, Facebook is a pretty unique company, it's hard to say it has a competitor. Rather, it competes with several companies. That said, let's take a look at some of it's competitors have done this earnings cycle.
Company Price Change
Microsoft 0.3%
Alphabet 3.7%
Twitter 7.9%
Amazon 0.7%
Yahoo -1.2%
Outside of Yahoo, all the companies mentioned posted gains after its earnings were released. This could be a sign that Facebook should do well when they release tomorrow.
Now, with everything looking like it's on the up and up for Facebook, and the market being at all-time highs, could a poor earnings result out of Facebook be a catalyst for a market sell-off?
Here is how the put options expiring this week looked like this afternoon: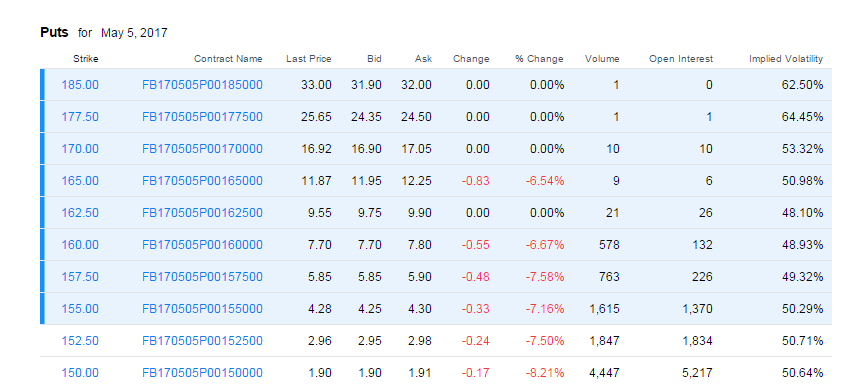 Source: Yahoo
The $150 puts were going for $1.90, which means that a trader buying these would need the stock to drop a little more than 3% to break-even. If Facebook surprises and actually doesn't meet Wall Street's expectations, there is a good chance the stock could drop more than 3%.
Of course, this is not a trade recommendation, just food for thought.
FB Valuation
Now, as of the close yesterday, FB had a trailing 12-month price-to-earnings ratio, or P/E, of 43.7, which was above the industry average of 37.3. Additionally, it had a trailing 12-month price-to-sales ratio of 16.1, above the industry average of 7.8. Moreover, it had a price-to-book ratio, or P/B, ratio of 7.5, which was also above the industry average of 7.8.
Final Thoughts
The options market could give an indication of how the market is expecting a stock to perform ahead of earnings. Now, the $150 puts were going for $1.90 per contract, and if the stock drops more than 3%, those options would become in-the-money. Again, this isn't a trade recommendation, it's just something I thought I'd bring up ahead of the social-media giant's earnings release.
Related Articles: